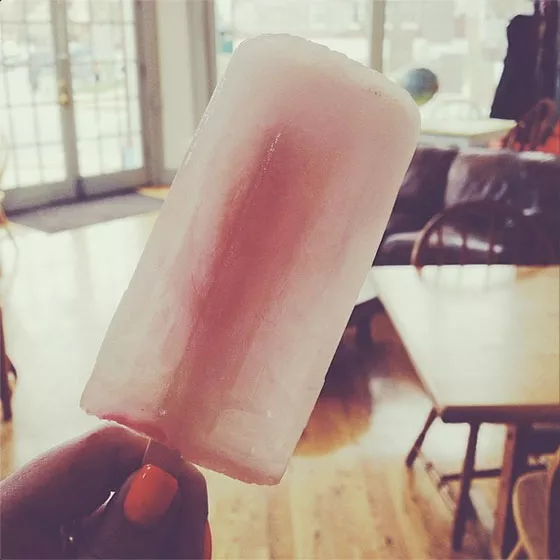 The lavender lemonade pop at Whisk. | Nancy Stiles
Summer in St. Louis is not always pleasant. The heat, the humidity, the frequent visits from cicadas -- the list goes on. But there are plenty of yummy treats to make your summer amazing. We know you already know the icons like Ted Drewes, so we've got some lesser-known eats to complete your ultimate St. Louis summer.
See also: 10 Things You Didn't Know About Ted Drewes Frozen Custard
Popsicles at Whisk Bakeshop (2201 Cherokee Street; 314-932-5166)
Popsicles are a summer staple, whether your mom buys them in bulk from the grocery store or you still run to the street when you hear the ice-cream man. But Whisk makes grownup versions that depend on the freshest produce available. Try strawberry, peach, goat cheese and blackberry, avocado, cucumber lime or whatever else owner Kaylen Wissinger has whipped up. Our personal favorite is the lavender lemonade. Don't you feel cooler already?
Chocolate-covered frozen cheesecake at the Muny. | Phil Hamer
Frozen Cheesecake on a Stick at the Muny (Forest Park; 314-361-1900)
We love going to the Muny, even when the humidity is through the roof and our legs stick to the seats. One of our favorite parts, though, is heading to the concession stands on either side and ordering a frosty piece of cheesecake on a stick, frozen and covered in chocolate. It's just the right amount of sweet if you're not feeling ice cream, and the chocolate won't melt all over you. Or maybe that's just because we eat it as quickly as possible.
Pick-Your-Own Peaches at Eckert's (951 South Green Mount Road, Belleville, Illinois; 618-233-0513)
Update: This year's peach picking is cancelled. We spoke to the folks over at Eckert's to find out what happened and what will replace it.
Eckert's offers pick-your-own options throughout the season, but nothing tastes quite like summer like peaches. It's not quite time for peaches yet -- blueberries just ended, and blackberries will start around June 28 -- but you can bet we'll be picking a few pounds of the sweet fruit when it is. You can check Eckert's harvest hotline for daily updates on what produce is available before you make the trek to Belleville.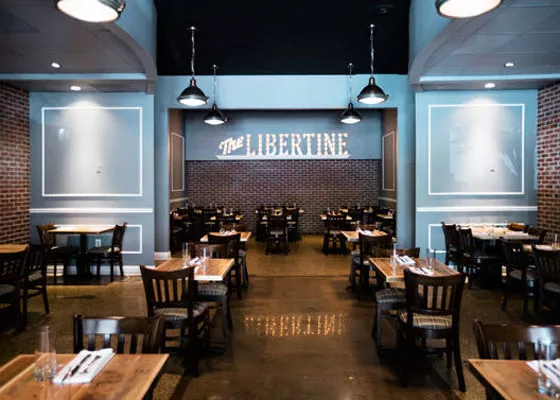 Inside the Libertine. | Jennifer Silverberg
Pork Steak at the Libertine (7927 Forsyth Boulevard, Clayton; 314-862-2999)
How can you spend a summer in St. Louis and not eat a pork steak? You can't. The classic griller gets a fancy update at the Libertine from executive chef Josh Galliano. His version is slow-cooked, of course, and served with miso barbecue sauce, chow chow (pickled red peppers, green tomatoes and onions) and grain mustard potato salad. It's the perfect way to eat a pork steak -- without having to go to a barbecue with weird uncles and lots of mosquitoes.
What's your flavor? | Tropical Moose
Shaved Ice at Tropical Moose (N. Taylor Avenue & East Argonne Drive, Kirkwood)
Frozen custard is great on a hot summer night, but sometimes you want something a bit lighter. Shaved ice (a.k.a. a snow cone) comes in virtually every flavor at Tropical Moose -- including Monkey Snot. The original is next to the farmers' market in Kirkwood, but you can also stop in at the Webster Groves and Creve Coeur locations. Oh, and if you want to sound like a regular: it's TroMo.
Gut Check is always hungry for tips and feedback. E-mail the author at Nancy.Stiles@RiverfrontTimes.com.
Follow Nancy Stiles on Twitter:
---