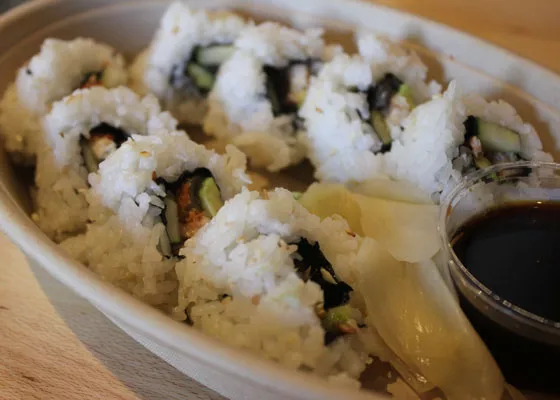 The eel roll with eel, cucumber, shrimp, toasted sesame seed and eel sauce on the side. | Nancy Stiles
A few months ago, we reported on a new fast-casual concept coming to St. Louis: sushi. Owners David Culver, Clayton Park and Andrew Impagliazzo envisioned a Chiptole-like approach to sushi, instead of the usual extremes of super pricey or take-out. Their result is Flying Rolls (3674 Forest Park Avenue; 314-246-0589), which opens today, June 20 at 11 a.m.
See also: The 10 Best Sushi Bars in St. Louis
Rolls are made-to-order while you watch. | Nancy Stiles
You can order one of the house rolls (traditional or specialty) or pick your own ingredients.There are also beef and chicken options (teriyaki roll and bowls) for people who aren't into sushi, plus skinny rolls with just one ingredient, like avocado. For dessert, try a seasonal fruit roll. You can also order on little tablets near the entrance to avoid the line and your food will be brought out to you.
Flying Rolls will be open from 11 a.m. to 10 p.m. for the next few weeks, eventually expanding to 10 a.m. Check its Facebook page for updates -- online ordering should be available soon, with delivery in the SLU area.
"The company name is Flying Rolls, and it's specifically that because if you don't like sushi, you can still find things you like in our restaurant." David Culver told us back in March. "I think it's going to rival the sandwich market here and I'm really excited to see St. Louis take to it."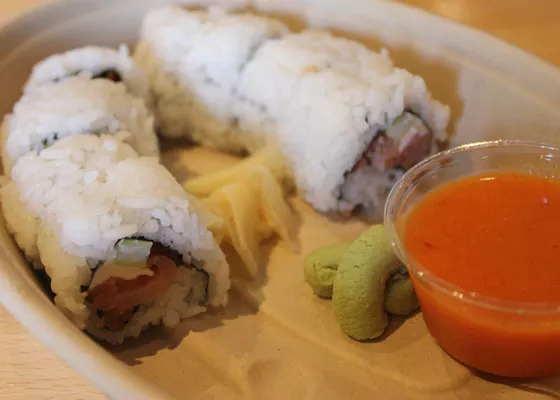 The lox roll, with smoked salmon, scallion, cream cheese and capers, with sweet and tangy sauce. | Nancy Stiles
Co-owner Clayton Park. | Nancy Stiles
Executive chef Eddie Murphy on the line. | Nancy Stiles
Gut Check is always hungry for tips and feedback. E-mail the author at Nancy.Stiles@RiverfrontTimes.com.
Follow Nancy Stiles on Twitter:
---