Tonkatsu ramen with pork belly and loin, soft boiled egg, black garlic oil and mushroom. | Photos by Mabel Suen
Unlike Adam Frager and TJ Vytlacil's critically-acclaimed Blood & Sand (1500 St. Charles Street; 314-241-7263), Death in the Afternoon (808 Chestnut Street; 314-621-3236) -- the latest venture from the duo -- does not require a membership. Luckily for the rest of us, it doesn't even require a reservation.
The lunch-only restaurant, named after a classic cocktail invented by Ernest Hemingway, opened on June 9 in the downtown Citygarden, serving a full menu of snacks, soups, sandwiches, salads and more. The new concept fills the glass-box building formerly occupied by Joe's Chili Bowl and strives to offer a menu befitting of the stellar scenery.
See also: Death in the Afternoon Opens Monday at Citygarden
The entrance to Death in the Afternoon.
Set in front of a cityscape backdrop, the space is located a stone's throw away from the sculpture park where children splash around happily in fountains. The sounds of summertime get muted, however, by an oasis of guardian statues in the shapes of abstract creatures and a veil of lush greenery.
Inside, the vibe is clean and contemporary -- not too high brow for a casual lunch. Accents for the room include a brightly colored cactus on each table and royal-blue dinner napkins with matching logoed tumblers.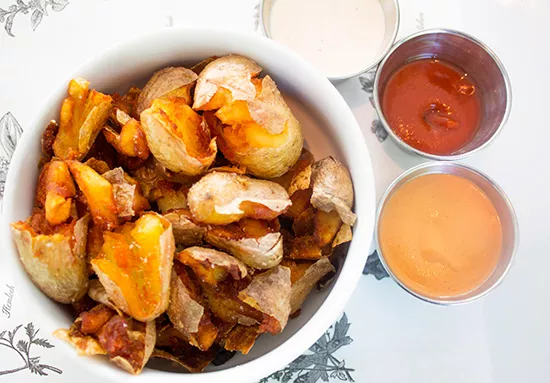 Crushed fried fingerling potatoes with house dipping sauces.
The menu, headed up by Blood & Sand executive chef Nick Martinkovic, takes a decidedly heavy-handed Asian influence with options including Japanese steamed buns, ramen, and Vietnamese grilled beef salad at the forefront of their respective categories.
That said, the varied options certainly dabble in all kinds of cuisines -- everything from falafel and Italian sandwiches to cheeseburgers and smashed, fried fingerling potatoes (note: these guys are pretty good with spuds). And the price point? Items start at $5, up to $21.
Death in the Afternoon's current hours are Monday through Friday from 11 a.m. to 3 p.m. For more information, visit the Citygarden website and follow it via Twitter.
Click through for more photos.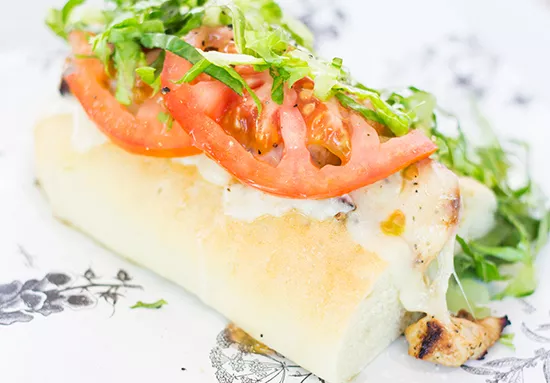 Grilled lemon and herb chicken spiedie on an Italian roll with provolone cheese.
Steamed bun with duck confit, fish sauce pickles, and daikon and carrot slaw.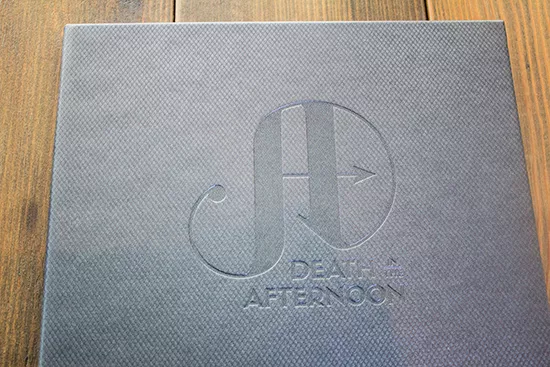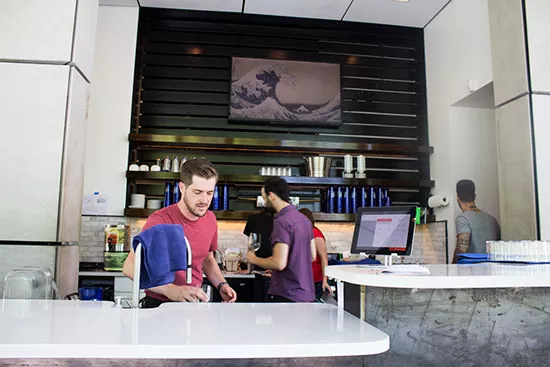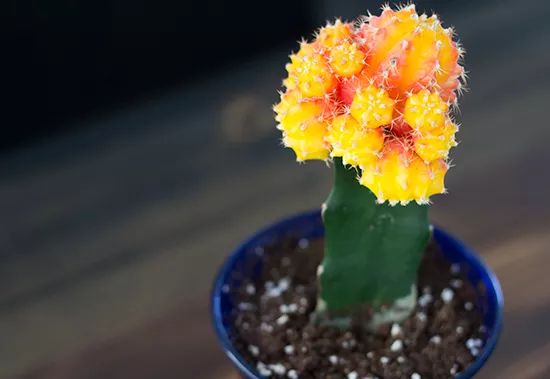 Another look at the ramen.
More seats in front of the building.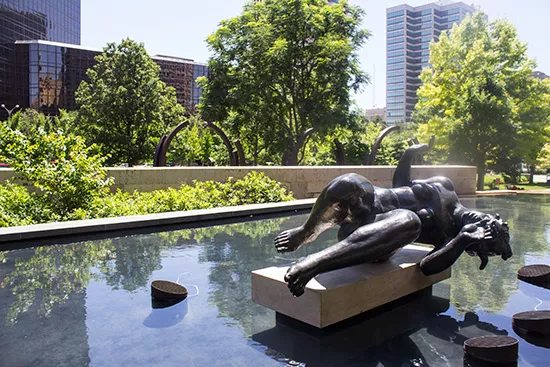 In front of the building.
The steps leading up to the restaurant.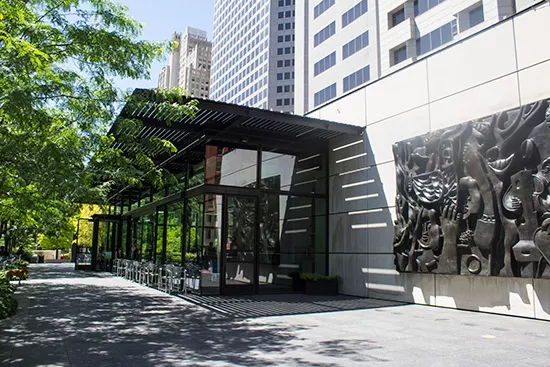 See also: - First Look: Bocci Wine Bar - First Look: Jilly's Ice Cream Bar - First Look: Vinnie's
Gut Check is always hungry for tips. E-mail us!