The patio at Cafe Napoli. | Kelly Hogan
It's time for the summer edition of Clayton Restaurant Week, and thirteen neighborhood restaurants are participating to raise money for Operation Food Search. We know it's hard to hit them all, so we've narrowed it down to the five we think are can't-miss.
See also: Best Restaurant Neighborhood - Clayton
Bar Napoli (7754 Forsyth Boulevard, Clayton; 314-863-5731)
Get your Italian fix at Bar Napoli. The first course is a choice of the house salad (mixed lettuce with mozzarella, artichoke, heart of palm, red onion and house dressing); spinach and artichoke toasted ravioli; or the soup of the day. For the second course, choose from penne con broccoli with mushroom and tomato; Sicilian pork medallions breaded and grilled with Napolitano sauce; or tilapia seasoned and roasted with lemon, extra-virgin olive oil and capers, served over sautéed spinach. The dessert selection is spumoni with cherry, pistachio and chocolate ice cream; tiramisu with ladyfingers mascarpone and espresso (or tortufo); chocolate amaretto ice cream with cocoa shell and maraschino cherry.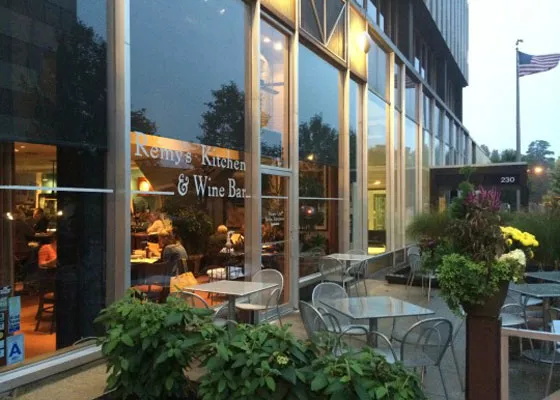 Outside Remy's. | RFT Photo
Remy's Kitchen and Wine Bar (222 South Bemiston Avenue, Clayton; 314-726-5757)
Remy's has one of the larger selections for its prix-fixe menu, full of Mediterranean favorites. Start with hummus, a Mediterranean salad of cucumber, tomato, Kalamota olives and feta cheese tossed with lemon and olive oil, tomato basil soup, fritto misto, shrimp, calamari and bay scallops with a lemon mustard vinaigrette or stuffed grapevine leaves with stuffed ground lamb and rice in a tomato cumin sauce. For the main course, loosen that belt. It's grilled Faroe Island salmon with a soy honey glaze and ginger scallion aioli, served with Gorgonzola whipped potatoes and seasonal vegetables; rosemary and black truffle grilled beef tenderloin with mushroom asparagus ragout; Moroccan kale and tomato stew with garbanzo beans and fennel on cardamom rice; bronzed mahi topped with shrimp on French green lentils; bacon-wrapped Berkshire pork loin with pomegranate molasses, spaghetti squash and roasted Yukon gold potatoes. Room for dessert? Try chocolate Napoleon cocoa phyllo crisps layered with chocolate mousse and served with espresso crème anglaise or almond crusted mascarpone cheesecake with double cherry compote or the tiramisu, layers of pound cake soaked with Sambuca and coffee, topped with mascarpone cream, pistachios and chocolate shavings.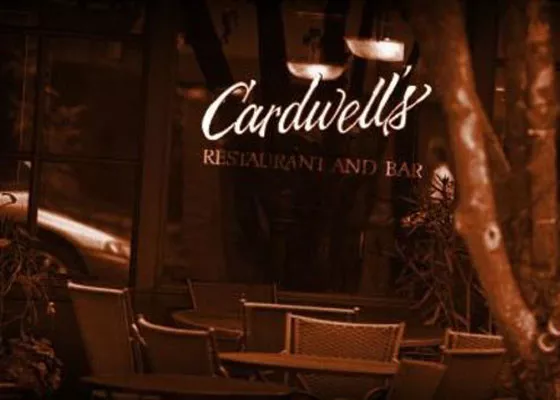 Cardwell's (8100 Maryland Avenue, Clayton; 314-726-5055)
If you want to go classic, try the menu at Cardwell's. Appetizers are a choice of flash-fried, buttermilk-battered calamari with chili-lime mayonnaise, New Orleans Creole-style seafood gumbo made with spicy andouille, sausage, shrimp and okra, finished with steamed jasmine rice and green onion, a traditional Caesar salad or herbed and peppered sirloin carpaccio. Pick from four entrees: filet mignon in wild mushroom sauce served with gruyere gratin potatoes and market fresh vegetables, wood-fired Atlantic salmon grilled over flaming hickory, pecan and cherry woods with a three-mustard honey balsamic herb glaze, roasted garlic Yukon gold whipped potatoes and market fresh vegetables, braised short ribs, herb roasted beef brisket drizzled with a Cabernet herb reduction and topped with flash fried onion straws, roasted garlic Yukon golden whipped potatoes and market fresh vegetables, herb-marinated pan-roasted free-range chicken, roasted garlic Yukon golden whipped potatoes, sauté of spinach and leeks, market fresh vegetables. For dessert you can get a scoop of ice cream or sorbet, chocolate pate or Tahitian vanilla bread pudding.
Pomme Cafe. | Laura Ann Miller
Pomme Cafe & Wine Bar (44 North Central Avenue, Clayton; 314-721-8801)
Diners looking for something a bit lighter will be happy at Pomme Cafe. Start with a salad of mixed lettuces with fresh herb vinaigrette, pork pate wrapped with proscuitto and roasted apples or mussels steamed with white wine, garlic, tomatoes and herbs. For the main course, choose from rainbow trout amandine served with potatoes and vegetables, crisp eggplant with tomato coulis and fresh mozzarella or pork schnitzel with apples and brandy, served with potatoes and vegetables. For dessert it's chocolate mousse, blueberry crisp or the day's dessert special.
Oysters at Coastal Bistro. | Mabel Suen
Coastal Bistro & Bar (14 North Central Avenue, Clayton; 314-932-7377)
A summer menu wouldn't be complete without some seafood. Start with salmon tartar, fish tacos, B.L.T. salad or fresh oysters. The entrees are a choice of chicken breast with creamy lemon orzo, spinach, tomatoes, mushrooms, salmon with apricot and jalapeño jam, coconut rice and snow peas or lobster pot pie made Maine lobster, spiny lobster, peas, carrots, potatoes, pearl onions, leeks and puff pastry. For dessert it's an ice cream sundae or a lemon buttermilk tart with strawberry rhubarb sauce.
You can find the full list of participating restaurants and menus here. Each dinner is $25 plus tax for three courses from July 14 though July 20.
Gut Check is always hungry for tips and feedback. E-mail the author at Nancy.Stiles@RiverfrontTimes.com.
Follow Nancy Stiles on Twitter:
---