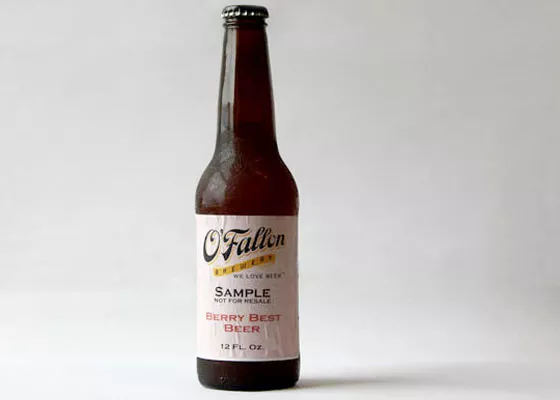 O'Fallon Berry Best Beer. | Nancy Stiles
O'Fallon Brewery (26 West Industrial Drive, St. Charles; 636-474-2337) has added another brew to its roster: Berry Best beer. The beer is brewed with strawberries to give it a summery taste without getting into pina-colada territory.
See also: O'Fallon Brewery Lands Maryland Heights Space for Expansion
Kite Tale Summer Ale will still be in rotation, but we thought Berry Best was suprisingly refreshing. We're a tad wary of anything super-sweet, but the beer just had a hint of fruit that reminded us of cotton candy, but without the sticky texture.
It's made with two-row, Bonlander and white wheat, plus Magnum, Galaxy and Cascade hops, and the strawberries, of course. You can get it on draft around St. Louis, and in bottles in Arkansas, Illinois, Iowa, Michigan, Mississippi and Ohio. Let us know if you've tried one and your thoughts. Not so big on berry beers? Then we want to hear your favorite summer brew. Sound off in the comments!
Gut Check is always hungry for tips and feedback. E-mail the author at Nancy.Stiles@RiverfrontTimes.com.
Follow Nancy Stiles on Twitter:
---