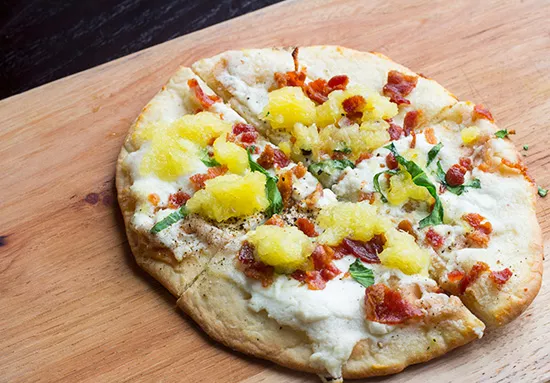 Flatbread with pineapple, arugula, bacon and goat cheese. | Photos by Mabel Suen
The Place: Planter's House (1000 Mississippi Avenue; 314-696-6203)
The Hours: Happy hour is offered Friday through Sunday from 2 to 5 p.m.
The Deal: A selection of variable $5 food items, $3 beers and $5 cocktails.
A Hemingway daiquiri with Cana Brava rum, maraschino liquer, grapefruit, lime and dark simple syrup.
The Scene: By now, most of us are acquainted with Planter's House, Ted Kilgore & Co.'s vintage dining saloon that RFT food critic Cheryl Baehr boils down to "cool digs, intellectually curious cocktails and an upscale bar menu that mirrors the creativity and finesse of the drinks."
Besides its epic duck burger, Kilgore gave refined drinkers and diners yet another reason to stop by earlier this spring: a new happy-hour menu to offer a small taste of the bar and kitchen's capabilities at a fraction of the regular price.
Hush puppies with housemade tarter sauce.
The Food: The happy-hour menu features five options: arancini, french fries, popovers, flatbreads and cookie sandwiches. Each item lacks a description so the kitchen can come up with items based on chef Bradley Hoffmann's whims each week.
And, of course, we'd be remiss to not mention the items on the opposite page that make up the lifeblood of the place: a selection of Kilgore's carefully crafted cocktails. Options the day we stopped in included "the Pointy End" made with vodka, orange-ginger cordial and lime as well as "Intimacy" made with Four Roses bourbon, Madeira, dry vermouth, creole syrup and burlesque bitters.
Did Planter's House make the grade? Find out on the next page.
Fries with housemade ketchup and remoulade.
The Verdict: From the cocktail list, we tried the Hemingway daiquiri with Cana Brava rum, maraschino liqueur, grapefruit, lime and dark simple syrup. Mixed with a steady hand, the concoction's flavors melded well together in the small glass, a strong, refreshing dose of magical midday indulgence. At only $5 a drink, we'd recommend sampling a couple of different potions to pair with the kitchen's small plates.
The flatbread proved so tasty that we wished it were a bigger portion. Ours came topped with fresh pineapple, arugula, bacon and goat cheese on a crispy crust. In place of popovers, hush puppies were a special option that day, light and perfectly fried corn puffs served with a housemade tartar sauce.
Vanilla wafer cookies with lemon-poppy-seed ice cream.
It's rare that a happy-hour menu offers a dessert option, but like anything else at Planter's House, the overall attention to a balance of the right flavors plays out in the diner's favor. The cookie sandwich of the day featured vanilla wafers filled with lemon-poppy-seed ice cream, leaving the snacking hour on a sweet and decadent high note.
For all those who typically can't make it in time for happy hour during the workweek, Planter's House offers a distinctive alternative worth visiting over the weekend.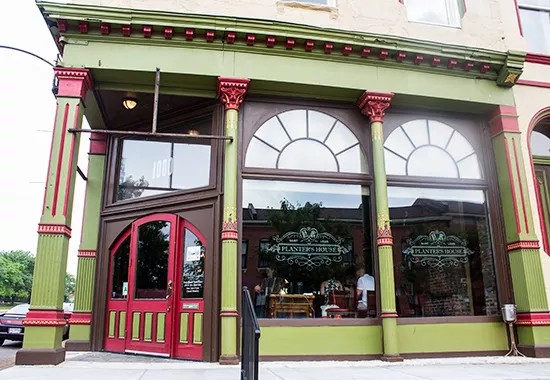 The Rating: On a scale of one to five...
Previously on Happy Hour Handbook: - Atomic Cowboy - Stella Blues - Triumph Grill - Lola - Basso - Blue Ocean Sushi - Hwy 61 Roadhouse and Kitchen - Gringo - Jax Cafe - Mile 277 Tap & Grill - Sandrina's - Mangia Italiano - Kirkwood Station Brewing Company - Steve's Hot Dogs on the Hill
We're always looking for some more happy hour meal deals. E-mail the author at mabel.suen@riverfronttimes.com.