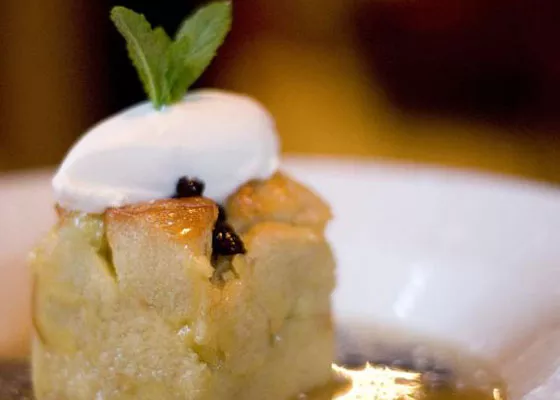 Harvest's famous bread pudding. | Kholood Eid
Father's Day will see the end of an era in St. Louis dining. Harvest (1059 South Big Bend Boulevard, Richmond Heights; 314-645-3522) will serve its last meal after eighteen years on June 15. The pioneering, farm-to-table restaurant opened in 1996, helmed by Five Star Burgers owner Steve Gontram. Current owner and then-executive chef Nick Miller purchased Harvest from Gontram in 2010.
See also: Chef Chat: Harvest's Brad Bardon on Using Provel, His Secret Egg Vendor and Local Beer
St. Louis magazine broke the news last night. As the Post-Dispatch points out, St. Louis restaurant critic George Mahe was actually one of the original owners of Harvest.
Miller hasn't responded to requests via phone and email, but we talked to chef de cuisine Brad Bardon just last month about the restaurant's legacy and legendary bread pudding, which we never thought we'd have to live without. It's a decadent square of brioche and bourbon-currant sauce. Harvest will be open tonight and tomorrow from 5:30 to 10 p.m. and on Sunday from 5 p.m. to 9 p.m. Try and snag a remaining reservation here.
Gut Check is always hungry for tips and feedback. E-mail the author at [email protected].
Follow Nancy Stiles on Twitter:
---