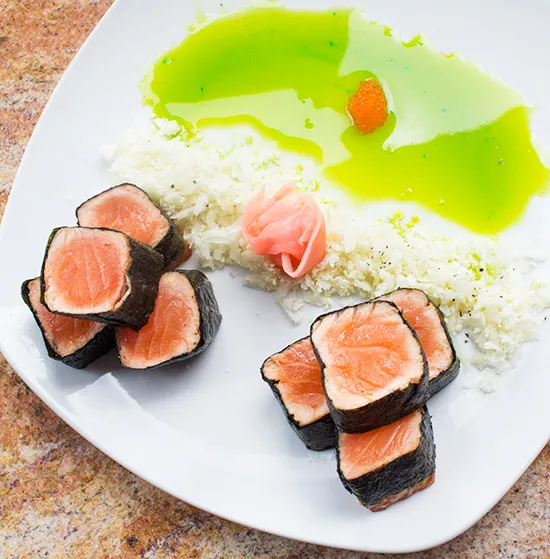 "Nori Wrapped Salmon" with cauliflower rice, wasabi honey glaze and pickled ginger. | Photos by Mabel Suen
During early Thursday evenings this summer, patrons of the Bocci Bar (16 North Central Avenue, Clayton; 314-932-1040) can enjoy happy hour or dinner with the Clayton Farmers' Market going on just steps away from the sidewalk patio through wide-open front doors.
The setting proves a fruitful one, with elements of the market incorporated right into the revamped concept that debuted on April 15 after the restaurant closed last January for retooling. The interior took a fresh coat of a paint, and the menu features a new long list of wine as well as a contemporary American small plates menu that focuses on three separate themes: "Farm," "Land" and "Sea."
See also: Bocci Bar Reopens This Weekend in Clayton
Executive chef Neil Alkobri, who has worked with Bocci Bar since its opening in May 2011 in addition to its sister restaurants BARcelona Tapas and Coastal Bistro, developed the menu after owner Frank Schmitz decided to rework his concept to that of a wine bar without a focus on any specific cuisine.
Bocci Wine Bar executive chef Neil Alkobri.
"My job was to create the menu to fit the new concept Frank Schmitz came up with: the idea of small plates, a more inventive type of cuisine that is still simple and should include as much local product as feasible," says Alkobri. "We categorized the menu into 'Farm,' 'Land' and 'Sea' sections rather than going with the traditional starter, main and dessert titles."
Some highlights of the new menu include an heirloom beet salad ($8) with goat cheese, beet meringue, toasted pistachio and honey thyme vinaigrette; pastrami-smoked salmon ($12) featuring the flavors of an everything bagel, aioli and bagel chips; and "Espresso Peking Duck" ($14) with sorghum citrus glaze and crispy kale. Alkobri also recommends the baked Burrata cheese ($10) in a housemade marinara sauce.
"Another popular dish is the marinated Argentinian-style hanger steak with a fresh Chimichurri sauce," says Alkobri. "Order that with the truffle fries and you've got a meal worth a good bottle of Malbec or Cabernet."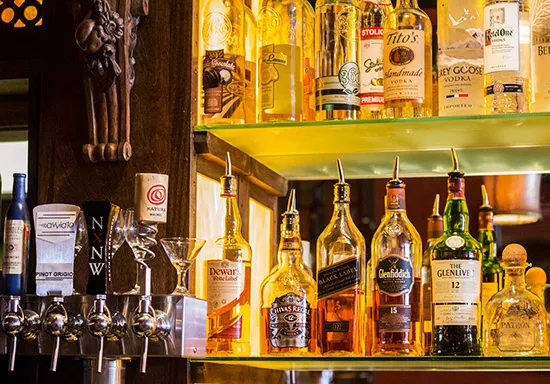 Wine now on tap at the bar.
The dish pairs with Bocci's special geographical theme of the month, just in time for the World Cup: Argentina. The elevated wine list at the restaurant also includes various flights featuring two-ounce samplings of wine. A new wine keg system also awaits at the bar, featuring twenty-liter stainless-steel kegs of wine directly from the vineyard.
"They are stored at 40-degrees for the whites and 54-degrees for the red wines and are dispensed through a draft system that doesn't allow oxygen into the keg and thus keeps the wine at its original state without any chance of it turning or corking," says Alkobri. "Other wines are also available to purchase by the glass or flight and are also kept in coolers that keep especially the reds at 54-degrees."
Bocci Bar's current hours are Monday through Friday from 11 a.m. to 10 p.m. and Saturday from 5 to 10 p.m. For more information, visit the Bocci Bar website and follow it via Facebook.
Click through for more photos.
"Espresso Peking Duck," duck breast with sorghum citrus glaze and crispy kale.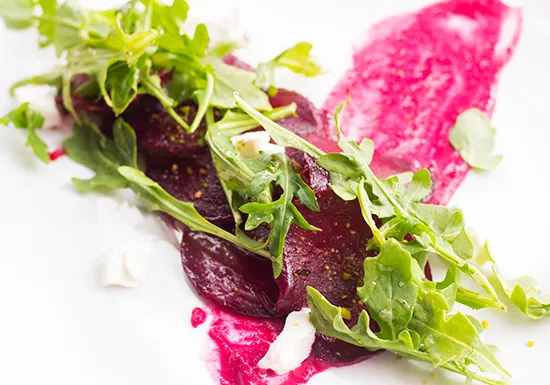 Roasted heirloom beet salad with goat cheese, beet meringue, toasted pisachio and honey-thyme vinaigrette.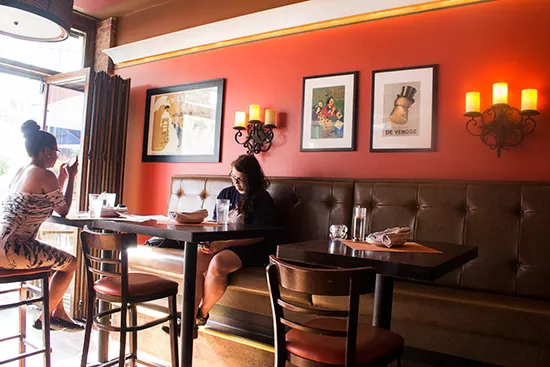 The front portion of the dining room.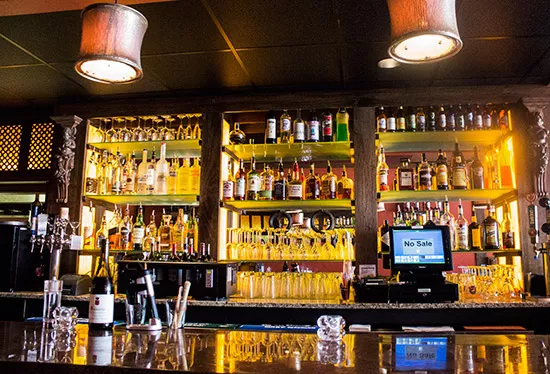 Wine-themed decor lines the walls.
A look at the revamped space.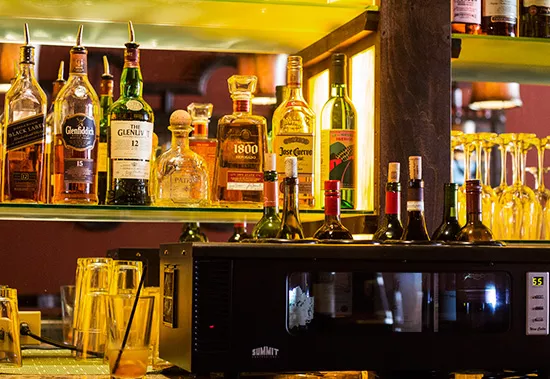 Specialty cooler for wine.
The bar offers Miraval, celebrities Brad Pitt and Angelina Jolie's brand of wine.
Detail of the dining room.
Wine flights now available.
Back end of the dining area.
Monthly specials available.
Now re-opened in Clayton.
See also: - First Look: Jilly's Ice Cream Bar - First Look: Vinnie's - First Look: Sugarfire Smokehouse
Gut Check is always hungry for tips. E-mail us!