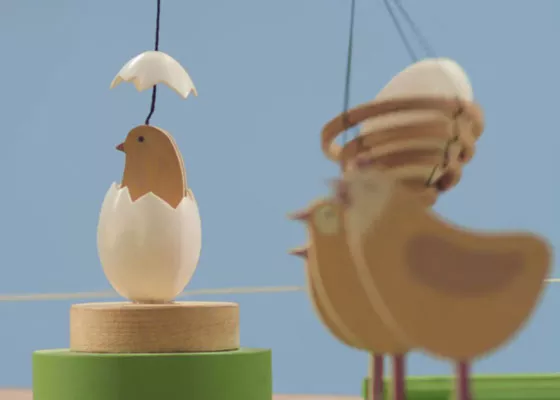 Just some chickens taking the hard road for Panera. | YouTube
St. Louis-founded and -based Panera Bread Company and its ad agency Cramer-Krasselt broke up in a very public way earlier this week. It wasn't a mutual split, though -- an internal memo from Cramer-Krasselt leaked yesterday morning doesn't paint a pretty picture of working with our hometown bakery-turned-national-chain.
See also: The Crossing Competes in James Beard Foundation Taste America Challenge
The memo, obtained by AdAge, reads in part (emphasis ours):
There comes a time when no matter what the acclaim for the work, no matter what that visibility, no matter how good of a relationship we have with the marketing department, no matter what the test scores and results that contributed to reversing falling comps before the campaign and that outpaced previous work and became great case histories -- despite all that: the constant last-minute shifts in direction, the behind-the-scenes politics, the enormous level of subjectivity that disregards proof of performance -- all churn people at a rate that becomes much too much even in this crazy business. The previous agency found that out as well. There is a pattern. And in the end, no amount of money makes it worthwhile.

That said, Panera Bread is a wonderful brand. They truly deliver on their food sourcing and quality promise.... We truly wish Panera Bread well. We will help them in any transition in any way we can. And many of us will continue to eat there. Because it's that good. But enough is enough.
Yikes! Cramer-Krasselt is the firm that did those, er, delightfully weird and twee wooden figurine commercials, some of which had the farming community pretty pissed. Panera also just announced a move to eliminate all artificial ingredients and flavors from its menu by 2016 -- was that too "crazy" for Cramer-Krasselt? Here are a couple:
Folksy!
We talked to Panera's chief marketing officer Michael Simon about the memo, which he feels does not reflect the working relationship with Cramer-Kasselt.
"I guess my first reaction was disappointment, because the actual circumstances they describe wasn't what really happened," says Simon. "We've had a solid relationship and they produced some solid advertising, but it wasn't delivering the impact we wanted."
Simon describes the split as stemming from a meeting on Monday, when Panera told Cramer-Krasselt that they were going to look and consult elsewhere, but that the firm could still submit work for consideration. Instead, Cramer-Krasselt decided not to participate.
"Saying they resigned the account is a little misleading because we told them Monday we were going to reach out to some other agencies," he says. "We also had agreed, 'Let's part amicably.' Because we like their team. This memo is not factually correct, and the tone and intent is very different than we had experienced."
We took that characterization of events back to Cramer-Krasselt but a spokeswoman declined to comment.
It's all very Mad Men, isn't it?
Gut Check is always hungry for tips and feedback. E-mail the author at Nancy.Stiles@RiverfrontTimes.com.
Follow Nancy Stiles on Twitter:
---