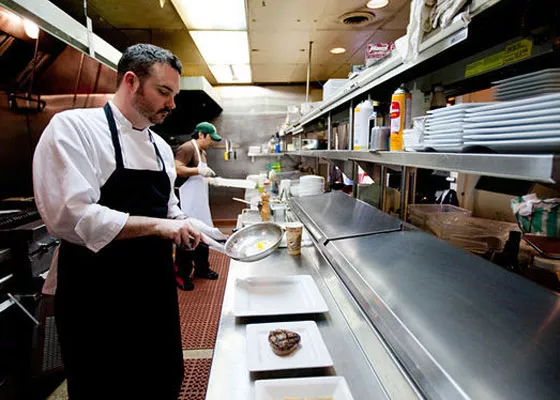 Brad Watts in the Kitchen at Liluma. | Jennifer Silverberg
OK, so executive chef Brad Watts isn't exactly new at the Crossing (7823 Forsyth Boulevard, Clayton; 314-721-7375). He's actually been working with owner and restaurateur Jim Fiala for twelve years. For Watts, it's more like a homecoming. We talked to him about his partnership with Fiala and what this means for the restaurant.
See also: The Crossing Competes in James Beard Foundation Taste America Challenge
"I don't know if you'd call it an actual promotion," Watts says. "I've been the chef here several times before and worked with Jimmy for several years." Watts has been an executive chef and overseen all four Fiala restaurants (the Crossing, Acero, and the late Liluma and Terrace View). When Liluma closed in December 2012, and Watts wasn't ready to call it quits with Fiala. So, he came on the management side at the Crossing.
"When Jimmy and [former chef] Mike Craig parted ways, it was almost like a no-brainer. I went to culinary school, so cooking and stuff is what I enjoy most," Watts says. "I learned a lot in the front of house, which I think in turn will make me a better chef."
He's been with Fiala Foods for so long, and it would have been easy to leave after Liluma closed its doors. But Watts says loyalty is one of the most important things to him.
"It's a good atmosphere and learning environment. He's firm, but he doesn't rule with an iron fist, so he allows us to grow at our own pace and is open to us trying new things," Watts says. "He puts a lot of faith in our decisions and trusts all of us. It's been a great twelve years. He's helped me through rough times and vice versa. It's more of a friendship than a boss/employee relationship."
Gut Check is always hungry for tips and feedback. E-mail the author at Nancy.Stiles@RiverfrontTimes.com.
Follow Nancy Stiles on Twitter:
---