Assorted rolls at Blue Ocean. | Mabel Suen
As the temperatures rise and the kitchen becomes just too hot for cooking, what's a more perfect dinner than sushi? For those a little squeamish about raw fish, many restaurants also serve vegetarian and smoked or cooked fish variations -- plenty of reason to get out of the kitchen and belly up to one of our favorite sushi bars.
See also: The 7 Best Places to Watch the 2014 World Cup in St. Louis
Blue Ocean Sushi (6335 Delmar Boulevard, University City; 314-726-6477)
Our happy-hour critic recently gave Blue Ocean four out of five stars for this Delmar Loop spot's tasty rolls, serious happy-hour discounts on both sushi and drinks, and its "nerd paradise" atmosphere:
Play your cards right to get the most bang for your buck here, and save up to $3 on regular rolls and $5 on special rolls. With more than 50 different types ranging from simple (California) to exaggerated ("Take A Chance," served on fire), Blue Ocean doesn't skimp on options. To coincide the restaurant's theme, the names of several rolls reference nerdy themes: "Klingon Roll" and "Naruto Roll," for instance.... Our sushi came out quickly, artfully presented on a large platter for sharing. The restaurant uniquely utilizes sweet potato in several of its rolls, and the soft, sugary spud strikes an interesting note inside rice. The "Cardinal Roll" comes loaded, stuffed and topped with seafood and creamy sauce. -- Mabel Suen
Read the original review of Blue Ocean here.
Central Table Food Hall | Neeraj Uttamchandani
Central Table (23 South Euclid Avenue; 314-932-5595) This 10,000-square-foot gorgeous reincarnation of the classic food hall offers an exquisitely diverse menu, running the gamut from wood-fired pizzas to bone marrow, imperial wagyu steak to seafood, and raw oysters to a beautiful sushi bar located in the center of the dining area. The thirty sushi options include some not-often-seen treats, such as octopus and sea urchin nigiri and sashimi. Specialty maki include the "Kamikaze" (spicy tuna, cucumber, avocado, yamagobo, kaiware sprouts, topped with albacore and ginger-garlic) and the "Magic Mushroom" (salmon, crab, avocado, yamagobo, enoki mushrooms, topped with chile mayonnaise, and lightly baked).
Tani Sushi Bistro and Area 14 Lounge (16 South Bemiston Avenue; 314-727-8264) Tani Sushi Bistro offers an extensive selection of sushi (there are currently 24 maki rolls on the menu) for lunch and dinner in Clayton. Dining here is an artistic experience, the tone set by a unique display of original Asian art curated by Heejeong Jung. For the late-night crowd, Area 14 Lounge, located just next door, offers an impressive sake selection and delicious Tani sushi for those in the know (there is no sign indicating the venue). Here, the dark space is populated with white furniture, overshadowed by a large, striking, back-lit image of a geisha in the main room.
Wasabi (1228 Washington Avenue; 314-421-3500) Wasabi now boasts four locations in St. Louis (Washington Avenue, Clayton, Town & Country and Warson Woods) and three more locations in Illinois, Kansas and Colorado. Yet the restaurant is decidedly not "chain-y." Each location meticulously handcrafts more than 50 sushi rolls, offering copious nigiri, maki, specialty hand rolls, gunkan, low-carb and vegetarian options. A full menu of authentic Japanese cuisine includes signature dishes, such as unagi don (smoked eel) and "Kani Salad" (spring mix topped with snow crab, avocado, tobiko and housemade dressing).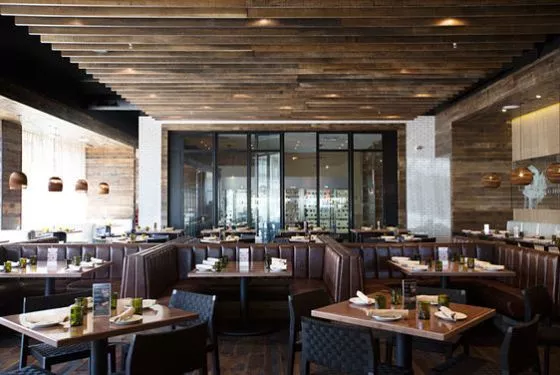 Prasino | Jennifer Silverberg
Prasino (1520 South 5th Street #110, St Charles; 636-277-0202) Building on the success of its Chicago location, Prasino opened its St. Charles location to high acclaim. With an eco-conscious mission, all of its sushi is sustainably harvested. Prasino offers six sushi rolls on its locally focused, farm-to-table menu. There are two gluten-free rolls and one that is entirely vegan. Add a seasonal, craft cocktail such as the "Green" (basil-infused American Harvest organic vodka, strawberry, lemon-lime soda and rhubarb bitters) for a full Prasino experience.
The Drunken Fish | Sara Graham
Drunken Fish (1 Maryland Plaza; 314-367-4222) Named "Best Sushi" by the Riverfront Times in 2006, 2007, 2008 and 2011, Drunken Fish has quickly become one of St. Louis' most popular destinations and is now open at locations in Westport Plaza, Laclede's Landing, Ballpark Village, Kansas City Power and Light District and Leawood, Kansas. A robust sashimi and nigiri menu includes a host of tuna, salmon, red snapper, fresh-water eel and octopus along with original creations, such as the "Yellowtail Mexicano" (yellowtail sashimi seared and topped with jalapeno pico de gallo and ponzu sauce). Customer menu favorites include the vegetable tempura (tempura-fried Japanese sweet potato, zucchini, acorn squash, onions and mushrooms), spicy baked mussels (New Zealand green mussels topped with a Japanese spicy sauce baked and garnished with black tobiko and scallions) and steak teriyaki.
SubZero Vodka Bar (308 North Euclid Avenue; 314-367-1200) St. Louis' only vodka bar (with more than 500 varieties on offer) is also a prime sushi destination. Twenty-six signature sushi options and twelve traditional maki options round out a menu of dishes from all over the world. Traditional favorites and sushi specialties can be ordered every day until last call along with what it claims is the largest selection of vodka in the world. An added bonus -- a chance to rub elbows with Hollywood celebrities. Dan Akroyd, George Clooney and Sammy Hagar have all, at one time or another, grabbed a drink at SubZero Vodka Bar.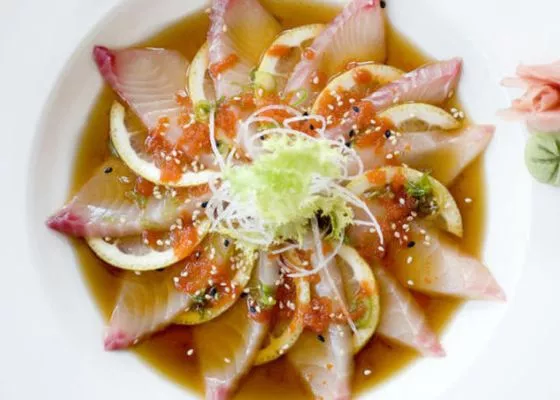 Café Mochi (3221 South Grand Boulevard; 314-773-5000) Café Mochi, located in the international dining district of South Grand, offers excellent sushi along with Vietnamese, Japanese and American cuisines. A hefty sushi menu includes unique specialty rolls, such as the "Seacrust Roll" (salmon, crab, avocado, asparagus roll wrapped in calamari lightly battered and fried topped with spicy and wasabi mayonnaise, eel sayce and black tobiko), the "Maui Roll" (fried coconut shrimp, crab cream cheese, asparagus, salmon, white tuna, wasabi mayonnaise, scallions and red tobiko) and the "Kobe Delight Roll" (calamari, crab, shrimp, smelt roe, asparagus, kaiware sprouts topped with grilled steak, enoki mushrooms, scallions, ginger sesame teriyaki sauce and spicy mayonnaise).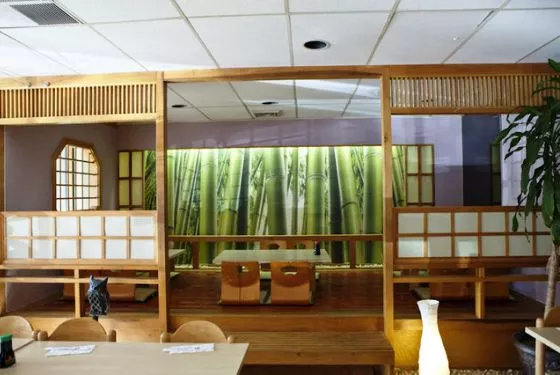 Kampai (4949 West Pine Boulevard; 314-367-2020) A favorite of the Japan American Society of St. Louis Sushi Club, Kampai offers a whopping 41 traditional sushi rolls at their Central West End and Chesterfield locations. Traditional bento boxes are fun for lunch, and sushi bowls are a unique dinner feature. In the CWE location, a low seating area flanked by bamboo room dividers offers a taste of the traditional Japanese dining experience.
Chop Shop Food Truck | Jennifer Silverberg
Chop Shop Food Truck (561-339-7401) The Chop Shop food truck is St. Louis' premiere mobile sushi shop. Sushi rolls are supersized and served with a side of homemade wasabi popcorn. Follow them on Facebook and Twitter to for updates on their lunch route for the day and social-media specials, or catch them at Food Truck Fridays in Tower Grove Park.
Follow Sara Graham on Instagram at @SaraSunshineSTL and Twitter at @SaraSunshineSTL. E-mail the author at saralouisegraham@yahoo.com.
---