The decor at Amsterdam Tavern says it all. | Mabel Suen
The 2014 World Cup begins Thursday, June 12, and it's the perfect time to get acquainted with Europe's favorite sport before St. Louis gets its own team next year. World Cup coverage isn't as easy to find as, say, the Cardinals game, so we've rounded up the best places to watch nations battle it out in Sao Paulo.
See also: The Dam Resurrects the Animal Burger for Ravenous Soccer Fans
Amsterdam Tavern (3175 Morganford Road; 314-772-8224)
The most obvious place is Amsterdam Tavern, a bar basically built for the enjoyment of soccer. It's going to be packed, but it's the perfect place to get rowdy. Amsterdam has a special menu of beers on tap for the entire month of the World Cup, plus numerous watch parties (like for USA vs. Nigeria next week). For 11 a.m. matches, the bar opens at 9 a.m. Plus, you can get delicious food from next-door neighbor the Dam. Follow Amsterdam on Facebook for updates about matches and menu changes.
Coffeehouse downstairs, international watch party upstairs! | RFT Photo
Meshuggah Cafe (6269 Delmar Boulevard, University City; 314-726-5662)
Meshuggah Cafe's upstairs basically transforms into an international cafe during the World Cup, showing every single game, regardless of the time. During big games, it's standing room only, but hey, that's part of the fun. Rub elbows with soccer fans from all over the world, not just Americans. Just don't get into a fight when you rush downstairs for another another coffee. There will be wine and beer specials during all matches beginning Thursday; get updates here.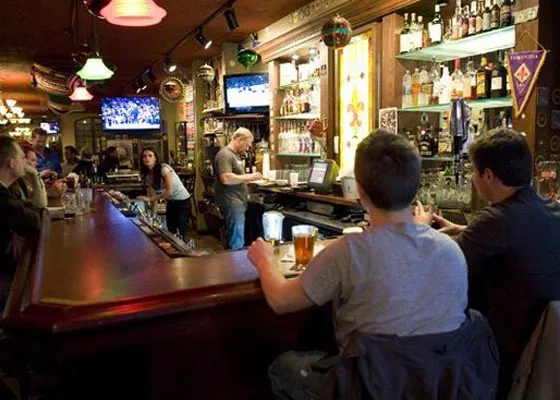 Barrister's (7923 Forsyth Boulevard, Clayton; 314-726-5007)
Barrister's is known for opening at 8 a.m. for weekend matches -- sometimes even earlier. The Clayton eatery is offering tons of specials and promotions for Thursday's opener. You can also enter the World Cup pool for $15 here. Snack on a diverse menu including seventeen beers on tap while you cheer on your favorite team.
iTap in the Central West End. | Pat Kohm
International Tap House (multiple locations)
iTap is running specials at every single one of its locations (Chesterfield Valley, Soulard, the Central West End and Columbia) and will open 30 minutes before each game. There will be iTap World Cup soccer jerseys, scarves, commemorative glasses, giveaways and more, plus draft specials during every game. The first U.S. match on June 16 will feature the release of two beers made especially for the World Cup at iTap -- iBallz by 2nd Shift Brewery and Nelson Sauvin APA brewed by 4 Hands and created by the 2013 homebrew champion. Follow iTap on Twitter for updates.
Llywelyn's in Webster Groves. | Sarah Rusnak
Llywelyn's Pub (multiple locations)
Llywelyn's is showing all of the World Cup matches at all of its six locations: in the Central West End, Wildwood, St. Charles, Soulard, Webster Groves and Winghaven. For USA games, it's $2 off all American draft beers; for Mexico, it's $2 off Corona; for the Netherlands, it's $2 off Heineken and Amstel; for England, it's $2 off Fullers, Boddingtons and Newcastle; for Germany it's $2 off Warsteiner and Hofbrau; for Belgium, $2 off Stella, Hoegaarden, Chimay and New Belgium; for Brazil, it's $2 off Budweiser and Colorado Guanabara; for Austrailia, $2 off Dundee and Fosters; for Costa Rica, it's $2 off Carta Blanca; for France, $2 off Kronenburg 1664; for Italy, it's $2 off Peroni; for Japan, $2 off Saporo; for South Korea, it's $2 off Hite; for Russia, $2 off Russian Imperial Stouts; for Spain, it's $2 off Estrella Galicia and Estrella Damm; and $2 off Tusker for Algeria, Cameroon, Cote d'Ivoire, Ghana and Nigeria. You can also enter to win a trip to the Bud Light finals watch party in Las Vegas by buying $10 Bud Light pitchers or $4 Bud Light aluminum bottles during the matches. Call 1-855-B-CELTIC if you want to set up a private watch party.
The Scottish Arms (8 South Sarah Street; 314-535-0551)
The Scottish Arms is generally less insane than other soccer bars, so you can really enjoy Missouri's largest selection of single-malt whilst watching a match. It's also one of the best brunches in the city, so you don't have to give up your weekend mornings for shitty bar food. Scottish Arms has been preparing, too: There are new TVs for the patio, tents with beer kegs and barbecue for every game and a projection screen in the dining room.
Tigin Irish Pub (333 Washington Avenue; 314-221-8666)
Tigin may be a chain, but it's still hosting a damn good World Cup celebration. All 64 games will be shown on HDTVs with a special game-day menu. The World Cup kicks off Thursday with Goose Island 312 on draft for $5 and live music from Those Guys starting at 8 p.m. The special World Cup menu will be available during matches until July 13; check it out here. You can also enter the $1 million World Cup bracket challenge here.
Gut Check is always hungry for tips and feedback. E-mail the author at Nancy.Stiles@RiverfrontTimes.com.
Follow Nancy Stiles on Twitter:
---