"Chipperment" and "Gooey Butter Brownie Batter" ice cream in a Jilly's cupcake batter confetti cone. | Photos by Mabel Suen
On June 2, Jilly's Ice Cream Bar (8509 Delmar Boulevard, University City; 314-993-5455) opened just in time to beat the summer heat. The ice cream parlor fills the space directly next to owner Jill Segal's Cupcake Wars-winning Jilly's Cupcake Bar.
Those already acquainted with Jilly's cupcakes know that chef Casey Shiller's baked treats certainly do not skimp in size nor flavor. The same concept carries over onto his ice cream menu -- even the tasting spoons come full-size here, folks. The selection features familiar Jilly's flavors including cupcake-batter waffle cones and cake morsels swirled right into several of the ice creams.
See also: Jilly's Ice Cream Bar Now Open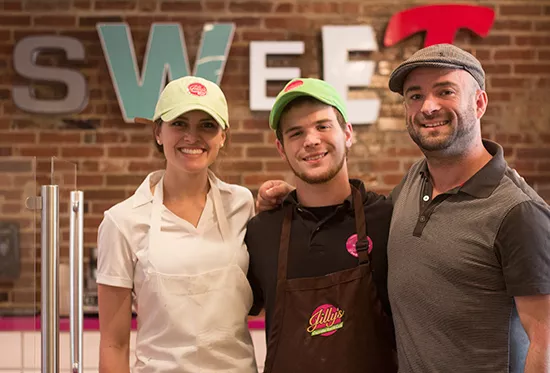 Jilly's front-of-the-house staff Rachelle Altstadt and Patrick McCullough with Jilly's vice president Jack Heffner.
The menu comes written on the wall near the entrance, but visitors will want to check out the counter itself before making a decision on which treats to try. The nineteen flavors currently include classics such as a Tahitian vanilla bean and browned-butter pecan. Additionally, Jilly's cupcake-inspired offerings include "Gooey Butter Brownie Batter" and "Island in the Sun," a fresh mango ice cream with pineapple-cake morsels, roasted pineapple, mango buttercream and white-chocolate shavings.
Get some scoops in cups or cones, or opt for a sundae -- build your own or select from signature combinations including the "Banana Buzz" with latte crisp ice cream, "Space Monkey" ice cream, warm caramel sauce, fresh banana, whipped cream and toffee bits.
Jilly's event space and dining room.
The menu also features monthly chef creations including fan-submitted ideas. This month, try raspberry-peach sorbet or "My Lucky Charm" made with Lucky Charms cereal milk, strawberry-wafer pearls and Lucky Charms' freeze-dried marshmallows.
Jilly's Ice Cream Bar's current hours are Monday through Thursday from 11 a.m. to 9 p.m., Friday through Saturday from 11 a.m. to 10 p.m. and Sunday from 11 a.m. to 9 p.m. For more information, visit the Jilly's website or follow it via Facebook.
Click through for more photos.
A "Lemonberry" sundae with "Bee Sting" ice cream, blueberry compote, streusel crunch, pink whipped cream and a sugar bee.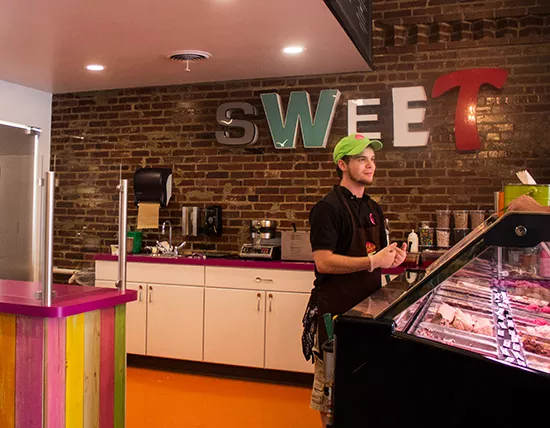 Patrick McCullough behind the ice cream counter.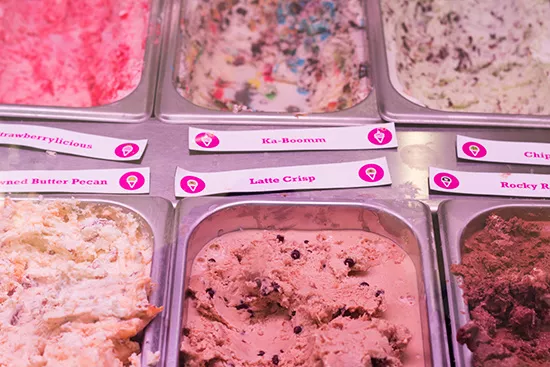 A selection of ice cream.
Jilly's features special monthly flavors.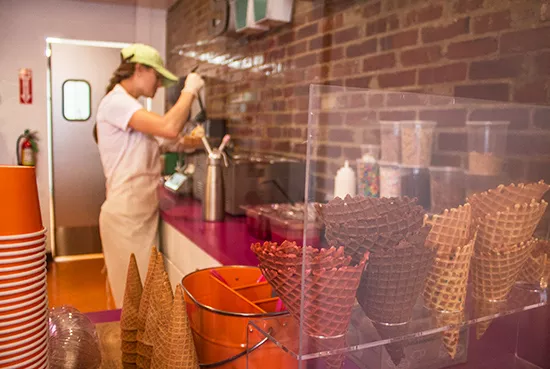 Cones and toppings station.
A spot for visitors to leave their mark.
Seating in the indoor "patio" area.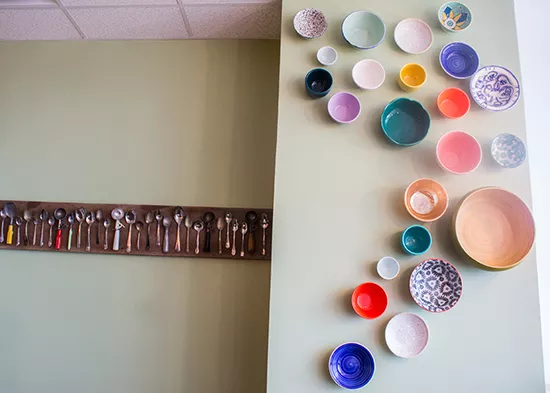 Decorations in the dining room.
A close-up of the scoops.
The dining room doubles as a private event space.
Another corner of the indoor "patio."
Plenty of flavors to choose from.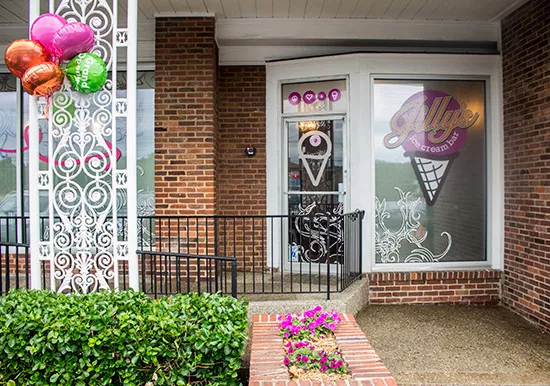 Now open next door to Jilly's Cupcake Bar.
See also: - First Look: Vinnie's - First Look: Sugarfire Smokehouse - First Look: R-Cafe
Gut Check is always hungry for tips. E-mail us!