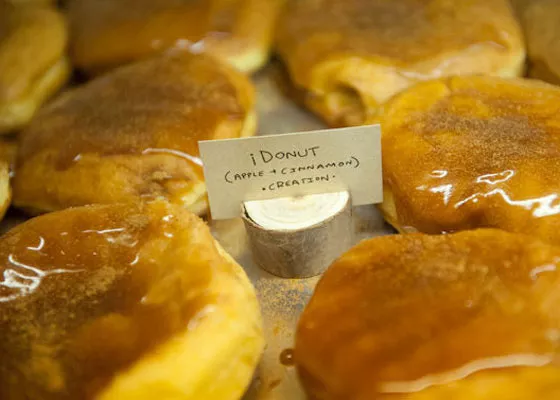 The iDonut, topped with apple and cinnamon. | Jon Gitchoff
Fresh off its National Donut Day celebration at Kuva Coffee last Friday, Strange Donuts (2709 Sutton Boulevard; 314-932-5851) announced plans for a third location in Columbia. Co-owner Cory Smale made the announcement at the Donut Day party, but he tells us its been in the works for at least six months.
See also: Strange Donuts Approved for Second Location in Kirkwood
Strange announced plans for a second location back in March and confirmed it will be in Kirkwood in April. The original location opened in Maplewood last October and has really taken off, thanks in part to collaborations with the likes of Pastaria, Bogart's, Sugarfire Smokehouse, Salume Beddu and more. Smale says Columbia seems like a natural move because of its support for small, independent businesses.
"The vibe is right, and the students are great," he says. "Columbia creates an opportunity for a whole new audience. Mizzou is an SEC school now, which is really big -- it's basically like having an NFL team. There's a lot of growth out there."
The Strange Donuts team met with the Entrepreneurship Alliance at Mizzou's School of Business to learn about the market and test out what they thought of the doughnut shop coming to town. The bakery will be in a new building on Ninth Street, a bustling business district in downtown Columbia. It's part of a new development that will also house residential space.
The Kirkwood location is on track to open at the beginning of August, Smale says, allowing time for the Columbia venue to open in October.
"As soon as we put [the news] out there, people were going crazy," he says. "The response has been tremendous. I wish we could get open tomorrow! But it'll take a little time -- stay tuned."
Gut Check is always hungry for tips and feedback. E-mail the author at Nancy.Stiles@RiverfrontTimes.com.
Follow Nancy Stiles on Twitter:
---