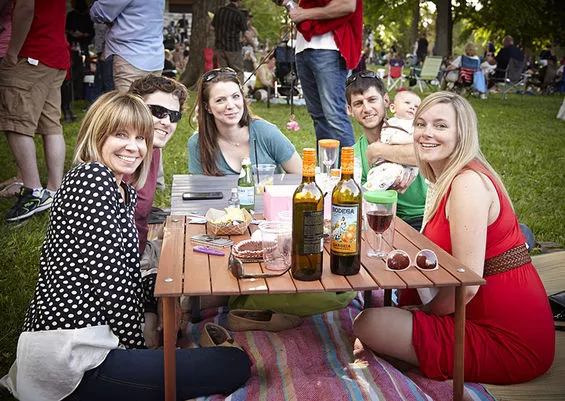 Picture picnic perfect. | Steve Truesdell
During the summer months, life seems to happen more outside than in, and thankfully, St. Louis has a wealth of urban parks. Yeah, they're great for exercising, but Gut Check especially loves to enjoy them camped out on a large picnic blanket with a bottle of wine and a basket full of treats.
There's just one tiny problem with picnicking -- you have to plan ahead and pack a meal. That is, unless you cheat...
Gut Check rounded up a list of our eight favorite local picnic spots and the best places nearby to grab a delicious meal that somebody else made.
See also: The 10 Best Brunches in St. Louis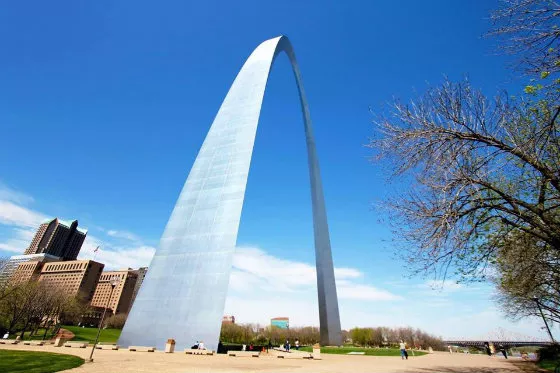 Gateway eating. | Ali Rafiq
The Gateway Arch (100 Washington Avenue) What better place to start than with St. Louis' most internationally recognized monument, the Gateway Arch? Pick a spot on the main staircase and watch the mighty Mississippi River churn toward the Gulf of Mexico. Be transported back in time watching the Becky Thatcher and the Tom Sawyer riverboats navigate the waters. And check out one of the Gateway Geyser's three daily eruptions. Be a tourist in your own city.
The "Tony Supremo." | Sara Graham
Pick Up: Blues City Deli (2438 McNair Avenue; 314-773-8225) On your way downtown, stop at Blues City Deli for a traditional Italian deli menu, which include perhaps the best po-boys and muffulettas in the city. Arrive early on Mondays for the hugely popular "Tony Supremo" (hot roast beef, root-beer-glazed ham, provolone, lettuce, tomato, pickle, onion and Creole mayo on a warm baguette), and on Wednesdays for the "Aporkalypse Pretzelwich" (garlic roasted pork, bacon, provolone, pickles and "boom boom sauce" on a warm pretzel roll). Come back after a day in the sun for live blues on Thursday and Saturday nights.
Citygarden. | Sara Graham
Citygarden (801 Market Street) Since opening in 2009, the 2.9-acre Citygarden has provided an artistic, sensory experience in the middle of the hustle and bustle of downtown St. Louis. There's sculpture from internationally renowned artists, three water features, nighttime lighting displays, an audio tour and lush native landscaping all set among stunning granite, limestone and bluestone hard-scaping.
Sauce on the Side's calzone. | Jennifer Silverberg
Pick-Up: Sauce on the Side (903 Pine Street; 314-241-5667) Who doesn't love a homemade calzone? Sauce on the Side owners Daniel Porzel, Brendan Maciariello and Ryan Mangialardo certainly do, and they've created an entire restaurant out of their passion. Dig into traditional recipes, such as the "Costanza" (pepperoni, eggplant, roasted garlic, basil, mozzarella and ricotta) or for the more adventurous, try a "Gonzo" (salami, dates, spinach, boursin, mozzarella, mascarpone and ricotta). Another innovative standout is the "Figgy Piggy" (bacon, figs, balsamic onions, boursin, mozzarella and ricotta). There are fifteen calzones to choose from, plus salads, desserts and a lengthy beer and wine list, all just a three-minute walk from Citygarden.
The lovely Art Hill. | Sara Graham
Art Hill (1 Fine Arts Drive, Forest Park) Whether taking it in from a boat tour around Post Dispatch Lake or lying on top of it on a blanket watching the clouds pass, Art Hill in Forest Park is a favorite outdoor destination for many city dwellers. At the base, the newly renovated fountains and plaza make a beautiful picnic destination spot to catch the sunset.
Pick Up: Kayak's (270 North Skinker Blvd; 314-862-4447) Located on the northwestern edge of the park, Kayak's offers perfect sustenance for a day at the park. The menu includes hearty sandwiches, fresh smoothies and breakfast. Sandwiches are each named after a national park, such as the "Banff" (turkey breast, prosciutto, Swiss cheese, caramelized onions, tomato, field greens and chipotle mayo on white bread), "Copper River" (smoked salmon, cream cheese, capers and red onion served on your choice of bagel) and the "Jackson Hole" (turkey breast, Swiss cheese, sauerkraut, red onion, Thousand Island dressing and brown mustard on rye).
The view from the Pavilion. | Sara Graham
World's Fair Pavilion (5600 Clayton Avenue, Forest Park) Built in 1909 with proceeds from the 1904 World's Fair, the World's Fair Pavilion is an open-air structure coveted for private events and a perfect spot to enjoy a spectacular view of Forest Park. The Boathouse, art museum, zoo and the fountains are all within sight, with the rest of the park spread out below and the city skyline stretched across the horizon. Don't be surprised to be joined by a random artists juggling, painting or even dancing.
Central Table. | Sara Graham
Pick Up: The Market at Central Table Food Hall (23 South Euclid Avenue; 314-932-5595) Just east of the park, this 10,000-square-foot food hall offers an exquisitely diverse sit-down menu, running the gamut from a sushi bar to wood-fired pizzas and imperial wagyu steak to raw oysters. Just as delicious is a fantastic deli and market with to-go items such as sandwiches, sushi, soups, salads and dry goods perfect for a picnic outing. Wine, juices and water are also available.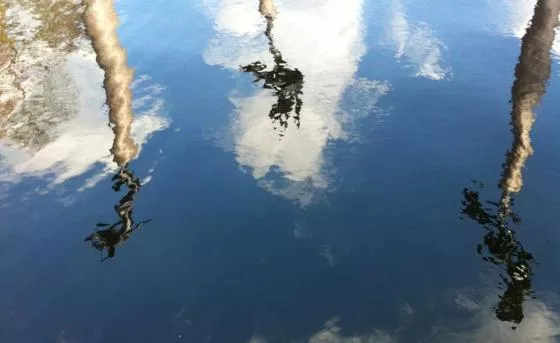 Missouri Botanical Garden, Sara Graham
Missouri Botanical Garden, Whitaker Music Festival (4344 Shaw Boulevard; 314-577-5100) The Missouri Botanical Garden offers 79 beautiful acres for strolling. In the summer, the free Whitaker Music Festival is an excellent opportunity to linger longer. The festival features blues, jazz, rock and other artists to enjoy while picnicking in the garden.
Pick Up: At the Festival Picnic fare, beer, wine, soda and snow cones are available for purchase on-site.
Food Truck Friday, Steve Truesdell
Tower Grove Park (4256 Magnolia Avenue) Tower Grove Park is a small urban gem located just south of the Botanical Garden (on land donated by the garden's founder, Henry Shaw), between Kingshighway and Grand Boulevard. The site of numerous summer festivals and local kickball, softball and soccer leagues, the Victorian-era park is a stunning venue for a meal al fresco.
Pick Up: Food Truck Friday (Tower Grove Park, southern end) The fourth annual Food Truck Friday series kicked off this summer on May 9. Since 2011, this monthly event occurs on the second Friday of the month and features the best of the St. Louis food-truck scene for a community-scale summer picnic event. Choose from burgers to tacos, sushi to cupcakes, not to mention plenty of locally crafted beer. The event is also sustainable, with recycling and composting bins located throughout area.
Laumeier Sculpture Park | Micah Usher
Laumeier Sculpture Park (12580 Rott Road, Sunset Hills; 314-615-5278) The 105-acre open-air museum features some of the world's most renowned modern and contemporary artists. One of only a handful of parks like it worldwide, Laumeier offers a quirky setting for a picnic. Sit next to a giant human eyeball replica, behold the iconic and larger-than-life red columns of The Way, or ponder the surrealist work Ball? Ball! Wall? Wall!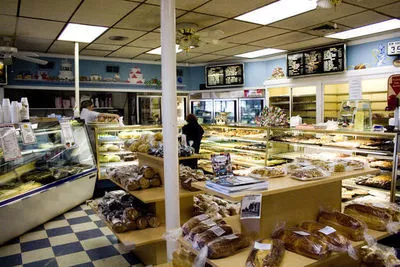 Lubeley's Bakery & Deli | RFT Photo
Pick Up: Lubeley's Bakery & Deli (7815 Watson Road; 314-961-7160) In business since 1937, Lubeley's has perfected the classic deli sandwich. Barbecue ham or beef, turkey, roast beef, ham and cheese, Reuben, salami, tuna and chicken salad, veggies and croissants -- whatever your particular sandwich craving they'll have you covered. Salads, sides and sodas are also available, along with a mouth-watering array of bakery treats.
Creve Coeur Memorial Lake | Todd Heilman
Creve Coeur Lake Memorial Park (13236 Streetcar Drive; Maryland Heights) Creve Coeur Lake boasts a real sand beach and hosts wind surfers, canoers and kayakers. Simply sitting lakeside enjoying a sandwich and the view is also pretty fine. Sunsets there are spectacular -- try to time your picnic accordingly.
Pumpernickles Delicatessen | Kayci Merritte
Pick Up: Pumpernickles Delicatessen (11036 Olive Boulevard, 314-567-4496) This Kosher deli was voted "Best Pastrami" in 2012 by Riverfront Times readers and offers a Rueben sandwich that rivals those from New York City. Its famously "overstuffed" sandwiches are classics, such as the corned beef, pastrami, rare roast beef and even tongue. There are also specialty sandwiches, such as the "the Sloppy Louie" (corned beef, turkey, pastrami, roast beef, slaw and "Louis" dressing on rye) and the "Joey T" (corned beef, cream cheese, tomato and spicy mustard on rye).
Follow Sara Graham on Instagram at @SaraSunshineSTL and Twitter at @SaraSunshineSTL. E-mail the author at saralouisegraham@yahoo.com.
---