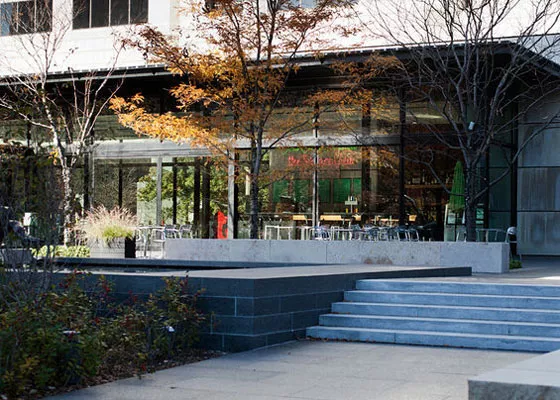 The Citygarden space where Death in the Afternoon will open Monday. | Jennifer Silverberg
Death in the Afternoon (808 Chestnut Street; 314-621-3236), the new venture from the owners of Blood & Sand (1500 St. Charles Street; 314-241-7263), opens to the public at Citygarden Monday, June 9. The restaurant will be lunch-based, and, unlike Blood & Sand, it's not members-only.
See also: Death in the Afternoon, New Citygarden Restaurant, Will Complement Blood & Sand
"We think that downtown could benefit from having a really high quality lunch space that took pride and care in their presentation, but with familiarity and approachability in price point and to be able to do it consistently and in a timely manner," co-owner Adam Frager told us in February.
Like Blood & Sand, Death in the Afternoon's name comes from a classic cocktail. This one was invented by Ernest Hemingway, and is also the name of his 1932 nonfiction book about bullfighting. The restaurant will be open for lunch from 11 a.m. to 3 p.m. Monday through Friday, and it will transition into a private event space at night.
However, Death in the Afternoon is apparently unofficially open for business today, June 6 -- let us know if you stop by!
Here's the full menu:
Gut Check is always hungry for tips and feedback. E-mail the author at Nancy.Stiles@RiverfrontTimes.com.
Follow Nancy Stiles on Twitter:
---