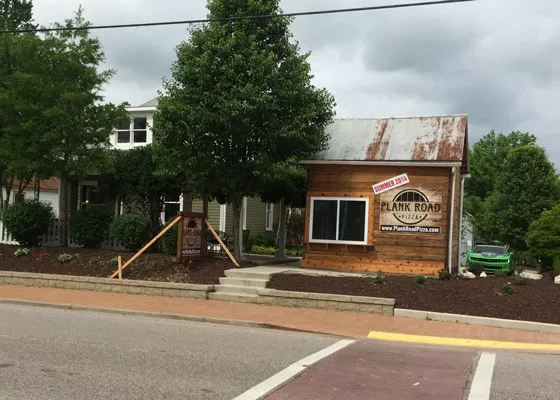 Outside Plank Road Pizza. | Andrew Brewer
Cottleville is taking a page from Edwardsville, Illinois and on track to become a culinary destination. The latest addition is Plank Road Pizza (5212 Highway N, Cottleville) which will serve pizzas somewhere between Neapolitan and New York-style. We talked to co-owner Andrew Brewer about his plans for the menu and the historic 1841 building that houses Plank Road Pizza.
See also: Rack House West Winery Pops the Cork in Cottleville
There will be about ten speciality pizzas on the menu, appetizers like the "pizza chip" (Brewer says it's sort of like a pita chip but wouldn't give away anything else), seasonal salads and even a dessert pizza. Some vegetables and toppings will be grown on site; the team has planted tomatoes, jalapenos, green peppers, basil and herbs.
The building is actually the oldest standing building in Cottleville and is named after the road that used to connect Cottleville to St. Charles. Brewer used old wood from his grandfather's farm to restore the outside.
"We had been talking about it for a few years, me and my partner, and we talked around the idea of maybe an ice cream place," Brewer says. "We've always liked pizza, so we thought that would be more of a year-round thing for people to enjoy and around here."
Brewer says Plank Road Pizza will open this month, hopefully in the next few weeks. You can follow its Facebook page for updates.
Gut Check is always hungry for tips and feedback. E-mail the author at Nancy.Stiles@RiverfrontTimes.com.
Follow Nancy Stiles on Twitter:
---