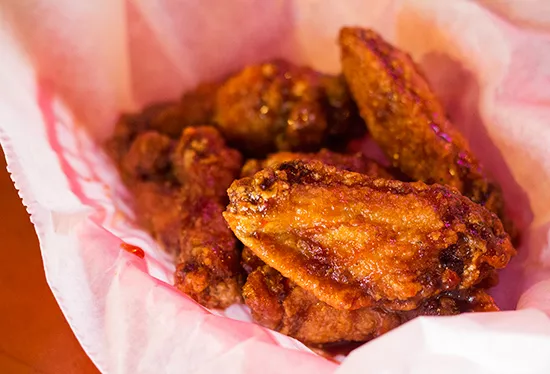 Chicken wings. | Photos by Mabel Suen
The Place: Stella Blues (3269 Morgan Ford Road; 314-762-0144)
The Hours: Happy hour is offered Monday through Friday from 3 to 8 p.m.
The Deal: Half-off select appetizers. $2 domestic bottles and $3 wells. Additional daily specials.
Order your food here at Stella Blues.
The Scene: Stella Blues occupies an otherwise quiet corner in the Tower Grove South neighborhood, so its loud personality makes itself known from the get-go. Under its royal blue awning, a large sandwich board sits on the street advertising its happy hour with a "scenic patio" and "pool room." A colorful wooden sculpture of a chicken claims, "I have the best wings in town!" The bar and dining room come covered in various kitsch, reflected from a metallic ceiling. There's plenty of seating indoors and on the patio.
The Food: After a couple of phone calls and a visit, we're still not exactly sure what the alleged half-off appetizer specials are here. When we arrived, the bartender poured our drinks and instructed us to place food orders at the back end of the space, where an open grill and carnival-esque signage hang out. When asked about happy-hour snacks, the cook pointed to a couple of hand-typed signs that make up the menu.
"These used to be the happy-hour prices, but now we just serve them all the time," she says. Fair enough. We went ahead and ordered the two items mentioned over the phone -- $1 spiced pork kabobs and a pound of wings for $3.99, as well as an order of fried pickles for good measure.
Did Stella Blues make the grade? Find out on the next page.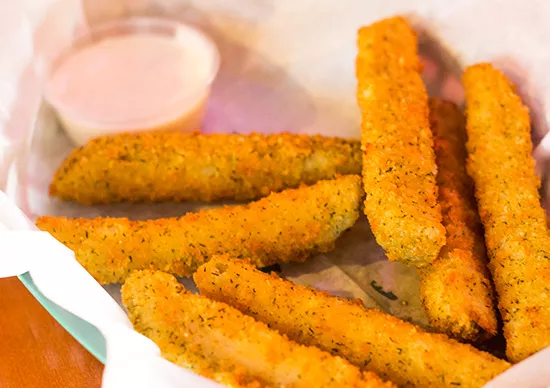 The Verdict: The chicken wings came out crispy, with a sweet and spicy hot glaze -- a real treat that hit the spot. The kabobs, made up thin slices of pork threaded across skewers, maintained a light char from the grill and had a similar sugary sauce minus the spice.
Fried pickle spears come with a light, seasoned breadcrumb coating, served with some ranch. They served as a tangy, delightfully crunchy counterpart to the other appetizers. All these dishes served as great snacks to accompany cheap beers.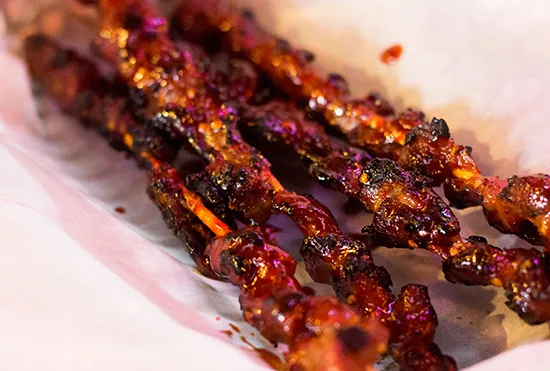 Due to its somewhat ambiguous food special prices, we're not sure whether or not it's worth stopping in to Stella Blues during its happy hour, but we know we'd hang out here just about any old time. Plus, daily drink specials make it easy for anyone to make this spot a regular watering hole, especially on that sunny little patio.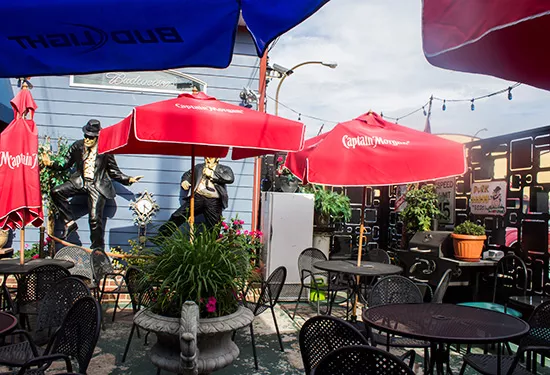 Available seating on the patio.
The Rating: On a scale of one to five...

Previously on Happy Hour Handbook: - Triumph Grill - Lola - Basso - Blue Ocean Sushi - Hwy 61 Roadhouse and Kitchen - Gringo - Jax Cafe - Mile 277 Tap & Grill - Sandrina's - Mangia Italiano - Kirkwood Station Brewing Company - Steve's Hot Dogs on the Hill
We're always looking for some more happy hour meal deals. E-mail the author at mabel.suen@riverfronttimes.com.