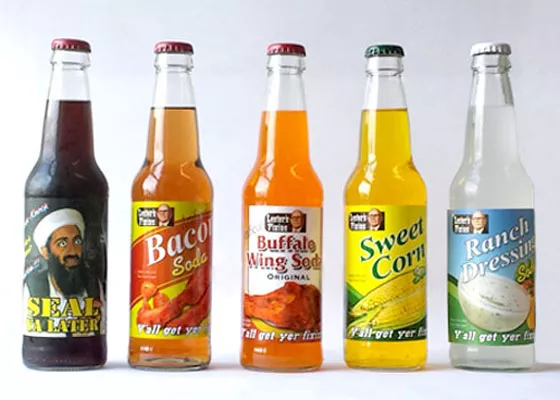 When Rocket Fizz Candy & Soda Shop (6303 Delmar Boulevard, University City; 314-833-4614) opened just across the street from us, we knew there were going to be some crazy items for sale. Rocket Fizz boasts dozens of flavors of soda from run-of-the-mill cola to Snooki-flavored (yup). So we decided to pick up a few bottles and test them out.
See also: Rocket Fizz Candy Replacing Children's Store in the Delmar Loop
We chose seven sodas: "Seal Ya Later" (lovingly referred to as "Osama"), Bacon, Buffalo Wing, Sweet Corn, Peanut Butter & Jelly, Martian Poop and Ranch Dressing.
Seal Ya Later soda. | Jessica Lussenhop
Seal Ya Later was certainly intriguing, because we couldn't figure out what the flavor would be. The label reads, "Knock Knock...who's there? America!!!" It basically just tasted like watered-down Coke. Which is pretty American, actually.
Buffalo Wing soda. | Jessica Lussenhop
The Buffalo Wing soda (which curiously specifies that it's artificial Buffalo wing) kind of tricks you, noted one tester, because it smells sort of spicy, so you're thinking it will taste like Buffalo sauce. It does not. It's more like an orange creamsicle soda "which is even more disgusting because it's weird," our tester said.
Sweet Corn soda. | Jessica Lussenhop
As for Sweet Corn, it really did taste like liquified sweet corn. So, to be fair, at least the flavor is what it's supposed to be, but our panel's verdict was "absolutely horrendous."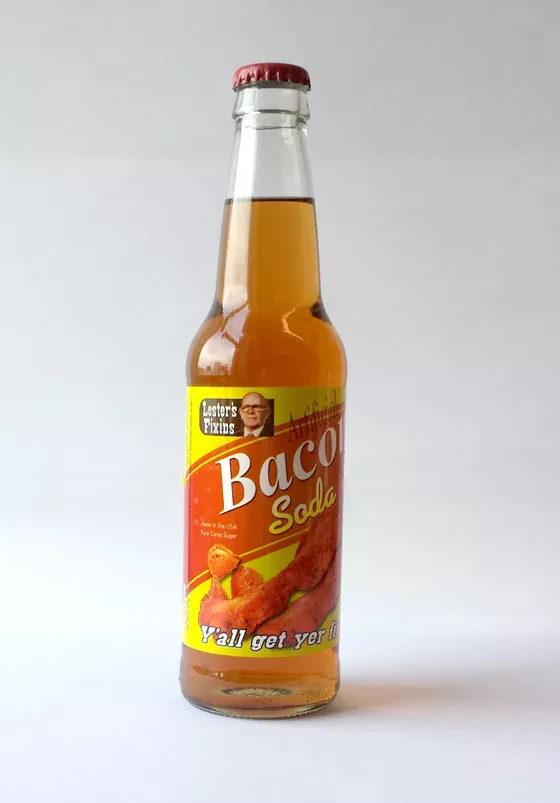 Bacon soda. | Jessica Lussenhop
The Bacon soda didn't taste like liquified bacon (we're not sure if that's good or bad) -- it smelled like maple syrup and glue. And then tasted like maple syrup and glue.
Ranch Dressing soda. | Jessica Lussenhop
Ranch Dressing went downhill pretty quickly when we smelled it before drinking. It definitely smelled like ranch, but not in a good way. One tester remarked that if ranch dressing were a person, it would most certainly look like Lester from Lester's Fixins. The soda is a cloudy white color, and when you drink it, it almost taste like Sprite, but if someone stuffed ranch dressing up your nose at the same time. Several testers had to chase Ranch Dressing with whiskey to get rid of the taste. For your enjoyment, one RFT staffer agreed to chug the bottle. Behold:
RFT Chugs Ranch Dressing Soda from Nancy Stiles on Vimeo.
Gut Check is always hungry for tips and feedback. E-mail the author at Nancy.Stiles@RiverfrontTimes.com.
Follow Nancy Stiles on Twitter:
---