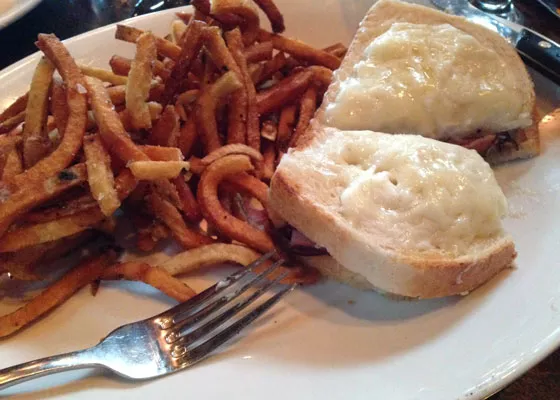 We love these. | Nancy Stiles
It's Monday. Back to work. The good news is, it's finally summer and we aren't all freezing in the blizzard that was this winter. We know you'd rather be outside frolicking at Forest Park or something, but how about some free food to make you feel better?
Just be the first to correctly guess where we got this croque monsieur and french fries to win.
UPDATE: Commenter mersh was the only person to get it right. We were at Vin de Set (2017 Chouteau Avenue; 314-241-8989).
See also: UPDATED: Guess Where I'm Eating This Sushi and Win $25 to De Palm Tree
Simply study the photo and leave your best guess in the comments. If you're the first correct answer, we'll give you $25 to De Palm Tree Jamaican Cuisine (8631 Olive Boulevard, University City; 314-432-5171).
Rules: To be eligible, you must leave a valid e-mail address (or Twitter handle or Facebook profile URL) in the comment-entry field. One guess per e-mail address. Employees of the restaurant in question and the Riverfront Times are not eligible.
Gut Check is always hungry for tips and feedback. E-mail the author at Nancy.Stiles@RiverfrontTimes.com.
Follow Nancy Stiles on Twitter:
---