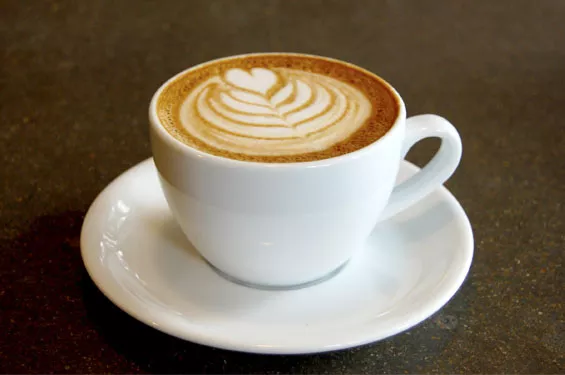 A cappuccino from Sump Coffee. | Cheryl Baehr
Thank goodness former patent attorney Scott Carey had the courage to follow a dream. Since opening Sump Coffee (3700 South Jefferson Avenue; 917-412-5670) in 2011, this soft-spoken craftsman has elevated the St, Louis coffee scene to new heights, serving house-roasted seasonal selections from his south Jefferson storefront. Don't think of ordering a double skinny mochaccino at Sump. In fact, don't even bother asking for cream and sugar. It's just not that kind of place. See Also: MOFU Tofu Collaborates With Sump Coffee to Create Ramen Pop-Up Restaurant
Sump has a brief menu with a few in-season selections, a cold brew offering and a cappuccino so expertly executed it belongs in a showroom. Carey changes the coffee base depending on what is currently in season; on the day of my visit it was an Ethiopian Yirgacheffe that was so delicate and perfumey it tasted like Jasmine tea. Over the coffee, Carey slowly pours the rich and frothy Ozark Mountain Creamery milk to create a luscious cup of heaven. There are no bells and whistles necessary. Coffee. Milk. Perfection.
Previously: #82: The Salted Caramel Croissant at Pint Size Bakery #83: Gnocchi at the Good Pie #84: Truffled Tater Tots at Blood & Sand #85: Marinated Feta Cheese at Evangeline's Bistro and Music House #86: Chorizo and Egg Sope at Spare No Rib #87: Duck Burger at Planter's House #88: WildSmoke's Smoked Chicken Wings #89: The Duck Prosciutto Flatbread at Bella Vino #90: The "Dam Burger" at the Dam #91: The "Hog Mess" at Blind Tiger #92: Khao Soi at Fork & Stix #93: The "Smokehouse Club" Sandwich at Bud's Smokehouse #94: Cafe Natasha's Yogurt Dip #95: Macarons at La Patisserie Chouquette #96: The Libertine's Fried Chicken #97: Pork Belly at Element #98: M'Lwee at Baida #99: Breadbasket at Juniper #100: Bucatini All'Amatriciana at Pastaria
Follow Cheryl Baehr on Twitter at @CherylABaehr. E-mail the author at Cheryl.Baehr@RiverfrontTimes.com.
---