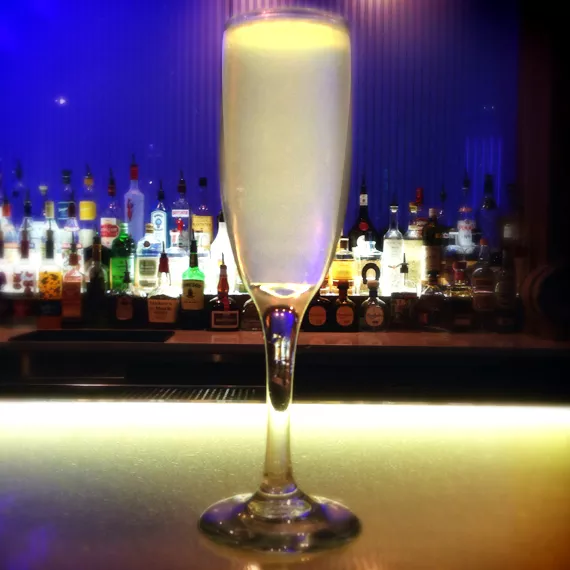 The French 75 at Eclipse Bar | Patrick J. Hurley
The Drunken Vegan, a.k.a. Patrick J. Hurley, is a full-time barman at the Civil Life Brewing Company and cocktail enthusiast about town. He's an unapologetic drunkard, a vegan and a bon vivant, and, no, he doesn't think those last two terms contradict each other.
Gin and citrus-based drinks are natural summertime quaffers. And nothing fights heat and humidity like a well-chilled sparkling wine. Put them together, and you have an ideal warm-weather restorative.
The "French 75" consists of gin, lemon juice, sugar and sparkling wine. There are many theories about how this drink originated. The Drunken Vegan's favorite credits it to an American World War I pilot who loved Champagne, but needed something stronger to prepare for takeoff. His version used cognac. ("Twelve hours bottle to throttle" apparently didn't apply to the gentleman.) The name "French 75" refers to a WWI French artillery shell, as well as the drink's purported kick. The Savoy Cocktail Book (1930) includes an early gin version, which "hits with remarkable precision."
See also: Campari Cocktails, the Bartender's After-Work Drink of Choice, at the Good Pie and Olio
The Drunken Vegan enjoyed a "French 75" at the Eclipse Bar (6177 Delmar Boulevard; 314-726-2222), and it didn't miss its mark. The bartender combined Ford's gin, lemon juice and simple syrup, and then shook them with ice. He poured the result into a Champagne flute and topped it off with cava, a sparkling Spanish wine. The result was bright, sharp and refreshing. A little sugar balances the acid in the lemon and the wine. The flavors all married wonderfully, with some subtle botanical notes coming through, including hints of juniper, citrus and lavender. The DV highly recommends for a hot summer night.
Follow Patrick J. Hurley on Twitter at @VeganDrunkard. E-mail the author at Patrick.J.Hurley@HurleyHouse.com.
---