Wild Flower owner Phil Czarnec.| David Picard
Not every restaurant in town is closing down for Memorial Day. In fact, the folks at Wild Flower (4590 Laclede Avenue; 314-367-9888) are going all out with the now-historic all-night pig roast and Memorial Day feast.
From Sunday night all the way to Monday morning, owner and chef Phil Czarnec will toil away on a massive pig roast, and anyone is invited to knock back whiskey and while away the hours with him.
See also: Wild Flower Taking Over the Majestic for Barbecue Restaurant
The annual Memorial Day Wild Flower Pig Roast & BBQ informally begins on Sunday at midnight when an entire pig (locally raised and hand-picked from Shubert's Meat Market in Millstadt, Illinois) is loaded into the smoker and set up on Euclid in front of the restaurant. Czarnec and a team of extremely committed chefs then keep it company all night long. Passersby are invited to sit, talk food and share a glass of Jameson whiskey until the wee hours of the morning.
The pig roasts over a very low heat, sprayed periodically in order to create a perfectly brown skin that will be used as tasty garnish for plating the next day. The award-winning barbecue sauce is a recipe that Czarnec has been perfecting with Wild Flower for the past ten years and which has inspired him to open BBQ Saloon in the recently closed Majestic Restaurant (opening date is still to be determined).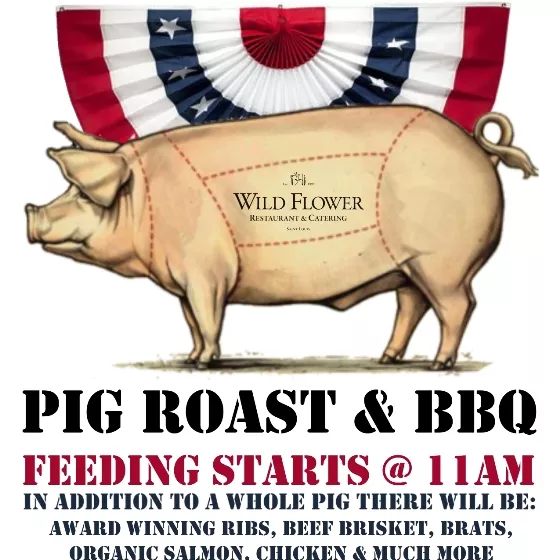 The smoking process concludes sometime around 6 a.m. Monday morning when the pig will be moved inside to be readied for the feast, which starts at 11 a.m. Admission is free.
If guests aren't already filled up on whiskey, Wild Flower's pig-roast cocktail pairing is the "Manhattan Orange," made of Bulleit rye and sweet vermouth muddled with fresh orange and topped off with Aperol or a dash of blood orange bitters.
Follow Sara Graham on Instagram at @SaraSunshineSTL and Twitter at @SaraSunshineSTL. E-mail the author at saralouisegraham@yahoo.com.
---