"Joe's Backyard Pork Steak" at Gamlin is 24 ounces of bone-in pork butt, topped with St. Louis barbecue sauce and beer-braised onion butter. | Jennifer Silverberg
It's not a St. Louis summer without some pork steaks on the grill. Outsiders may not understand it, but boy, are they missing out. Grilling isn't everyone's forte, though, so we've rounded up some great places around town to get that perfect pork steak without all the work. Let us know your favorite in the comments!
See also: Wild Flower Celebrates Memorial Day with All-Night Pig Roast, All-Day Feast
Gamlin Whiskey House (236 North Euclid Avenue; 314-875-9500)
Don't be surprised that a classic St. Louis pork steak is on the menu at a whiskey bar. "Joe's Backyard Pork Steak" is 24 ounces of smoked, bone-in pork butt, St. Louis barbecue sauce and beer-braised onion butter with Carolina baked beans. Enjoy one on Gamlin's patio overlooking busy Euclid Avenue.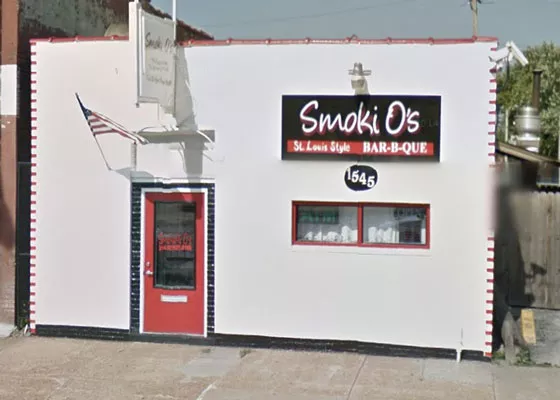 Smoki O's BBQ (1545 North Broadway; 314-621-8180)
When Andrew Zimmern brought his show Bizarre Foods to Smoki O's, it wasn't just for the snoots. Pork steaks are a distinctly St. Louis cut, and Smoki O's has some of the best in town. The generous serving comes with two sides, such as potato salad, mac & cheese and cornbread. Sounds like a perfect Memorial Day combination.
Rib City (1090 Old Des Peres Road, Des Peres; 314-965-7427)
You can get a good pork steak in the county, too. Head out to Des Peres for an eighteen-ounce lean pork steak "smoked to perfection," and pick from several sides, including like homemade slaw, potato salad, barbecue beans and sweet potato fries.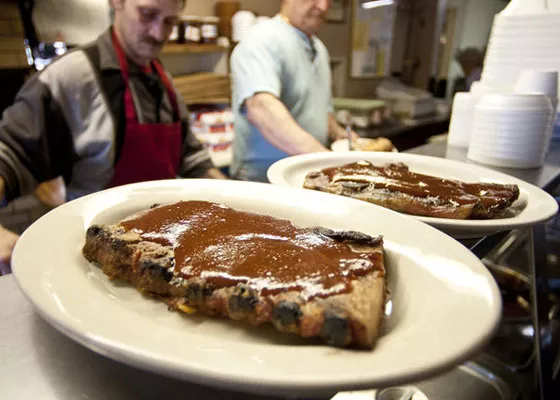 Phil's Bar B Q (9205 Gravois Road; 314-638-1313)
We named Phil's Bar B Q the best pork steak in St. Louis back in 2005, and it's still just as good. It's a little joint in Wilbur Park, but it doesn't disappoint. This family-owned spot has been going strong for more than 40 years, and it knows what it's doing.
Gut Check is always hungry for tips and feedback. E-mail the author at Nancy.Stiles@RiverfrontTimes.com.
Follow Nancy Stiles on Twitter:
---