Italian beef sandwich with thinly sliced beef, cheese, peppers and onions topped with giardiniera. | Photos by Mabel Suen
Vinnie's (3208 Ivanhoe Avenue; 314-644-7007) opened in Lindenwood Park on March 1, serving up a menu made by two long-time culinary colleagues. Owner and St. Louis native Matthew Mulholland brings massive Chicago-style Italian sandwiches to the table, while chef George Potsos cooks up his family recipes of authentic Greek gyros, sides and more.
Mulholland started his career in kitchens 30 years ago, working his way up the ranks at the Lone Wolf Club in Castlewood. Since then, he has cooked in a number of kitchens in town, including Norton's Cafe, Schlafly Tap Room and Lester's Restaurant. He met Potsos while both were employed at Olympia Kebob House & Taverna.
"Everywhere I've worked, I've brought him along," Mulholland says. "He's worked with me, for me, and now we're working side-by-side. It's really cool. We're just two great friends having a good time. That's all this place is."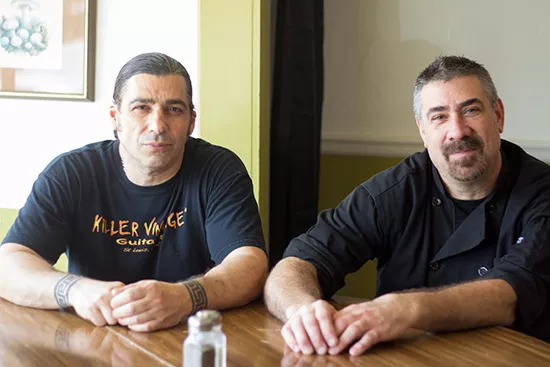 Chef George Potsos and owner Matthew Mulholland.
His concept for Chicago-style fare comes from none other than the Windy City itself. An avid sports fan, Mulholland began traveling to nearby major cities to get his fix after St. Louis lost the Cardinals football team. Throughout his visits to Chicago, he fell in love with the grab-and-go-style sandwich offered by restaurants on nearly every corner, including Costello's and Al's Italian Beef.
"I wanted to have a place where you could get a sandwich and a drink or a sandwich and a side for under ten bucks," he says. "That's pretty much what you can do here."
Mulholland's Italian beef sandwiches come out of the kitchen practically bursting at the seams. They begin with a bottom roast, seasoned and baked in-house. Sliced as thin as possible, the beef gets piled inside a hoagie bun and then is topped with onions, cheese, peppers and spicy housemade giardiniera. The finishing touch comes from a quick dip in hot au jus kept constantly simmering on the stove.
Though this sandwich packs enough of a punch on its own, Vinnie's also offers a three-meat combo for the most beastly of meat eaters -- the most expensive ($8.95) and largest item on the menu. This takes practically all the options from the Italian side of the menu and piles them between buns: Italian beef, sausage and meatballs with all the fixins.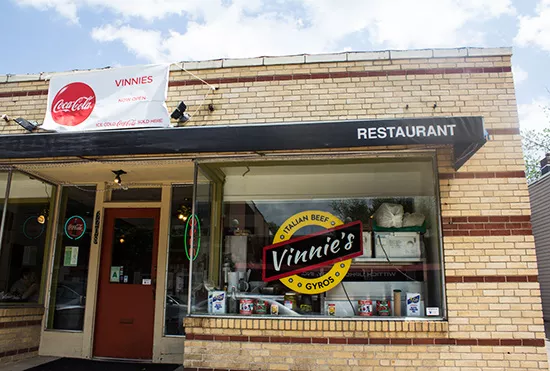 Located in Lindenwood Park.
On the Greek side of the menu, patrons can look forward to everything from traditional gyros and housemade tzatziki to flaky pita pastries stuffed with spinach or cheese. For dessert, try Potsos' pinwheel-shaped baklava, served warm and soaked in sweet syrup.
No matter what you order, meals come out in paper boats boasting substance over style. Eat in at the humble dining room decked out in minimal kitsch (complete with vinyl tablecloths), dine on the patio or walk out with hot sandwich in hand. Guests can even sit at Mulholland's childhood dining-room table, a prominent fixture in the restaurant.
Vinnie's is open Monday through Saturday from 11 a.m. to 10 p.m. For more information and the full menu, visit the Vinnie's website and follow it on Facebook. Look forward to delivery options in the near future.
Click through for more photos.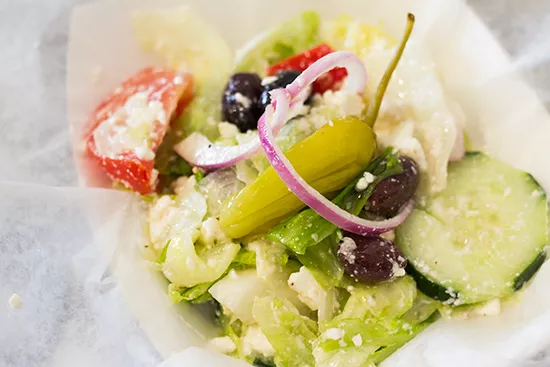 Kramer in the dining room.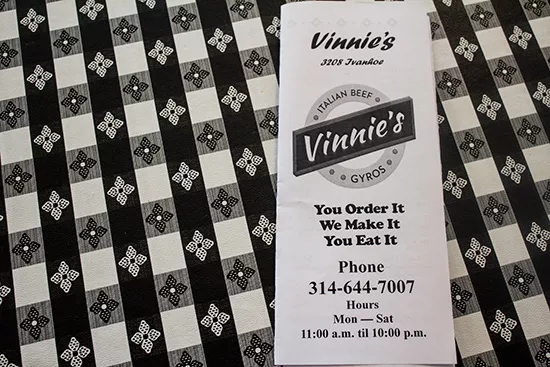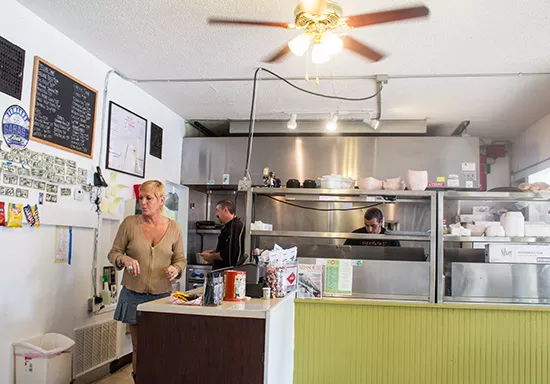 A "Colossal Gyro" with gyro meat, onions, tomatoes, tzatziki, lettuce and feta.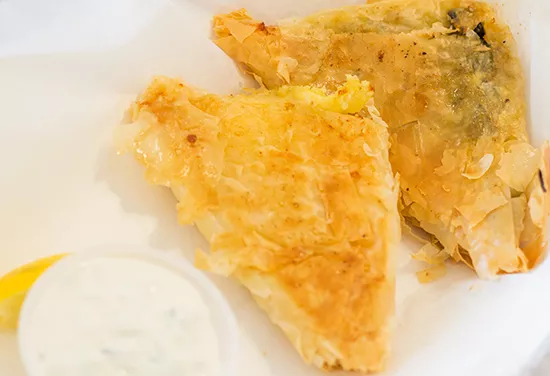 Spinach and cheese pitas.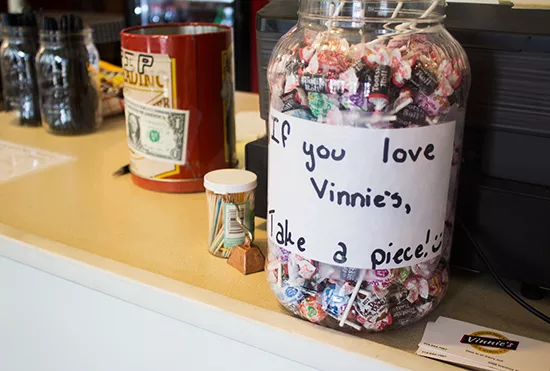 A little something sweet at the register.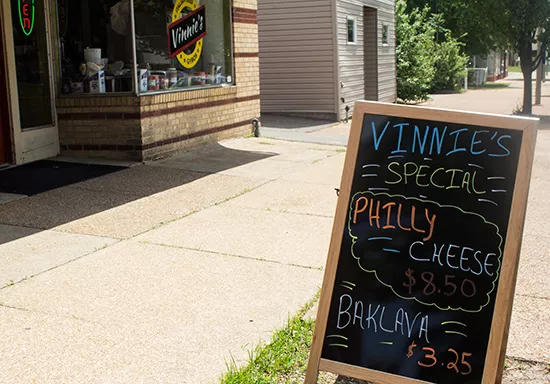 Now open in Lindenwood Park.
See also: - First Look: Sugarfire Smokehouse - First Look: R-Cafe - First Look: The Salted Pig - First Look: The Marquee Restaurant & Lounge - First Look: Giovanni's Kitchen
Gut Check is always hungry for tips. E-mail us!