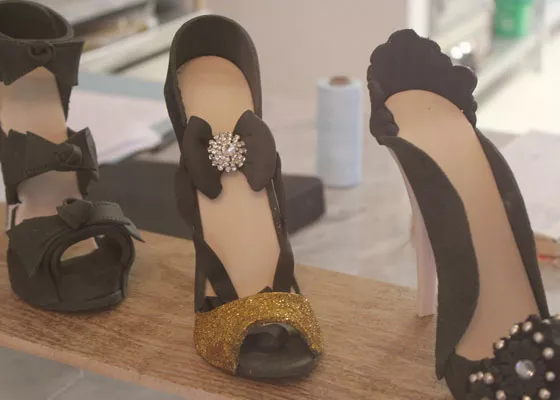 These are not real shoes. Seriously. | Nancy Stiles
Simone Faure at La Patisserie Chouquette (1626 Tower Grove Avenue; 314-932-7935) debuted her newest line of sweet creations on Wednesday and she has managed, once again, to top herself. The Spring/Summer 2014 Sweet Chic collection is a line of cake toppers make of sugar or chocolate that look like very convincing shoes.
See also: La Patisserie Chouquette's Eclairs: A "French Equivalent of Doughnuts"
"I am really into accessories and I really into making things I cant afford myself," Faure tells Gut Check. "I'm in the kitchen -- I can't wear these things. I just love the artistry of shoes. It's crazy, the things that are out there. Shoe collections go from ghetto-tacular to extreme elegance."
The shoes are made of a pure sugar paste that actually takes three weeks for just the heels to harden in the St. Louis humidity. Faure says she has a stockpile of heels she's already made so she can be ready for orders. There's a two week delivery time, and you can pick from her collection or have something custom made. Unlike the chocolate shoes, which are made to be eaten, the sugar shoes aren't necessarily made to taste that good, but rather look good.
"For inspiration I take a lot of photos of customers who come in, and if they're wearing like a really hot shoe or really hot necklace I'll just pick pieces of their outfit and try and piece it together to create a shoe," she says. "I [also] spend a lot of time at Saks for deliveries, so if I'm going through Saks or Nordstrom, I'm like, 'Hmm, this heel would go great with this strap.' So I kind of piece them together to make them unique."
The shoes usually go on top of cakes shaped like shoe boxes, but Faure says the hard sugar lasts for years, so she's had shoe lovers put them in display cases. They really are each works of art. Custom orders are priced per design; you can call 314-932-7935 to make an appointment.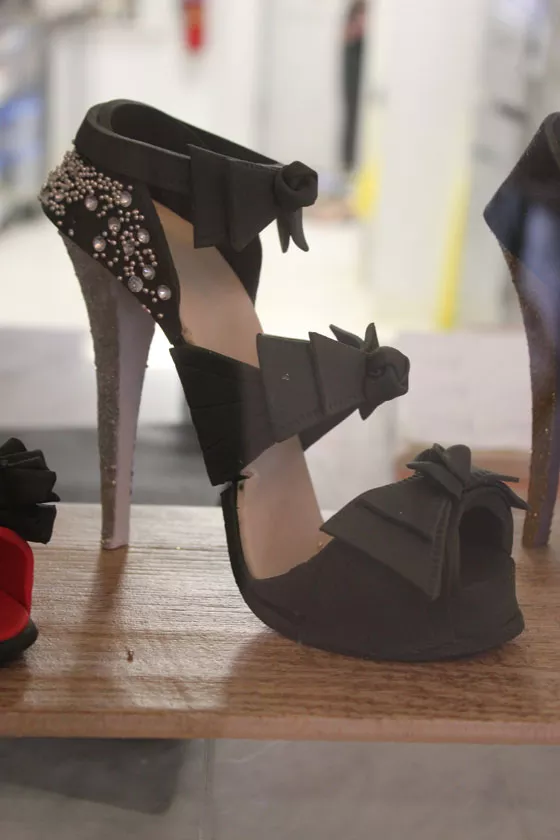 The shoes are about a size five, but you wouldn't want to wear them! | Nancy Stiles
A chocolate shoe, left, and a sugar shoe. | Nancy Stiles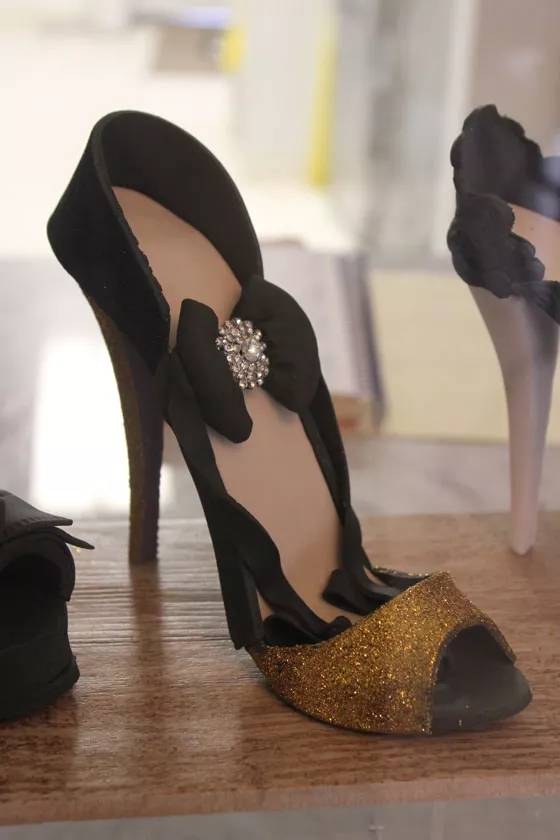 The "Mariah" shoe, which pastry chef Patrick Devine is fit for a drag queen. | Nancy Stiles
Gut Check is always hungry for tips and feedback. E-mail the author at Nancy.Stiles@RiverfrontTimes.com.
Follow Nancy Stiles on Twitter:
---