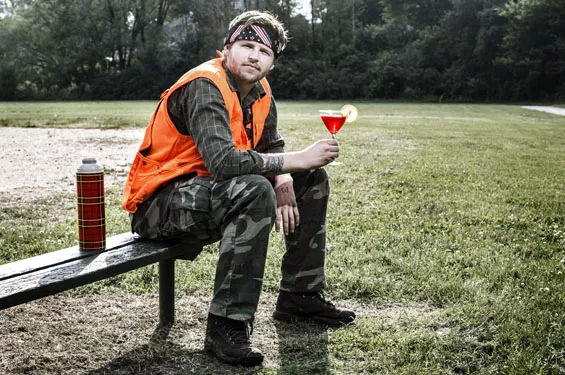 Frankie Slayer the Party Mayor, our official Summer Guide, enjoys a daiquiri. | Jennifer Silverberg
All week long we're rolling out content from our Summer Guide 2014. In it you'll find all the best ways to enjoy the season in and around St. Louis. Click here to read the rest of the guide or pick it up in print at the red Riverfront Times box nearest you.
When some drinkers think of the daiquiri, they imagine a red or blue slush excreted by a machine behind the bar or, worse still, of the cardboard tubes of sugary mixer purchased in the frozen-food section of the supermarket.
"A grotesquely overlooked cocktail," laments Jamie Kilgore, co-owner of Planter's House (1000 Mississippi Avenue; 314-696-6203). The daiquiri, she says, is not the "slushy machine drink from Bourbon Street" but "a simple, beautiful cocktail."
And she puts her menu where her mouth is -- this summer, Planter's House offers ten variations of the drink.
See also: Olio, Taste and the Good Pie Feature Top-Tier Vermouths
The "Papa Don't Preach" daiquiri at Planter's House. | Patrick J. Hurley
David Embury names the daiquiri as one of six basic cocktails in the 1948 classic bar-tending tome The Fine Art of Mixing Drinks. It was said to be the favorite drink of both Ernest Hemingway and John F. Kennedy. A classic daiquiri is, by definition, nothing more than a light rum, fresh lime juice and sugar. Many mixologists around town are reviving the classic daiquiri, and after sampling several, we predict it'll be the drink of the summer.
Each of Kilgore's bartenders at Planter's House contributed a daiquiri recipe to its current cocktail list. The "Tried and Trinidad" is a perfectly balanced daiquiri, tart and sweet with a refreshing and potent lime flavor. The "Come Hither" is a nod to the more contemporary departures from the classic cocktail in that it contains strawberry, but it carries just a hint of sweetness and a subtle hibiscus note paired with lemon. "A Wink and a Smile" infuses dark rum with banana chips. The rum has a nice molasses-like richness. It is a sweeter daiquiri, but also has a pleasant earthiness from tamarind. "Papa Don't Preach" is a riff on the classic Hemingway daiquiri. It combines grapefruit and bright cherry with an herbal note from the bitters and a pleasant effervescence imparted by sparkling wine.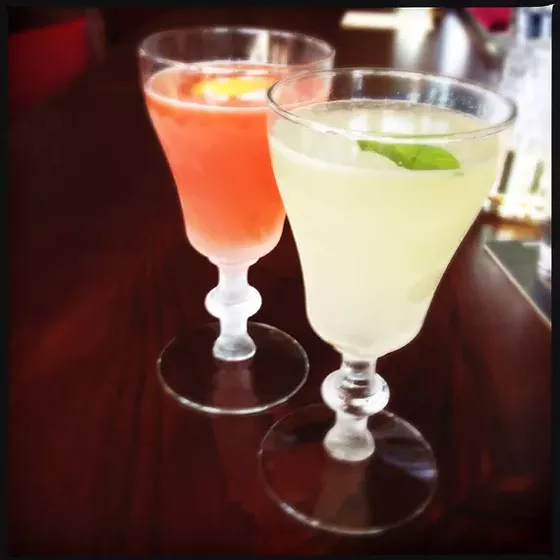 "Bird of a Feather" and the "Basil in Brasil" daiquiris. | Patrick J. Hurley
Fortune Teller Bar (2635 Cherokee Street; 314-776-2337) serves another classic Hemingway daiquiri, often called a "Papa Doble," in an oversize glass (the man himself is said to have used four ounces of rum). It is the perfect balance of sweet and tart, with lime, hints of grapefruit and a faint cherry note. At the bottom of the glass is a Luxardo maraschino cherry, sweet, earthy and complex.
It should come as no surprise that Taha'a Twisted Tiki Bar (4199 Manchester Road; 314-202-8300) is mixing up daiquiris in the Grove. It offers a Hemingway daiquiri, which pairs white rum with Luxardo, grapefruit juice and lime juice. The menu lists simple syrup, but on our visit the bartender did not use any, which is fine — Papa never did either. This daiquiri is served up in a coupe glass garnished with a lime slice; it opens nicely on the palate with some citrus from the lime and grapefruit, though the cherry note from the Luxardo doesn't really come through.
So make it a point to try a real daiquiri at the bar this summer, or, better yet, maybe a couple of dobles. It'd do Papa proud.
Follow Patrick J. Hurley on Twitter at @VeganDrunkard. E-mail the author at Patrick.J.Hurley@HurleyHouse.com.
---