Pièce de résistance. | Richard Haegele
Under gorgeous skies, a throng of 400 people made their way to the third annual Pigs and Pints festival hosted by the Civil Life Brewing Co. (3714 Holt Avenue) on Sunday. The event, which began in 2012 to celebrate all things local, featured Red Wattle pigs sourced from Kluesner's Farm by Mac's Local Buys and prepared by the Block Restaurant and Mike Emerson from Pappy's Smokehouse.
See also: New Breweries Shine At Microfest 2014
The Civil Life also debuted its "Roggenbier," a German rye ale that will be a Block exclusive. It poured a cloudy brown color, and though there was no noticeable aroma, it did have a rich, malty flavor with a hint of rye spice and a sweet, dry finish.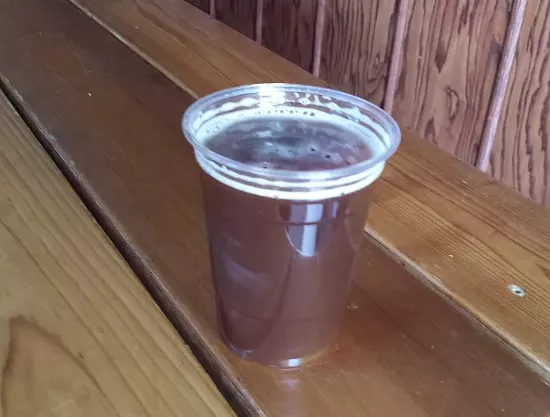 Richard Haegele
Roggenbier, a German rye ale
Eager festivalgoers filled their baskets with strawberry salad, applesauce, potato salad, corn and black bean slaw, and cornbread before picking up a basket full of pork three ways -- pulled pork, loin and bratwurst. Festival workers walked through the crowds handing out cups of Baileys' restaurants housemade ice cream.
Richard Haegele
Pigs, Pints, and Sides
The Scandaleros and FolknBluesGrass played live, and for the kids, the Civil Life invited a face painter and and balloon artist. Overall, it was a wonderfully civil way to enjoy a gorgeous day.
Click through for pics from the festival.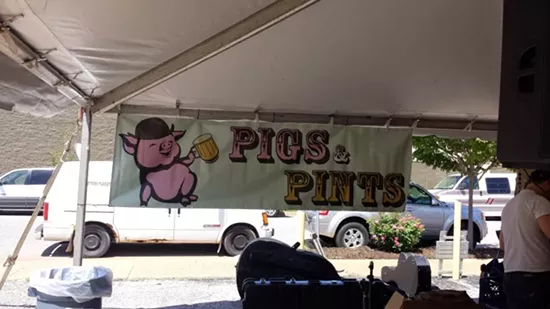 Richard Haegele
Pigs and Pints III
Richard Haegele
Sold Out!
Richard Haegele
On Tap
Richard Haegele
Face Painting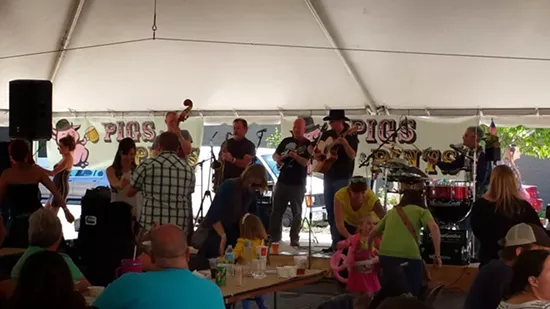 Richard Haegele
The Crowd Dancing to FolknBluesGrass
Richard Haegele
Pig With Pint
Follow Richard Haegele on Twitter at @RtodaizH. E-mail the author at stlouisbeergeek@gmail.com.
---