Element's rooftop patio. | Mabel Suen
Even though it's been a bit dreary this week, spring is finally here and summer is just around the corner. St. Louisans covet their favorite patio dining spots for enjoying sunny days, and Gut Check pays homage to a spectacular sub-genre of this experience: rooftops. Even in this low-slung city, there is plenty of prime real estate to choose from.
Rooftop bars and restaurants are a growing trend in urban areas and are a perfect place to catch a cool breeze on a hot summer day. Check out the best St. Louis has to offer.
Element (1419 Carroll Street; 314-241-1674)
Element occupies the top two floors of the Power Plant building of the old City Hospital complex at the edge of Lafayette Square. Just voted "Most Underrated Patio in St. Louis" by RFT readers, the restaurant level has an outdoor terrace seating 72 people for lunch and dinner and, just above, the Element Lounge has a patio perfect for cocktails and small bites. Both have stunning views of downtown St. Louis to the east.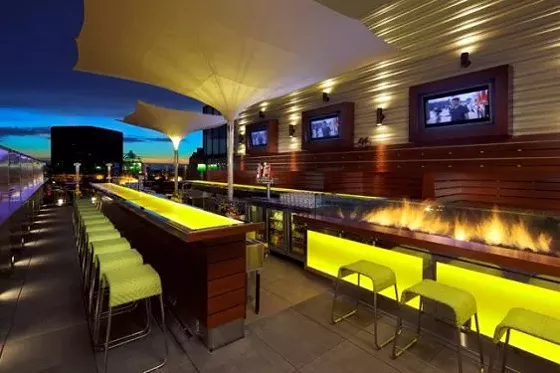 Three Sixty (1 South Broadway; 314-241-8439)
Boasting a view directly into Busch Stadium at 400 feet above the ground, the Three Sixty rooftop bar on top of the Hilton St. Louis at the Ballpark is the highest public rooftop in the city. First-class cocktails, small plates and entrees can be enjoyed outside while keeping an eye on the ballgame and spectacular sunsets.
Cielo (999 North Second Street; 314-881-5800)
The view of the Arch, the Mississippi River and the St. Louis downtown skyline is stunning from Cielo's 8th floor Sky Terrace at the Four Seasons Hotel. A "white tablecloth," contemporary Italian dinner or just a glass of wine can be enjoyed poolside or fireside spring through fall.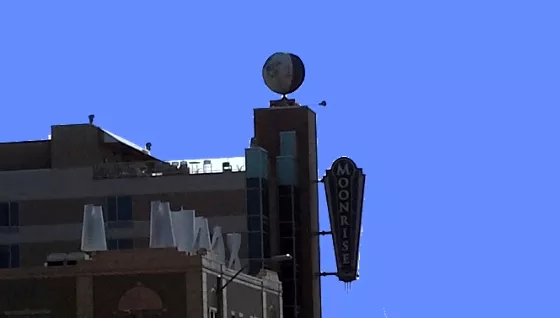 Eclipse Rooftop Terrace Bar (6177 Delmar Boulevard, University City; 314-721-1111)
The Rooftop Terrace Bar at the Moonrise Hotel in the Delmar Loop provides unmatched views of "one of the 10 great streets in America," according to the American Planning Association. Sight lines stretch all the way to the Arch underneath a rotating moon, said to be the world's largest. Eclipse's just-opened adjacent New Moon Room offers additional all-season indoor/outdoor seating with bottle service.
Vin de Set Rooftop Bar and Bistro (2017 Chouteau Avenue; 314-241-8989)
Located in historic Lafayette Square, Vin de Set's Rooftop Bar and Bistro tops the old Centennial Malt House on Chouteau Avenue. French-inspired lunch, dinner and brunch are paired with an extensive wine list and served in a grand architectural setting on three levels of expansive patio space.
Rooftop Café at the City Museum (750 North Sixteenth Street; 314-231-2489)
The one-of-a-kind City Museum offers a full sensory experience on multiple levels, providing hours of entertainment for all ages. Offering a likely much-needed respite after a fun-filled journey to the top floor, the outdoor Rooftop Café was inspired by big-city street food and offers tacos, nachos, hot dogs, veggie burgers and a full cocktail bar overlooking the famous school bus perched precariously over the roof's edge and the Ferris wheel with unparalleled views of the city.
Mandarin Lounge (44 Maryland Plaza; 314-367-4447)
While it doesn't offer food, Mandarin's Asian-inspired lounge offers a full menu of cocktails and bottle service for guests overlooking the iconic fountain in the Central West End's Maryland Plaza, including "cocktail tapas" perfect for sampling a variety of drinkls among friends.
Follow Sara Graham on Instagram at @SaraSunshineSTL and Twitter at @SaraSunshineSTL. E-mail the author at saralouisegraham@yahoo.com.