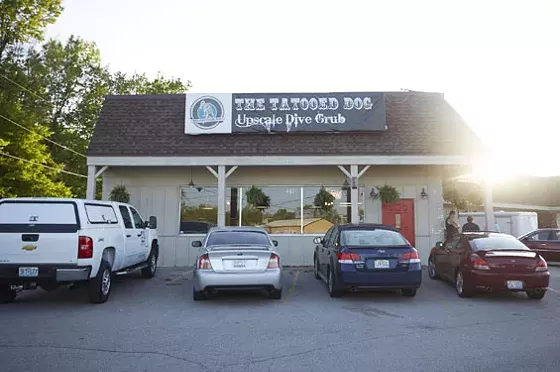 The Tattooed Dog | Theo R Welling
The Burger, INK food truck sits in the Tattooed Dog's (403 Luetkenhaus Boulevard Wentzville; 636-887-2178) parking lot, a "for sale" sign now hanging above the window where customers used to order.
"For two years, people kept asking me when I was going to open a place," owner Josh Lemmon explains. "When the commissary I was using went up for sale last November, I needed to find a new place and found this building. It was all about timing."
See also: Tattooed Dog: Doing permanent damage to Wentzville's waistlines
At a time when mobile cuisine is one of the hottest culinary trends, it seems strange to put one's truck for sale in favor of a traditional brick-and-mortar restaurant. It turns out that wasn't Lemmon's intention.
"I thought this [building] would serve a dual purpose," he says. "But we got so swamped that I would have had to hire three people to keep both up. I'd rather pass it on to someone."
Lemmon reflects fondly on his days behind the wheel of the Burger, INK truck. "You can't hold a lot of food in the truck, so you have to cram all of your business into just a few hours," he says. As such, "a truck takes less time. You can run it when you want to. With restaurants, you always have to be there."
Lemmon is thrilled with the response to the Tattooed Dog, though. While he is focused on this current venture, he doesn't rule out getting back into the food-truck game. "Yeah, I'll possibly get back in again. When I started two years ago, there were only fifteen trucks. Now there's, like, 40, It's just exploded."
Until then, those looking for Lemmon's burgers will have to come to him.
Follow Cheryl Baehr on Twitter at @CherylABaehr. E-mail the author at Cheryl.Baehr@RiverfrontTimes.com.
---