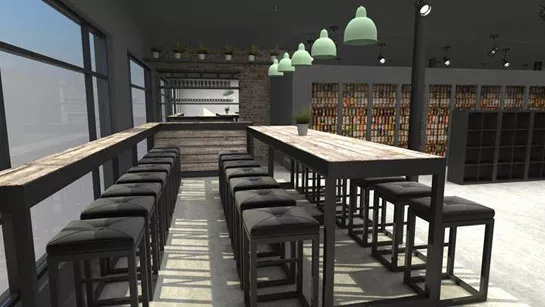 A rendering of the tasting bar inside Craft Beer Cellar. | CBC
St. Louis really loves craft beer, so of course we've been excited for the debut of Craft Beer Cellar (8113 Maryland Avenue, Clayton; 314-222-2444) since we first reported it in December. After soft launches late this week, the craft-beer mecca will hold a grand opening Saturday, May 17.
See also: Craft Beer Cellar Set to Be Our New Favorite Store
"We're just really, really excited. We've got our draft list ready to go, you can mix your own six packs, we can do samples off of our draft lines, tastings and other things," co-owner Brandon Nickelson tells Gut Check.
There were plans to sell growlers, but unfortunately that didn't pan out legally. However, Nickelson says there's currently a bill in the state legislature that, if it passes, will allow their sale. (Fingers crossed.) It does help a little that CBC has more than twenty summer beers in stock.
"We've got our of all locals that we can get our hands on -- I think eighteen or maybe twenty different types of St. Louis beer," Nickelson says. "That's something we're really excited about. We feature St. Louis beer front and center -- that's really near and dear to our hearts."
For the grand opening, there will be awesome giveaways (our lips are sealed) as well as tastings at the tasting bar. Craft Beer Cellar will be open on Saturday from 10 a.m. to 10 p.m.
Gut Check is always hungry for tips and feedback. E-mail the author at Nancy.Stiles@RiverfrontTimes.com.
Follow Nancy Stiles on Twitter:
---