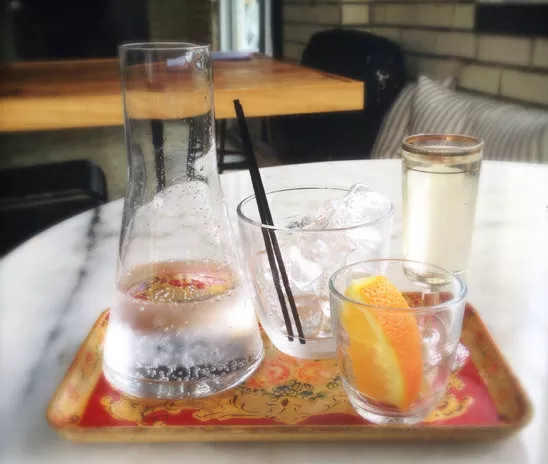 Olio's beautiful vermouth service. | Patrick J. Hurley
The Drunken Vegan, a.k.a. Patrick J. Hurley, is a full-time barman at the Civil Life Brewing Company and cocktail enthusiast about town. He's an unapologetic drunkard, a vegan and a bon vivant, and, no, he doesn't think those last two terms contradict each other.
In the U.S., vermouth has been much maligned and seen as a necessary evil for certain classic cocktails. Sweet or red vermouth is used in the Manhattan, and dry or white vermouth is (sometimes) used in the classic martini. It is said that Winston Churchill hated vermouth so much, he would only bow toward France rather than add it to his martini.
In France, Spain and Italy, however, vermouth is hugely popular and has been for many years. In fact, in much of South America, cocktail hour or happy hour is called la hora del vermut, literally "the hour of vermouth" or "vermouth time."
This summer, "vermouth time" has finally come to St. Louis with several cocktail-forward establishments offering them in a simple, elegant preparation. The Drunken Vegan did a little vermouth-victory lap around town and here is what he found.
See also: Café Natasha's New Gin Room Features 50 Gins and 9 Housemade Tonics
So why do American drinkers hate vermouth so much? Besides the long-standing stigma against it, poor storage is the prime culprit. Vermouth is not liquor; it is wine. Though fortified, its shelf life is not indefinite and it was not meant to sit on a bar rail with an open speed pour. It will oxidize -- vermouth is a lovely drink, vinegar is not. Vermouth should be refrigerated and used within a couple of weeks or so.
Often taken as an apéritif or used in cocktails, vermouth is an herb-infused, fortified wine, typically between 14 to 18 percent alcohol. There is a huge range of herbs and spices used in vermouth, from anise to yarrow. Wormwood is common and lends the drink its name (Vermut is German for wormwood). The flavor profile varies based on what combination of herbs were used.
The Drunken Vegan sampled three vermouths around town. Olio (1634 Tower Grove Avenue, 314-932-1088) recently acquired some beautiful Basque vermouths from Spain. Aixa Vino Vermouth Blanco is a lovely white vermouth with a glycerin-like mouth-feel, slick or slippery on the tongue with some sweet pear notes combined with earthy spice, like cinnamon and clove, and a faint bitterness from the wormwood. It is balanced and delicious. Olio serves it with an orange wedge, accenting the citrus notes in the wine, and a little sparkling water to lighten it up. Perfect.
The Good Pie (6665 Delmar Boulevard, University City; 314-899-9221) has a nice sweet red vermouth called Carpano Antica. The Drunken Vegan took his on ice with orange peel. It tasted of tart cherry and caramel, with a faintly herbaceous character.
At Taste (4584 Laclede Avenue; 314-361-1200), the Drunken Vegan settled on one of the more common white vermouths, Dolin Blanc, often used in martinis. On ice, it showed the same glycerin-like body as the Aixa. It has nice clean bitterness with notes of citrus and tart apple. Lovely.
Next time happy hour rolls around, think of it as "vermouth time" and sample one of these under-appreciated gems. At fine cocktail bars, which use a lot of vermouth and know how to store it, it will never disappoint.
Follow Patrick J. Hurley on Twitter at @VeganDrunkard. E-mail the author at Patrick.J.Hurley@HurleyHouse.com.