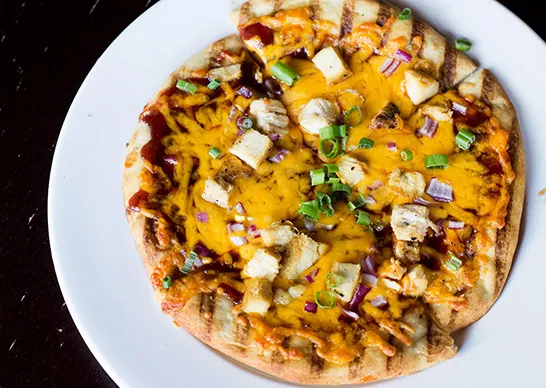 Barbecue chicken pizza. | Photos by Mabel Suen
The Place: Lola (500 North 14th Street; 314-621-7277)
The Hours: Happy hour is offered Tuesday through Thursday from 4 to 7 p.m. and Friday from 4 to 8 p.m.
The Deal: Discounted appetizers including sliders and more. Select cocktails for $6 and half-off domestic beers.
The Scene: Lola sits on a prime corner in downtown St. Louis' Washington Avenue Loft District. On a nice day, the door to the bar gets propped wide open, so avid people-watchers can survey the foot traffic. When we visited, happy hour was limited to this front dining room, a sparse space with an empty stage, a few tall two-top tables lining the walls, leathery white couches in the window and seats at the bar.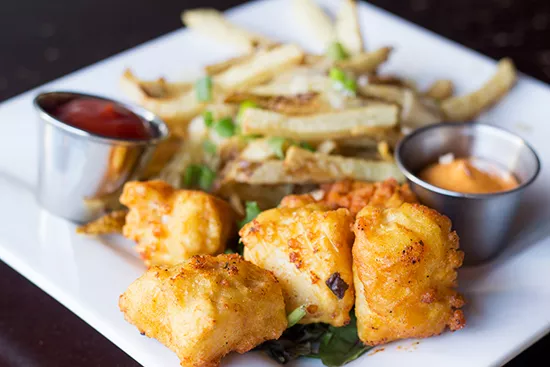 The Food: The happy hour selection includes a few discounted regular appetizer menu items such as crab cakes ($8 instead of $12), chicken wings ($6-$8 instead of $9) calamari ($7 instead of $9). Of all the options, the barbecue chicken flatbread ($7) seemed to be unique to the happy hour menu, and it's exactly what one'd expect yet executed well. Sweet barbecue sauce sits atop a thin and crispy crust, topped with tender cubed chicken, melted cheddar cheese and a sprinkling of purple and green onions.
The fish and frites ($8 instead of $13), a dish of deep fried Icelandic cod, hit the spot. Cut into small chunks, the Cajun-spice tinged breading encased a tender interior, and it all paired well with a tasty remoulade. The plate features decidedly more "frites" than "fish," and topped with some Parmesan and green onion, proved pretty filling.
Did Lola make the grade? Find out on the next page.
"The Muir" with peach vodka, peach Shnapps and peach nectar.
The Verdict: The discounted $6 cocktails on the menu included "the Paristyle" with raspberry vodka, chambord and pineapple juice; "the Denim" with pomegranate vodka, pomegranate liqueur and pomegranate juice; and "the Muir" with peach vodka, peach Schnapps and peach nectar. We tried the latter, and while it certainly delivered on the fruity flavor, it was a bit too sweet for our tastes.
Named as "Best Place for Cocktails" in RFT's Best of St. Louis in 2010, you can't go wrong if a glass of sugary drink is your thing -- Lola's cocktails come practically candy-coated in vibrant shades.
All in all, eating and imbibing at Lola proved a pleasant-enough experience with friendly and attentive service, but the average prices might not necessarily beckon us back during happy hour. After getting a peek at the sunny larger dining room in the back of the restaurant, where a drummer could be seen setting up his kit for a show that evening, we're more likely to try Lola again during brunch or dinner.
Located on Washington Avenue.
The Rating: On a scale of one to five...
Previously on Happy Hour Handbook: - Basso - Blue Ocean Sushi - Hwy 61 Roadhouse and Kitchen - Gringo - Jax Cafe - Mile 277 Tap & Grill - Sandrina's - Mangia Italiano - Kirkwood Station Brewing Company - Steve's Hot Dogs on the Hill
We're always looking for some more happy hour meal deals. E-mail the author at mabel.suen@riverfronttimes.com.