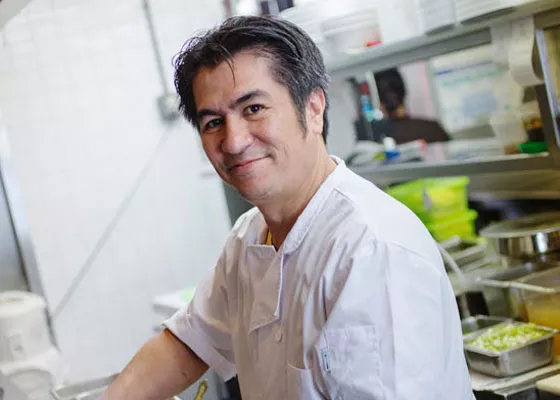 Nelson Padilla in the kitchen at Mi Linh. | Jennifer Silverberg
It's been a bumpy few months for chef Nelson Padilla, formerly of Mi Linh. We were obsessed with the Vietnamese restaurant when Padilla was in the kitchen -- a particular standout was the garlic chicken wings. However, after only a few months, Padilla told us he was forced out by his sister Dee Dee Tran, who still runs Mi Linh. He then joined the team at Goody Cafe, but we were disappointed by our visit, and Padilla seemed to be M.I.A. Luckily, Padilla's son James Tu tells us the family has taken over Phuc Loi Vietnamese (3723 Gravois Avenue, #D; 314-772-7742).
See also: Mi Linh's Former Chef Nelson Padilla Says He Was Forced Out by Sister Dee Dee Tran
Tu says they opened the new Phuc Loi on Friday, May 9. We reviewed the restaurant back in 2009 (it was great) and it changed ownership in late 2012. You can check out our slideshow of the old Phuc Loi here.
"Come stop by sometime for the amazing pho we have had since the beginning," Tu says, "and the great butter garlic chicken wings!" We're on it.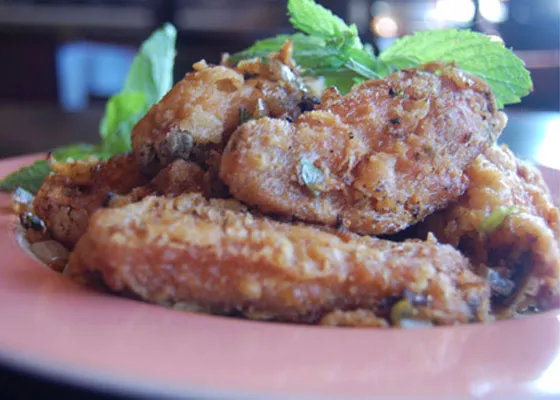 Padilla's butter-garlic chicken wings. | Cheryl Baehr
Gut Check is always hungry for tips and feedback. E-mail the author at Nancy.Stiles@RiverfrontTimes.com.
Follow Nancy Stiles on Twitter:
---