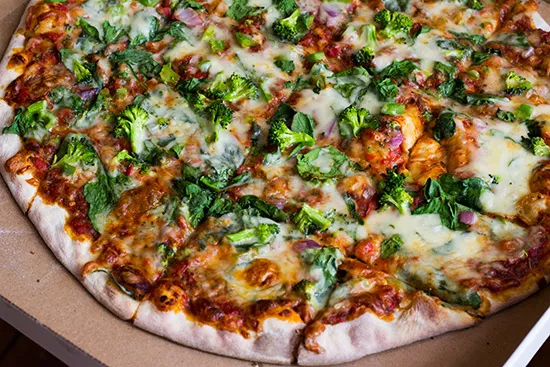 Veggie pizza at Master Pieza. | Mabel Suen
The guy behind the Sweet & Sticky SeXXXy Ice Cream Socials is celebrating two years of raising money for charity with -- what else? -- porn. Instead of ice cream, though, it's pizza. Joe Kloun is teaming up with Master Pieza and the Crack Fox for the Pizza & Porno party for charity.
See also: Master Pieza's Late-Night Pizza-by-the-Slice at New Storefront on Cherokee Street
"The whole thing is just about fun and whimsy," Kloun tells us, "and the novelty of pairing food and porn in a public place, it's really amusing."
They'll be playing 1979's Hot and Saucy Pizza Girls with free pizza, prizes and drinking games for a suggested donation of $5.
"We try to pick classics of the genre. It's typically the '70s and early '80s," Kloun says. "We try not to go past the mid '80s try to keep a classic feel to it."
Kloun says he originally came up with the ice cream social idea whilst eating ice cream and watching porn himself. He shopped the idea around to venues and found the Crack Fox; the money goes to Planned Parenthood.
The ice cream socials will continue in the fall, but Kloun says he has also been mixing in different elements, like Dr. Dan the Pancake Man.
The Pizza & Porno Party is May 21 at Crack Fox (1114 Olive Street; 314-621-6900) from 10 p.m. to 1:30 a.m.
"It's a lot of fun. It's not too serious," Kloun says. "We're trying to promote a positive attitude towards sexuality and promote the very important services of a health clinic."
Gut Check is always hungry for tips and feedback. E-mail the author at nancy.stiles@riverfronttimes.com or follow her on Twitter.
---