MRCKA's Dojo Pizza (4601 Morganford Road; 314-351-0935) started out about a year ago as just a karate dojo. It's a nonprofit that teaches karate and dance to local kids for free. Director Loren Copp wasn't expecting someone to donate a pizza kitchen, but it seemed like a perfect opportunity to grow the dojo's outreach.
"We started doing fundraisers with the pizza, and there were more kids coming in that I didn't want to turn away," Copp tells us. "We realized we could do something here to impact the community."
See also: Sun Cafe -- a Coffee Shop with a Cause -- Helps Hyde Park Get On Its Feet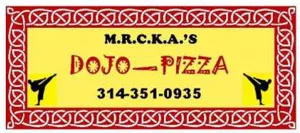 Copp and his team have turned the old United Methodist Church into a restaurant and performance space, cutting pews to fit the tables they made themselves.
"It kind of evolved -- it wasn't planned, just one of those things. There was a lot of gang activity going on out here a year ago," Copp says. "They shot through the front door of my building last year. To see the community and neighborhood the way it is today -- there's been a lot of support with the police and the community saying, 'We want something different.'"
Copp says he's always loved to make pizza, and came up with his own pizza sauce. They built a menu based on what the families at the dojo liked. There are wings and specialties like buffalo chicken pizza.
Karate is free for anyone in the community Monday through Thursday, and partner Team 2.0 teaches dance and holds teen mixers, plus open-mic nights.
"It's a safe place for kids to come and hang out -- clean and family-oriented," Copp says. "There's nothing they have to worry about, no bullying going on. That's kind of our goal."
The profits from the pizza go toward keeping the building open and running, as the karate is offered for free. You can learn more about MRCKA and Dojo Pizza here.
Gut Check is always hungry for tips and feedback. E-mail the author at nancy.stiles@riverfronttimes.com or follow her on Twitter.
---