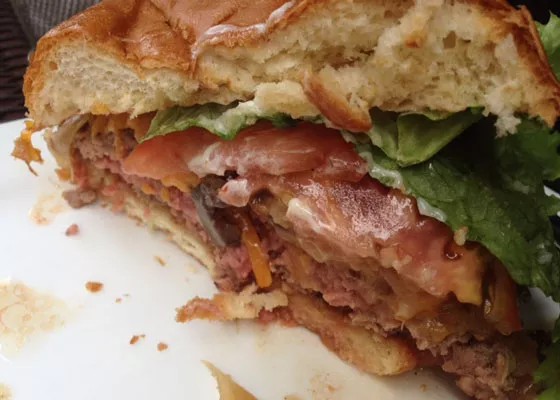 A burger topped with sauteed forest mushrooms, caramelized onions and cheddar cheese. | Nancy Stiles
Spring has officially sprung, and we hope you enjoyed your weekend. Yes, we wish we were outside today, too. How about some free grub to soften the blow of a new work week? If you think you know where we got this delicious mushroom burger, let us know in the comments.
UPDATE: Commenter pyth got it right: we were ate Five Star Burgers (8125 Maryland Avenue, Clayton; 314-720-4350).
See also: UPDATED: Guess Where I'm Eating This Philly Wrap and Win $25 to De Palm Tree
Simply study the photo and leave your best guess in the comments. If you're the first correct answer, we'll give you $25 to to Cyrano's (603 East Lockwood Avenue, Webster Groves; 314-963-3232).
Rules: To be eligible, you must leave a valid e-mail address (or Twitter handle or Facebook profile URL) in the comment-entry field. One guess per e-mail address. Employees of the restaurant in question and the Riverfront Times are not eligible.
Gut Check is always hungry for tips and feedback. E-mail the author at nancy.stiles@riverfronttimes.com or follow her on Twitter.
---