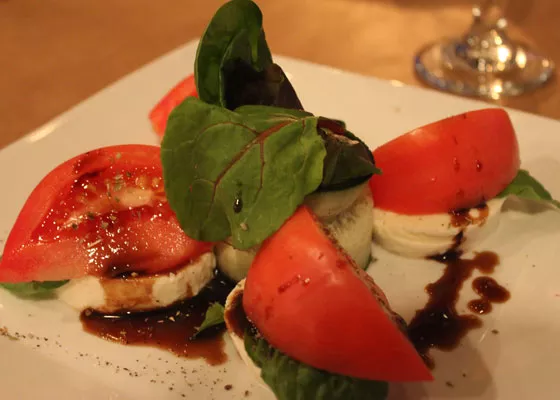 Caprese salad with cucumber at Vito's. | Nancy Stiles
Vito's in the Valley (138 Chesterfield Towne Center, Chesterfield; 636-536-3788) has had a bumpy couple of months -- it was forced to close in January after a 2,000-gallon water leak in the dining room. After a few weeks of renovations, Vito's reopened and is about to debut a new spring and summer menu. We went out to Chesterfield for a sneak peek.
See also: Vito's in the Valley Now Serving Gourmet Pizza in Chesterfield
The arancini appetizer. | Nancy Stiles
Many of the Vito's favorites will remain on the menu, but executive chef GianFranco Munna created some items to highlight seasonal ingredients and of course make it a bit lighter for the coming heat wave.
The menu will launch Wednesday, May 7, and includes melanzane ripiene, eggplant rolled with ratatouille, smoked herb ricotta, fresh marinara and Parmesan cheese, served with prosciutto San Daniele chips; spuntatine di manzo, fourteen-ounce short ribs braised in an aged Chianti wine sauce; and trapanese campanelle, campanelle pasta tossed with grilled chicken, tomatoes, garlic, olive oil and basil.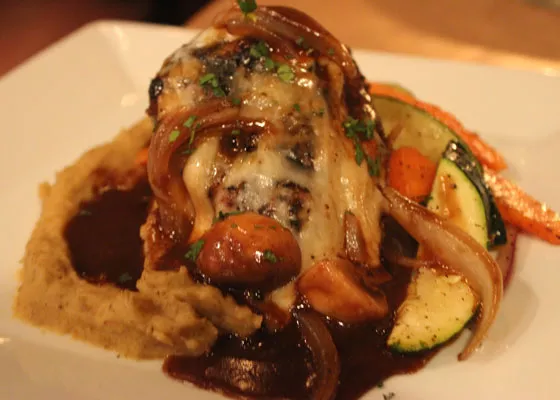 The new beef filet with lentil puree. | Nancy Stiles
One of the highlights at Vito's is the arancini, a Sicilian specialty of deep-fried saffron risotto balls, filled with meat, mozzarella cheese and peas. They're the recipe of owner Gio LaFata's mother, Caterina Maltese, and trust us, they're the real deal. She did grow up in Sicily, after all. Maltese developed the original menu with Munna (another Sicilian).
"I'm always excited when I do a menu or when I do a new restaurant, always," Munna tells us. "Because for me it's a challenge. I challenge myself every time and I like being in the game."
Munna says customer feedback is also very important in the creation of a menu; for him, it's about making the customer happy.
"I've been 27 years in this business but always learn from my customer, because the comments they make, make me more strong and grow in this business," he says.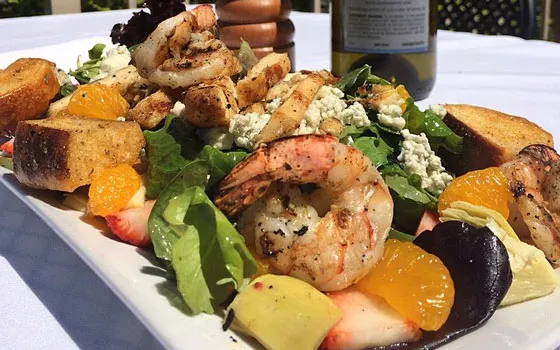 The new signature salad topped with strawberries, mandarin oranges, gorgonzola, artichokes, pecans and a strawberry vinaigrette. | Vito's
The bruschetta medley, on special. | Nancy Stiles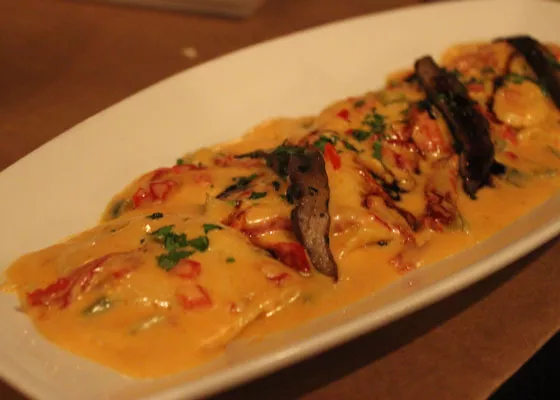 Seafood ravilio with sherry wine, sun-dried tomato, trinity of pepper in a tomato cream sauce and garnished with roasted portobello mushrooms with a balsamic reduction. | Nancy Stiles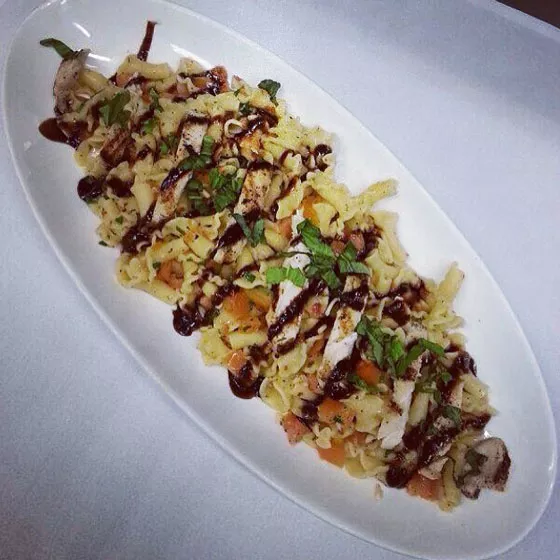 The new trapanese campanelle. | Vito's
Continue for the full menu and Mother's Day specials.
Gut Check is always hungry for tips and feedback. E-mail the author at nancy.stiles@riverfronttimes.com or follow her on Twitter.
---