"Tagliatelle degli 'Asinelli,'" homemade pasta ribbons in Chianti and rosemary meat sauce. | Photos by Mabel Suen
"The pappardelle -- the pasta itself -- is my recipe," says chef and Italian native Alessando Bozzato of Giovanni's Kitchen (8831 Ladue Road; 314-721-4100), which opened in Ladue's Colonial Marketplace last month. "The meat sauce is what my mother used to cook for me."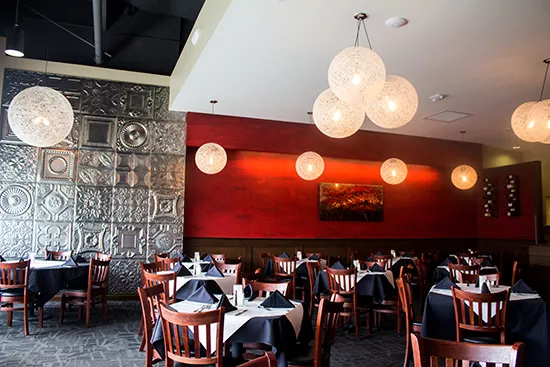 Bozzato arrived in St. Louis in 2000, armed with his own set of recipes. Since then, he's worked as Louisa Food's corporate chef as well as in kitchens including Truffles and Giovanni's on the Hill -- which brings him to the Gabriele family's latest endeavor, an Italian bistro to replace a location of its fast-casual concept, Cini. The Gabriele restaurant family also owns and operate Il Bel Lago.
"I'm trying to keep the recipes as authentic as possible," says Bozzato. "We import our olive oil and tomatoes and make everything in-house -- all the salad dressings, sauces. The bread is baked in-house. The pasta is made and cut in-house. We make mozzarella and ricotta."
Continued on the next page.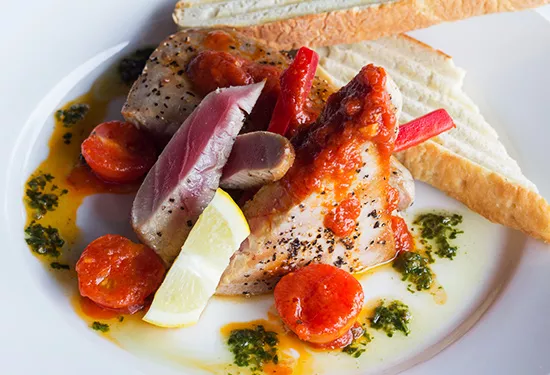 Grilled Ahi tuna with cherry tomatoes, pesto and housemade bread.
With lunch options ranging from $8-$15 and dinner from $15-$25, Bozzato says the restaurant strives to offer affordable, from-scratch options. The lunch menu features paninis, pizzettes, salads, a small selection of entrees, dessert and, of course, several pastas.
Choose from options including half-moon shaped prosciutto and cheese ravioli, seafood spaghetti and "Tagliatelle degli 'Asineli'" sauteed in Chianti and rosemary meat sauce with cream and Parmigiano cheese.
Another look at the space.
The expanded dinner menu features these dishes and many more appetizers and entrees, including New York strip steak and "Tonno ai Ferri," a grilled Ahi tuna dish with tomatoes, pesto and housemade bread.
The 70-seat dining room, illuminated by hanging globular light fixtures, features vibrant red walls with embossed pewter panels. A bar acts as a central fixture in the back of the dining room with an extensive selection of wine for diners to choose from.
Giovanni's Kitchen currently offers lunch and dinner. Reservations are accepted but not required. Giovanni's Kitchen's current hours are Monday through Saturday from 11 a.m. to 10 p.m.
Click through for more photos.
Panna Cotta trio flavored with Madagascar vanilla bean, berries and chocolate.
Options available at the bar.
"Casoncelli," half-moon shaped ravioli filled with prosciutto and Grana Padano cheese tossed with porcini mushrooms, black truffles, spinach and cream.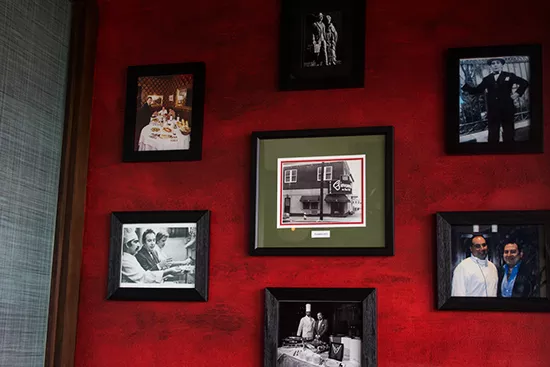 Portraits of the Gabriele family adorn the entrance.
See also: - First Look: Master Pieza - First Look: The Tap - First Look: Taj Mahal - First Look: The Purple Martin - First Look: Corvid's Cafe
Gut Check is always hungry for tips. E-mail us!