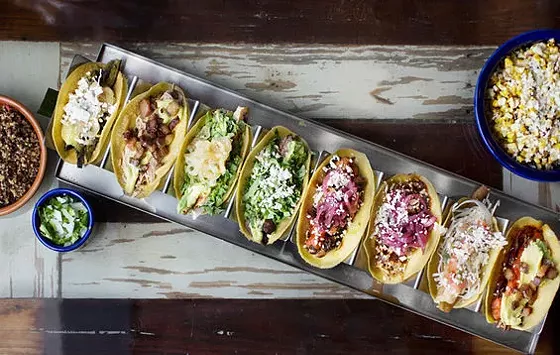 Mission Taco is ready for Cinco. | Jennifer Silverberg
Wondering where to go to celebrate Cinco de Mayo? Look no further -- Gut Check's got the guide to the best spots for celebrating the holiday. Hit any or all up for the best tacos, margaritas and sopapillas St. Louis has to offer, not to mention giveaways, special brew releases and more.
See also: How to Make a Perfect Mint Julep for Derby Day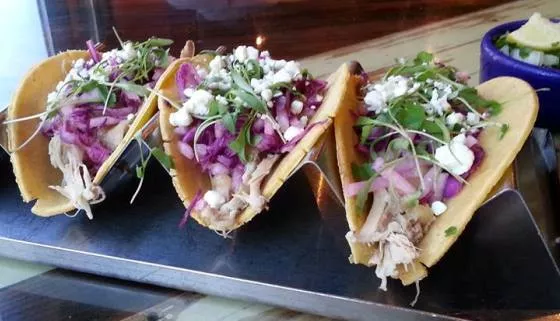 Mission Taco (6235 Delmar Blvd; 314-932-5430)
Normally closed on Mondays, Mission Taco will be open and in celebration mode for Cinco de Mayo. Just for the holiday, it's tapping two firkins (smaller, cask-conditioned kegs) of the brand new "Sub-Mission West Coast Style IPA" from 2nd Shift Brewing Company (which will then be available on tap). Mission's take-out window and new Bodega Bar will also be open all day. Feast on their Mission District-style menu, featuring roasted duck tacos (chile roasted duck, crisp pork belly carnitas, avocado serrano sauce), "Three Little Piggies" burritos (slow roasted pork shoulder, pork belly carnitas, chorizo queso, smashed black beans, pickled onion, ancho barbecue sauce and "drowned" in roasted tomato ancho sauce) and the hamburguesa torta (grilled beef brisket patty, chipotle bacon, avocado, Chihuahua cheese, pickled jalapeno, garlic mayo). Mission's churros with Mexican chocolate sauce are divine as well. Pair it all with an expertly crafted cocktail from the drink menu (a haven for tequila and mezcal connoisseurs) and you've got yourself a party.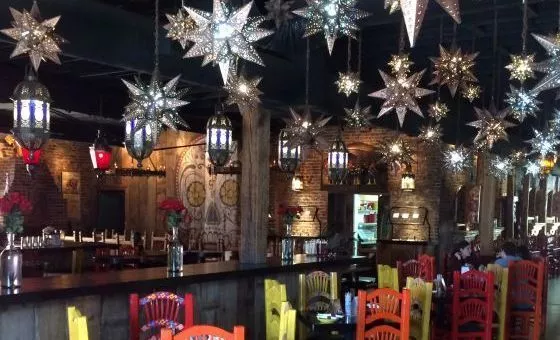 Diablitos (3761 Laclede Avenue; 314-644-4430)
For Cinco, Diablitos will be celebrating big with $1 tacos, swag give-always, boozy Olympics, the infamous "chicken drop" (with live chickens from the owners' farm) and plenty of drink specials. Pints are $3, pitchers of Modelo Especial are going for $9 and Hornitos Plata tastings and freshly squeezed lime margaritas will be available, as well. Regular menu favorites, such as individual street tacos and Diablitos' famous salsa bar will be available all day, including the "Gringo Taco" (fried herb-seasoned chicken with mashed potatoes gravy and sweet yellow corn) and the Hendricks' smoked brisket taco (served with crispy onion rings and house-made BBQ sauce). DJ Ambrose Boswell will perform from 6-10 p.m.
Milagro Modern Mexican (20 Allen Avenue, Webster Groves; 314-962-4300)
Usually closed on Monday, Milagro will be open for the holiday. Classic, tequila-based Mexican cocktails are front and center, such as the "Paloma" (tequila, lime juice and grapefruit soda), "El Diablo" (tequila, cassis and ginger beer) and "Rosita" (tequila, aperol and sweet vermouth), along with the house favorite, the "Milagro Margarita." Milagro's new house-made Michelata will be debuted for the first time and dinner and appetizer specials will be available all day. "Sub-Mission West Cost IPA" from the fine folks at 2nd Shift brewery will be on tap, made with "Zythos," "Columbus" and "Cascade" hops.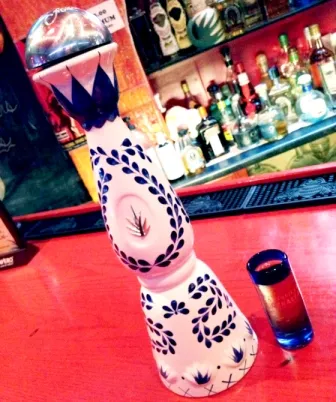 Las Palmas (7356 Manchester Road; 314-645-3364)
Las Palmas in Maplewood will be celebrating Cinco de Mayo over the long weekend --Friday, Saturday, Sunday and Monday -- with giveaways, t-shirts, a live DJ, margarita specials and Dos Equis, Modelo and Corona specials. This is one of only two bars in town serving one of Gut Check's hands-down favorite tequilas, Clase Azul Reposado -- a smooth, yet flavorful tequila aged in oak barrels that is perfect for sipping.
Rosalita's Cantina (1229 Washington Avenue; 314-621-2700)
As is now tradition on Cinco de Mayo, Rosalita's closes Washington Avenue to car traffic all weekend to make way for live entertainment and a multitude of food and beverage tents. Outside events run from 11 a.m. to midnight on Saturday and Sunday. Saturday's highlights include Clave Sol (Latin Jazz Fusion), a petting zoo, a magician, caricaturist, DJ Emilio Hernandez and Mariachi Fiesta from 5 - 8 p.m. Sunday will also have the petting zoo and circus performers, Clave Sol and Samba Bom (Brazilian Samba) from 2 - 5 p.m. Monday's entertainment takes place in the evening, Samba Bom from 4 - 7 p.m. and Clave Sol from 7 - 10 p.m.
Gringo (398 N Euclid Ave; 314-449-1212)
Gringo will be going large for Cinco de Mayo with a whole pig roast and an agua fresca (Spanish for "fresh water," it's usually fruit- and flower-infused sugar water) station outside all day on Saturday, May 3. Be one of the first to try Gringo's new spring menu, featuring dishes such as the "Cheeseburguesa Torta," barbacoa taco (lamb roasted slowly in banana leaves) and the "Mexican Cola Cake." An inspired list of margaritas and cocktails offer a first-rate journey through tequila blanco, reposado and anejo, and all shots are served with the traditional chaser of a spicy housemade chile de árbol sangrita.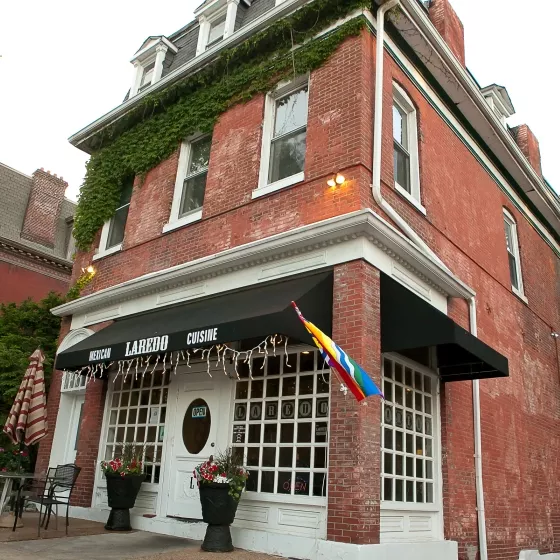 Laredo (2001 Park Avenue; 314-231-9200)
The 165-year-old building across from Lafayette Square Park is now home to its second Mexican restaurant (for years it was occupied by Arcelia's Mexican Restaurant). In keeping with its surroundings, tradition is the name of the game here. The Cinco de Mayo holiday will be celebrated with a classic Mariachi band -- Washington University's Band Mariachi Cuicaclli -- at 11:30 a.m. on Sunday May 4.
Pueblo Solis (5127 Hampton Ave; 314-351-9000)
Saturday, Sunday and Monday will be an all-day party on the patio at Pueblo Solis. Open all three days from noon to 11 p.m., the day will be filled with off-menu berry-infused margaritas, frozen traditional and strawberry margaritas, Aguila tequila specials, "and nothing else but love and happiness, like we do every day", says owner Al Solis. Pueblo Solis' Northern Mexican cuisine will be available all day, including three fresh-made salsas and homemade sopapillas (a fried pastry).
El Paisano (3315 Watson Road; 314-645-7455)
El Paisano will celebrate the holiday on the patio with giveaways, and food and drink specials Friday through Monday. Known throughout the city as the place for mariachi, Ell Paisano will not disappoint -- a live mariachi band will be on hand to put even the grumpiest of patrons in a festive mood throughout the long weekend.
Cherokee Street Cinco de Mayo Festival
This is the place to sample several of the city's best Mexican restaurants all in one place. On Saturday May 3, the city's largest Mexican festival takes place on Cherokee Street in south St. Louis from 11 a.m. until 9 p.m. A bounty of traditional fare will be provided by El Linador, Gardunos, La Vallesana, Siete Luminarias, Taqueria El Bronco and Tower Taco. The entertainment-infused event offers bands on three stages, tent parties with live DJs, the People's Joy Parade at 1 p.m., a craft fair, a photo booth, Lucha Libre Wrestling, a mechanical bull and children's activities.
Follow Sara Graham on Instagram at @SaraSunshineSTL and Twitter at @SaraSunshineSTL. E-mail the author at saralouisegraham@yahoo.com.
---