Assorted sushi during happy hour. | Photos by Mabel Suen
Correction: This post originally listed Blue Ocean's old address and phone number. The information below is correct.
The Place: Blue Ocean Sushi (6335 Delmar Boulevard, University City; 314-726-6477)
The Hours: Happy hour is offered Monday through Thursday from 4 to 7 p.m.
The Deal: Two-for-one domestic beer, wine and house sake. Each day also features a different food special as follows: $1 nigiri sushi on Mondays, free appetizer with entree on Tuesdays, $5 regular rolls and $7 special rolls on Wednesdays, four all-you-can-eat specials for the price of three on Thursdays.
The Scene: From the outset, Blue Ocean Sushi is an otaku's dream. Astroboy greets visitors at the door, while Dr. Wily and Megaman wait at the entrance. Inside, the walls feature characters primarily from Japanese pop culture -- think Dragonball, Gundam and Totoro. Pac-Man makes an appearance behind the bar, too. Patrons don't have to get all the references to enjoy the whimsical atmosphere, though. In any case, the colorful cartoons lighten up the glowing corner space.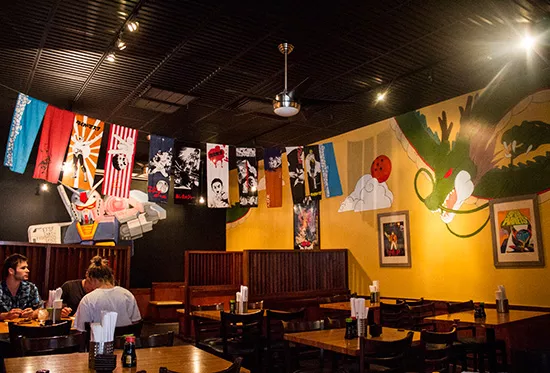 A dining room full of anime classics.
The Food: My dining companion and I relish rolls, so we decided to try the Wednesday deal. Play your cards right to get the most bang for your buck here, and save up to $3 on regular rolls and $5 on special rolls. With more than 50 different types ranging from simple (California) to exaggerated ("Take A Chance," served on fire), Blue Ocean doesn't skimp on options. To coincide the restaurant's theme, the names of several rolls reference nerdy themes: "Klingon Roll" and "Naruto Roll," for instance.
Did Blue Ocean Sushi make the grade? Find out on the next page.
The "Cardinal Roll" with spicy crab, cream cheese and shrimp tempura topped with spicy tuna, spicy mayo and scallions.
The Verdict: Our sushi came out quickly, artfully presented on a large platter for sharing. The restaurant uniquely utilizes sweet potato in several of its rolls, and the soft, sugary spud strikes an interesting note inside rice. The "Cardinal Roll" comes loaded, stuffed and topped with seafood and creamy sauce.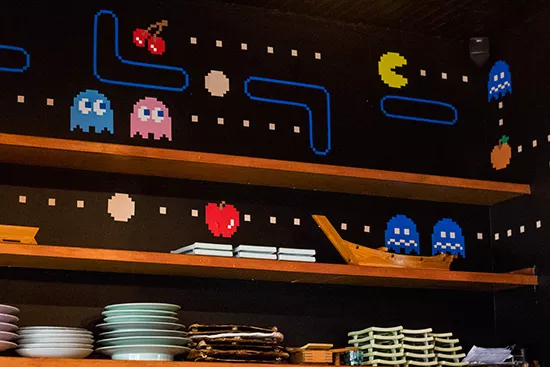 Which roll Pac-Man would go for?
All in all, if diners feel at home surrounded by cartoon-themed novelty, there's no better place to be. The novelty here extends into the eats, with a menu decidedly geared toward Americanized palettes. For a dose of fun applied to food, Blue Ocean Sushi draws up the best. We only wish we could afford enough to satisfy our Pac-Man-like appetite -- perhaps we'll try the all-you-can-eat option next time?
Located in the Delmar Loop.
The Rating: On a scale of one to five...

Previously on Happy Hour Handbook: - Hwy 61 Roadhouse and Kitchen - Gringo - Jax Cafe - Mile 277 Tap & Grill - Sandrina's - Mangia Italiano - Kirkwood Station Brewing Company - Steve's Hot Dogs on the Hill
We're always looking for some more happy hour meal deals. E-mail the author at [email protected].