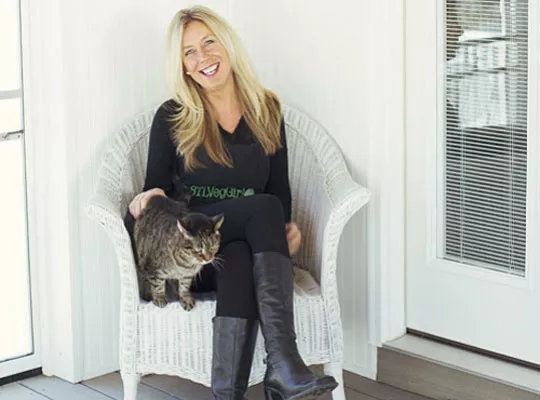 Caryn Dugan, a.k.a. STL Veg Girl. | Jennifer Silverberg
Caryn Dugan gets it. A lot of people think vegans are crazy. She used to be one of them, until her father died of cancer in 2008 and her own diagnosis came ten weeks later. Six years after that, she's healthy and known by the once-unlikely moniker STL Veg Girl. As of yesterday, her booming business now includes plant-based food products -- vegan fast food, if you will.
See also: Modesto Tapas Goes Vegan, With the Help of STL Veg Girl
"The reason I started doing it is because I completely understand craziness. I see all of my girlfiends that have kids and say they want to eat healthy or lose weight, or their kids have pre-diabetes, and that's insane to me," Dugan tells Gut Check. "Now it's my business to teach people the whys and the hows of a plant-based diet. If you don't have the time, there's fast food, and now there's this, that's just as quick and easy to eat."
Dugan has partnered with Hanneke's Westwood Grocery & Catering (190 North Sappington Road, Glendale; 314-965-7428 ), where her commercial kitchen is, to bring customers grab-and-go vegan dishes from her own diet and cooking courses. The first item, which debuted Monday, is a kale tahini salad with homemade tahini dressing and vegan feta cheese.
She'll introduce more dishes in the coming months, including a Southwest mixed bean quinoa and a layered (vegan) bacon mixed green and roasted tomato salad. Right now the dishes are all cold, but Dugan says she'll most likely have some heat and serve options come fall.
"These are really just tried-and-true recipes and dishes that I've been cooking for the last several years in my cooking classes," she says. "I've just taken the favorites that people have liked and used them as grab-and-go."
The dishes will be made fresh by Dugan every Sunday night or Monday morning and added to the Hanneke's shelves on Mondays. As the service gets going, Dugan hopes to experiment more with dishes and add some items that aren't from her cooking instruction.
You can find daily updates on STL Veg Girl and what she's cooking up each week on her Facebook page.
Gut Check is always hungry for tips and feedback. E-mail the author at nancy.stiles@riverfronttimes.com or follow her on Twitter.
---