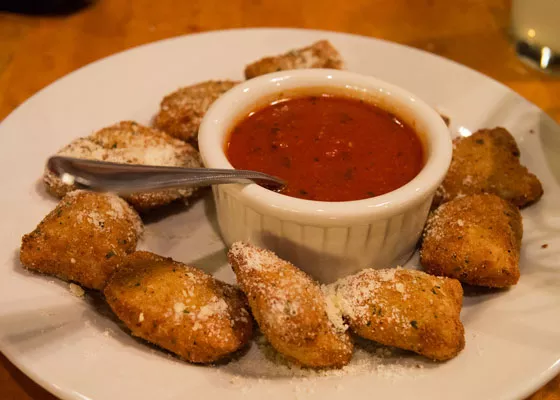 The legendary toasted ravioli at Charlie Gitto's. | Eugene Kim
We have several restaurant weeks around St. Louis, and it really is a great way to sample all that a neighborhood has to offer. Restaurants prepare special prix fixe menus to give you a taste of the awesome eats. The Hill is celebrating Restaurant Week 2014 until April 27, and we've whittled down the options to the menus we're salivating over. They're all $25 for three courses.
See also: The Best Menus at Clayton Restaurant Week 2014
Charlie Gitto's (5226 Shaw Avenue; 314-772-8898)
Of course Charlie Gitto's is on this list. There are other Hill restaurants with just as much (or more) Italian cred, but Charlie Gitto's prix fixe menu offers more of a selection while including St. Louis favorites. Start with toasted ravioli, garlic cheese bread, a mixed salad or a caesar salad. For the second course, choose from chicken lemonata, sauteed in a white wine lemon butter sauce with capers, farm-raised salmon with carmelized onions and a balsamic demi-glace, homemade six-layer lasagna with fresh tomato sauce, ricotta and mozzarella cheese or penne Borghese in a pink cognac sauce with prosciutto, onion and parsley. Try cassata or gelato for dessert. Make reservations here.
Yummy, but not on the menu. | Sarah Rusnak
Modesto Tapas (5257 Shaw Avenue; 314-772-8272)
Modesto isn't Italian, but it's still a delicious member of the Hill's thriving restaurant community. For the first course, choose from a bowl of gazpacho or mixed salad with greens, red onion, almonds, manchego cheese and fried garlic with a sherry vinegarette. Course number two gives you the option of pollo relleno al cabrales (breaded chicken and serrano ham rolls with blue cheese sauce), rape envuelto en tocino (pan-seared, bacon-wrapped monkfish with saffron sauce) or tortilla de setas (wild mushroom and potato omelet with fresh cheese, crispy shiitakes and truffle oil). For dessert it's flan, chocolate croquettes or churros with chocolate sauce. Make a reservation here.
The famed Five Bistro burger. | Ian Froeb
Five Bistro (5100 Daggett Avenue; 314-773-5553)
Five Bistro just finished its French pop-up restaurant, but you can still get a taste at Restaurant Week. Choose from house-made potato gnocchi with herbed goat cheese and Ozark Forest mushrooms or local spring greens with pork belly, Missouri pecans, deviled egg and Ludwig Creamery "sangamon" for the first course. Second is a choice of Kenai, Alaska halibut with Ozark Forest stinging nettles, roasted spring onion and sweet potatoes or Fitchner Farm beef roast with Orgeon Fiddlehead ferns, ramps, roasted potato and red wine reduction. Five's dessert is local apple sorbet, vanilla bean creme brulee or a vanilla sugar cookie.
Seafood-stuffed mushrooms at Zia's. | Ettie Berneking
Zia's (5256 Wilson Avenue; 314-776-0020)
Zia's offers twists on Hill favorites (like those stuffed mushrooms pictured above) and doesn't break the bank. For the first course, pick a dinner salad with Provel, toasted ravioli or a Sicilian tomato salad. The main course is a choice between a filet topped with brandy cream sauce, shrimp, fresh red bell peppers and a side of pasta, veal involtini (lightly breaded veal stuffed with seafood and baked, topped with white wine lemon butter sauce and fresh mushrooms), or fettuccine langusto (linguine in a cream lobster sauce with shrimp, crab, scallops, onions and mushrooms). For dessert choose from chocolate torte, cannoli or spumoni.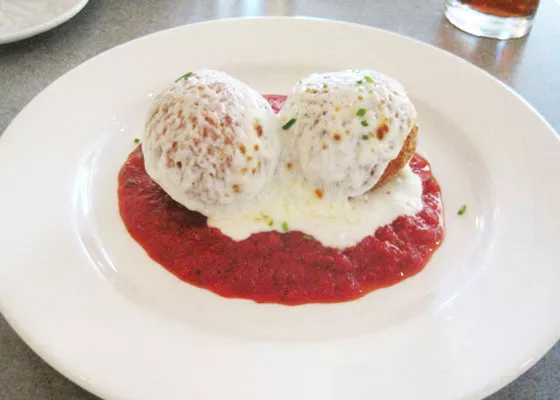 Arancini at Lorenzo's Trattoria. | Ian Froeb
Lorenzo's Trattoria (1933 Edwards Street; 314-773-2223)
Lorenzo's three course special has more choices than some of the other menus, which might call for a repeat visit. Start with shrimp and roasted garlic ravioli, arancini, a house salad or the soup of the day. For your entree, choose from risotto with shrimp, calamari and scallops in mushroom ragu, house-made spinach gnocchi with portabella mushrooms, spinach tortellini and lemon dressing, chicken spedini stuffed with spinach and pancetta with asparagus and linguine in a garlic tomato mushroom broth, fettuccine with a braised short rib ragu and baby spinch, or a grilled angus beef filet with garlic mashed potatoes and asparagus in a red wine reduction. Dessert is gelato, a chocolate-dipped cannoli or cinnamon amaretto bread pudding. Make a reservation here.
Gut Check is always hungry for tips and feedback. E-mail the author at nancy.stiles@riverfronttimes.com or follow her on Twitter.
---