Outside Sun Cafe on Salisbury Street. | Nancy Stiles
Sun Cafe (1435 Salisbury Street; 314-899-0330) wouldn't cause a second glance if it were in the Loop or Maplewood. It would look like just another cafe if it were along one of the avenues in the Central West End or even downtown. But Sun Cafe sticks out along Salisbury Street in Hyde Park -- it's not a vacant building or dilapidated church. The windows aren't boarded up and the bricks aren't deteriorating. It's one of the only coffee shops in the area, and it's definitely the only one that's not-for-profit. It's also the only coffee shop that exclusively hires employees that are homeless, former drug addicts and convicts.
See also: Churches on the Streets Utilizes Food Truck to Feed the Homeless
"We don't kick people out because they can't work. If they're gonna change their life, we're gonna care for them," says Sun Ministries executive director Terry Goodwin.
Sun Ministries started in 2009 as a not-for-profit in the Hyde Park neighborhood of north St. Louis. The organization rehabs buildings, hires people and creates business opportunities for others. Its first project was actually a wood shop a few blocks away from Sun Cafe on Newhouse Avenue.
Goodwin and his wife had just quit their jobs and moved to the neighborhood from O'Fallon, Missouri; he says it was a calling. They felt they had to be there, but it wasn't easy.
"North city is generationally poor, and it wasn't like, 'I'm coming here to fix the problem.' It really was a calling to come here," Goodwin says. "When we first came, we got this building on Newhouse and in the first eight months we were there, I think twelve people got shot within four blocks of that building. It was a war zone still."
Goodwin was trained and practiced as a minister, but he was turned off by the fact that most of the funds raised went back into the church -- to say nothing of the organizational politics. He stresses that Sun Ministries still has accountability. Properties are set up as non-profit trusts, and he has a board of directors that his son Mark, who runs Sun Cafe, is a member of.
"The board understands that the mission here is not to build a sanctuary and have a bunch of people show up on Sunday morning. It's to meet people where they are, to empower them, to help them, to feed them, to clothe them, to house them," Goodwin says. "I don't have to convert them to an image that I want to see as as Christian person. I don't have to impose my morality on them or my ideals."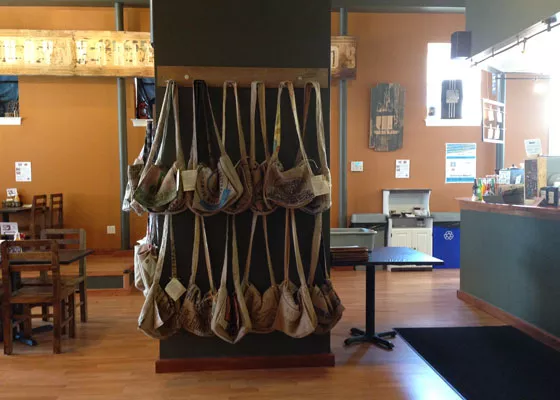 Totes made from recycled coffee bags for sale inside the cafe. | Nancy Stiles
Mark was also trained as a minister, but he says he's wanted to have a coffee shop that was plugged into a community since he was in college. Sun Cafe puts people to work for anywhere from weeks to months while they get off drugs or earn their GED. Like the wood shop, it's another way to get people back on their feet.
All you have to do is come in to the cafe and ask for help, Goodwin says. Then the application process begins. The most important part is that you are willing to change your life. If you aren't really ready, Goodwin says, Sun Ministries can't help you. Applicants meet with the board of directors and if they fit the criteria, the board works out a plan to achieve whatever it is the person needs.
The wood shop makes all sorts of things for buildings they're rehabbing, as well as all the chairs for Sun Cafe, the baseboards, the barista bar, the bakery counter and the window bar in the cafe.
The main dining room at Sun Cafe. | Nancy Stiles
Sun Cafe's biggest success story seems to be a 52-year-old man named Todd Wiley who came in last March. He broke his collarbone, so he's stayed a bit longer than usual while he heals, but Goodwin says it's given Wiley a chance to mentor some of the younger participants in the meantime.
"I thought there was no more hope for me, but the Ministry showed me it was different. I thought it was a joke -- I didn't think nobody really cared like this," Wiley says.
He happened to see a Sun Ministries paper one Sunday morning on his front porch. He took a chance and called the office on Newhouse -- and no one answered. Just another let-down, Wiley thought. But within minutes, Goodwin called him back.
"And I'm like, 'Man, god do love me.' Once I talked to him and he told me to come in, I just broke down," Wiley says. "I didn't think nobody cared about me. They put me to work as soon as I got settled in."
Wiley plans to open his own painting business; he's been painting since he was a kid and even did the paint job on the Sun Cafe. He'll employ people who come in to Sun Ministries; he says it's about giving back to the community and helping others like Goodwin helped him.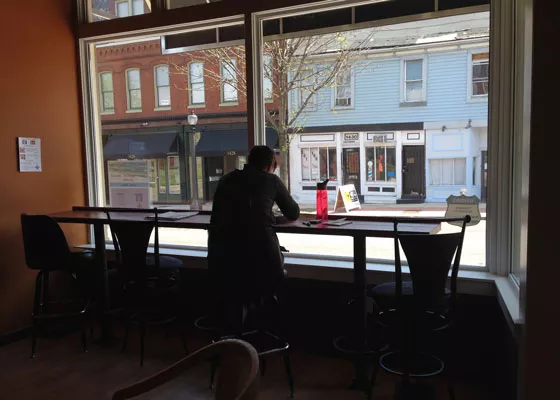 The bar looking out on Salisbury Street was made in Sun Ministries' wood shop. | Nancy Stiles
Not everything goes so well, though. Goodwin says one of the hardest cases was a heroin addict who came in looking for help. He said he wanted to change, and Goodwin took him to West End Clinic and got him set up with a doctor. He was staying in the Sun Ministries house and was set to start on methadone first thing in the morning. He'd told Goodwin he was off drugs, but after a few hours he was crawling up the walls; it was clear he wasn't. By 6 p.m. he needed heroin. Goodwin told him if he left, they were done. He hasn't seen him since.
"It's really heartbreaking. It's got such a stronghold on people. I knew he was twelve hours away from being free from that thing and he couldn't bring himself to do it," Goodwin says. "Those are the hardest, those and the ones who have small children."
Their next event is St. Louis Earth Day this weekend -- they'll be selling recycled stuff their employees make, like totes made from coffee bags, and spreading information about the cafe.
"People outside of our neighborhood understand that there are problems in north St. Louis. I don't think they understand the depth of the problem and that the solution is not going to be something that money can buy," Goodwin says. "The solution is going to simply be people investing in other people and being willing to take a risk on them."
Outside Sun Cafe on Salisbury Street. | Nancy Stiles
Sun Cafe serves breakfast all day (a full plate of eggs, sausage, fried potatoes and toast will cost you only $4), plus salads, sandwiches and burgers, and of course, lots of coffee. You can check out the full menu here. It's open Monday through Friday from 7 a.m. to 8 p.m. and Saturdays from 8 a.m. to 8 p.m.
Gut Check is always hungry for tips and feedback. E-mail the author at nancy.stiles@riverfronttimes.com or follow her on Twitter.
---