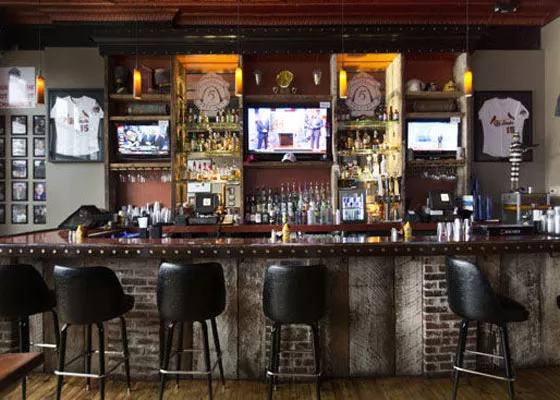 The bar at the Precinct, with Cards memorabilia. | Nancy Stiles
Just when things were looking up for the Precinct (1900 Locust Avenue; 314-588-8899), it has been dealt struck another blow. Cincinnati restaurateur Jeff Ruby is suing Jim Edmonds and Mark Winfield's company MWS, LLC for use of the name "The Precinct." As Edmonds and Winfield have told us and many other publications, the name comes from the fact that the actual police precinct headquarters are moving in next door. Ruby doesn't think so -- he think it has something to do with his high-end steak house called Jeff Ruby's Precinct.
See also: The Precinct Launches Revamped Menu
Ultimately, it will be up to the court to decide. But let's review the claims, shall we?
The Precinct was Jeff Ruby's first restaurant, opened in 1981. His venerable stable now includes Jeff Ruby's Steakhouse, Carlo & Johnny, Jeff Ruby's Waterfront and a Jeff Ruby's Steakhouse in Louisville. The name comes from the turn-of-the-century building's former use as Cincinnati Police Patrol House Number 6.
"[It's] frequently recognized as having Cincinnati's best steaks, seafood and service. This consistent high level of quality and overall guest experience over three decades has endeared Precinct to celebrities, businesspeople, families and loyal diners alike," the website boasts.
The initial claim, filed November 25, 2013, says "The PRECINCT® has been acclaimed by both national media outlets and those in the culinary industry as one of the highest regarded and recognized restaurants in the United States." Nothing against that Precinct, but saying it's nationally recognized is probably a bit of a stretch.
Anyway, the suit then goes on to allege that not only are Winfield and Edmonds well aware of how awesome Jeff Ruby's Precinct is, but they "knowingly adopted a nearly identical trademark in order to confuse the public into the mistaken belief that it is affiliated, franchised, sponsored by, or otherwise associated with the iconic PRECINCT® restaurant." (Emphasis ours.)
"I don't have anything disparaging to say about their restaurant," MWS, LLC lawyer John Palowski tells us. "From what I can tell, it's a very high quality steak house. My clients are trying to be a neighborhood pub, so were kind of at a loss for how they think they can establish confusion between their brand and what my folks are doing. It makes no sense to me."
There was an attempt to bring the Jeff Ruby brand to St. Louis in 2010 with another Jeff Ruby's Steakhouse, but it only lasted a few months. Despite this, the suit claims that Ruby advertises his brand in the St. Louis area. (But where?) Plus, St. Louisans can totally buy Jeff Ruby gift certificates on the Jeff Ruby website, so, there's that.
"Basically what they're alleging is that my folks are trying to trade on their name, and nobody in St. Louis knows who they are!" Palowski says. The suit goes on to delinate how Edmonds played baseball in Cincinnati and became "intimately" aware of Ruby's Precinct.
MWS, LLC and Palowski's firm responded yesterday, April 22, to the suit by demanding a jury trial. It also denies the charges.
"There is no substantial risk of confusion between Defendant and Plaintiff's enterprise, especially given the differing cuisine and target audience of their customer base, as well as Defendant's sports marketing centered on its namesake, Jim Edmonds," the answer reads.
"Why would you trade on some guy named Ruby when you have one of the most beloved players in St. Louis?" Palowski asks us. "It makes no sense to me."
Jeff Ruby did not immediately return phone calls for comment.
Here are the complaint and the answer:
Gut Check is always hungry for tips and feedback. E-mail the author at nancy.stiles@riverfronttimes.com or follow her on Twitter.
---