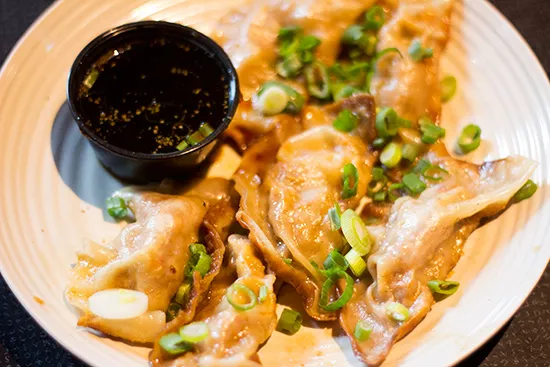 "Cajun Potstickers" with andouille sausage, vegetables and sambal chili sauce. | Photos by Mabel Suen
The Place: Hwy 61 Roadhouse and Kitchen (34 South Old Orchard Avenue; 314-968-0061)
The Hours: Happy hour is offered Monday through Friday from 3 to 6:30 p.m. as well as Monday through Thursday from 10 p.m. to close.
The Deal: Buy one, get one free appetizers. Five dollar hurricanes and margaritas and doubles for the price of singles (except for single-malt scotch). $2.50 domestic, $3 micro and specialty and $3.50 import beers.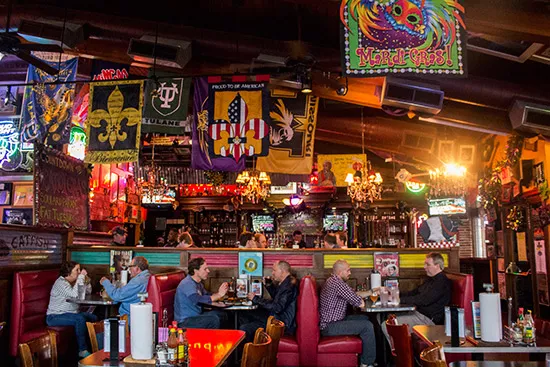 A portion of the dining room and bar.
The Scene: Hwy 61 Roadhouse and Kitchen is a hefty helping of New Orleans smack dab in Webster Groves. The spacious dining areas and bar feature a veritable kaleidoscope of Mardi Gras and blues paraphernalia -- everything f rom colorful murals and fleur de lis flags to funky, jeweled chandeliers. Patrons of all ages seem to convene here; the atmosphere is a lively in more ways than one.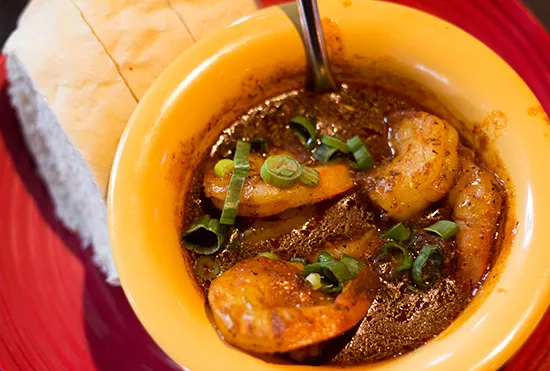 "Louisiana Bbq Shrimp" sauteed in Worcestershire herb butter.
The Food: Southern comfort food reigns supreme. The appetizer menu features around twenty different options that range from $5.99 to $12.99, including a dish made famous by Guy Fieri's Diners, Drive-ins and Dives: Cajun potstickers. The take on the classic Chinese dumpling features a filling of andouille sausage, vegetables & sambal chili sauce, pan-seared then steamed. We imagine that the restaurant sells a lot of these, and for good reason. Paired with a creole soy dipping sauce, they're a savory and satisfying take on a comforting classic.
Did Hwy 61 Roadhouse make the grade? Find out on the next page.
"Roadhouse fries" with waffle fries topped with pulled pork, bacon, cheddar cheese sauce and scallions.
The Verdict: With a pretty vast range of appetizers and correspondingly varying prices, digging into Hwy 61's "Opening Numbers" menu can be a good deal, if planned strategically. On the somehwat higher end of the menu, the "Louisiana Bbq shrimp," hits the spot with plump, flavorful shrimp swimming in a piquant sauce. We also enjoyed the "Roadhouse Fries" topped with pulled pork, bacon, cheddar cheese sauce and scallions. The plate's a big one and gets the job done with a trifecta of satiating savory flavors: potato, meat and cheese.
Sweet potato fries sprinkled with cinnamon and sugar.
For a sweet take on starch, opt for an inexpensive order of sweet potato fries, also in waffle-form. Crispy and slightly sweet, they're a tasty alternative to the otherwise salt-loving appetizer menu. We're not exactly sure if we'd reach for the bleach to show our allegiance to Guy's recommendations, but we can certainly agree that Hwy 61 is a "dive" worth stopping by.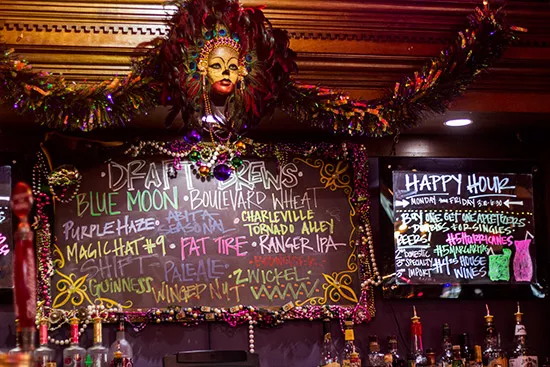 The Rating: On a scale of one to five...
Previously on Happy Hour Handbook: - Gringo - Jax Cafe - Mile 277 Tap & Grill - Sandrina's - Mangia Italiano - Kirkwood Station Brewing Company - Steve's Hot Dogs on the Hill
We're always looking for some more happy hour meal deals. E-mail the author at mabel.suen@riverfronttimes.com.