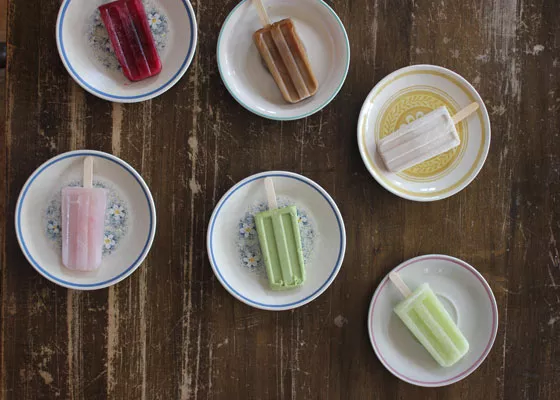 The latest fresh, natural pops from Whisk Bake Shop. | Nancy Stiles
We are just dying for spring. The weather keeps teasing us, but we know soon we will be dripping with sweat in 100 plus degree weather with 80 percent humidity. We've already found something that will quench our thirst come those dehydrated days: popsicles from Whisk: A Sustainable Bakeshop .
See also: Best Cupcakes 2013: Whisk a Sustainable Bakeshop Whips Up All Natural Treats
A lavender lemonade pop. | Nancy Stiles
Owner Kaylen Wissinger has been making her craft popsicles for three years, but two new flavors debuted yesterday -- lavender lemonade and horchata. "As the season goes on and there's more produce available locally, we utilize that more," Wissinger says. "So when strawberries come in season, we have an insane amount of strawberry flavored pops. We'll do blueberry, peache, apple, cucumber, corn --"
Here we interrupt. Corn?
"We make a sweet corn one," she laughs. "It's really good." Another new flavor comes out today, April 18: goat cheese and blackberry. The creamier pops take a bit more time to make, but Wissinger says they're even more delicious.
She got the idea to do popsicles a few years ago after a visit to Nashville. A place down there was doing them, and Wissinger thought it would translate perfectly to sweltering summer mornings at the Tower Grove Farmers' Market.
"I was like, why is no one doing this in St. Louis? We have so much good produce," she says. "It's nice to be able to work with something that doesn't expire, because we bake everything fresh every day. It's nice to just be able to put them back in the freezer and not waste product."
Whisk's pops are $3 each; current flavors are lavender lemonade, goat cheese and blackberry, avocado, cucumber lime, horchata, Vietnamese coffee and pomegranate hibiscus.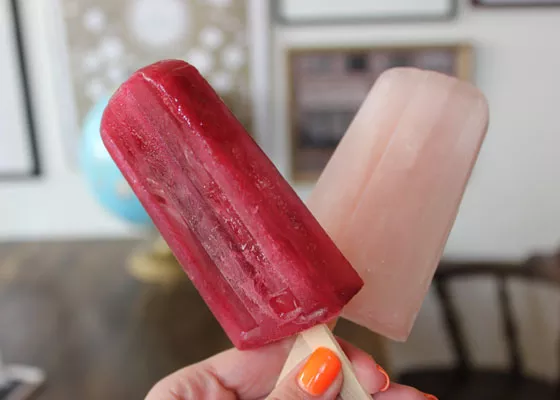 Pomegranate hibiscus and lavender lemonade. | Nancy Stiles
Gut Check is always hungry for tips and feedback. E-mail the author at nancy.stiles@riverfronttimes.com or follow her on Twitter.
---