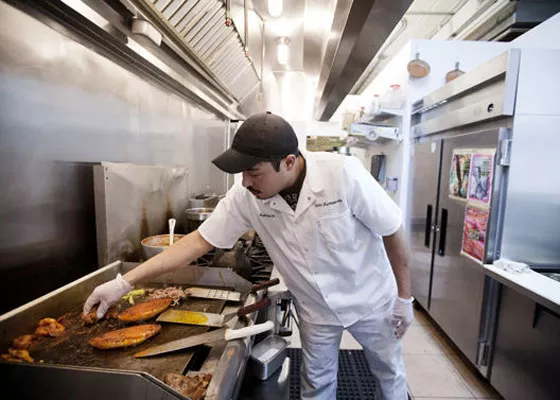 Luis Garcia in the kitchen at Siete Luminarias. | Jennifer Silverberg
We were sad to report that Siete Luminarias (2818 Cherokee Street) closed in March, but it seems there's a light at the end of the tunnel. Co-owner Luis Garcia tells Gut Check that the excellent Mexican restaurant will reopen on Cherokee during the last week in April.
See also: Siete Luminarias on Cherokee Has Closed
Luis, who runs the restaurant with his brother Ramon, originally told us they sold the restaurant. Luckily, family members loaned the brothers money at the last minute so they can keep Siete Luminarias going.
Luis says the restaurant will be back with the same dishes and friendly people. He, however, will still be moving back to Texas with his wife, where he says he is thinking about opening another Siete Luminarias location. Ramon will continue to head up the original Mexican restaurant.
"We worked so hard for our dream, and we're not going to let loose so easily," Luis says. "And also for our customers -- we owe them so much."
We're already looking forward to ordering the restaurant's Guanajuato-style carnitas.
Guanajuato style carnitas: pork shoulder, jalapeno chiles, pico de gallo, and guacamole. Served with beans, rice and tortillas. | Jennifer Silverberg
Gut Check is always hungry for tips and feedback. E-mail the author at nancy.stiles@riverfronttimes.com or follow her on Twitter.
---