A "Gringo Margarita" with complimentary chips and salsa. | Photos by Mabel Suen
The Place: Gringo (398 North Euclid Avenue; 314-449-1212)
The Hours: Happy hour is offered Monday through Friday from 3 to 6:30 p.m. as well as Monday through Thursday from 9 p.m. to 1 a.m.
The Deal: $3.95 appetizers and discounted draft beers, canned Mexican beers, margaritas, wine and mi cheleda (described as a "Mexican hangover cure" made with a can of Tecate or Modelo, housemade chile de árbol-tomato sangrita, fresh lime and a salt rim).
A portion of the dining room and bar.
The Scene: Gringo's bar and dining room appropriately corresponds with its namesake, providing a tropical-vacation-vibed dining destination for foodie tourists out on semi-adventurous eating excursions (grasshopper tacos, anyone?). One of our favorite features of the space is the floor-to-ceiling windows that wrap around the corner, providing plenty of natural light to accentuate all the sunny yellows, mellow blues and funky swordfish that line the restaurant's insides.
Taquitos with bacon, red potatoes, grilled corn, mushrooms and Chihuahua cheese.
The Food: The $4.95 happy-hour appetizer menu includes the following options: queso fundido, nachos, a quesadilla and taquitos. The first item that arrived on our table were the taquitos: two crispy, handmade corn tortillas filled with bacon, red potatoes, grilled corn, wild mushrooms and Chihuahua cheese. The cigar-shaped fried snacks quickly sated our savory snack-time appetites with gooey, flavorful filling and a satisfying crunch. Of the three accouterments, which included creamy guacamole and Mexican crema, the guajillo chile sauce didn't work for us owing to its bitter flavor and lack of punch.
Did Gringo make the grade? Find out on the next page.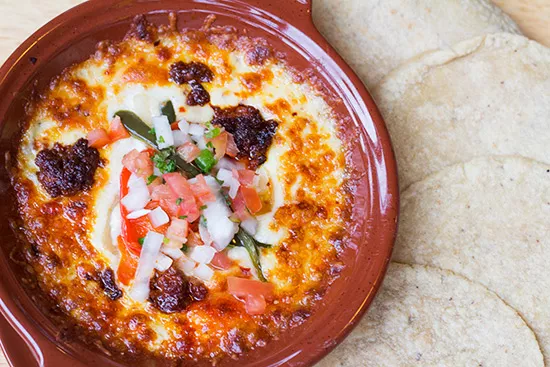 "Queso Fundido" made with melted Chihuahua cheese, chorizo and poblano rajas.
The Verdict: Our happy-hour meal deal began with a refreshing "Gringo Margarita" and complimentary chips and salsa, and these two simple, well-executed items alone make Gringo's happy hour a worthwhile destination in combination with its scenic patio seating (daytime drinking, anyone?). The bartenders do make a killer margarita here, after all.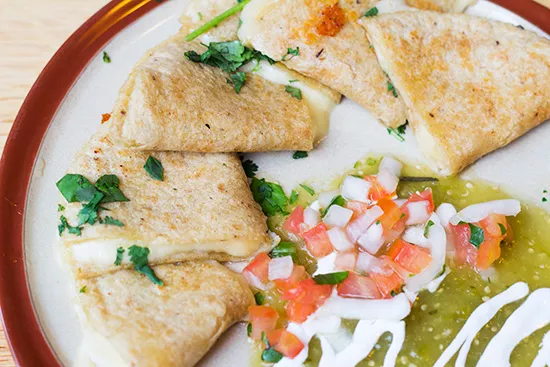 Quesadilla with Chihuahua cheese.
The queso fundido -- a dish with melted Chihuahua and jack cheese, chorizo, poblano rajas, pico de gallo and handmade corn tortillas -- proved tasty in it all its baked, cheesy glory. The quesadilla, however, fell a bit flat in in terms of overall flavor. For another $1.75, we could've added some chicken tinga or chorizo (the former already determined to be tangy and smoky), which we're convinced would've salvaged the dish, albeit at a heftier price.
Overall? The atmosphere and meal deal clocked in at muy bueno. And with a second happy hour offered during late night, the deal's twice as nice.
The Rating: On a scale of one to five...
Previously on Happy Hour Handbook: - Jax Cafe - Mile 277 Tap & Grill - Sandrina's - Mangia Italiano - Kirkwood Station Brewing Company - Steve's Hot Dogs on the Hill
We're always looking for some more happy hour meal deals. E-mail the author at mabel.suen@riverfronttimes.com.