You should probably pick up some chocolate bunnies at Kakao aftewards. | Crystal Rolfe
Easter Sunday is the mack daddy of all brunches. When we were kids, it was all about the Easter egg hunt. Now it's waffles, bacon and lots of mimosas. It's also a time for many to get together with family, and brunch is an after-church tradition. There are lots of choices for your holiday brunch, but we've rounded up the ones we're dying to try.
See also: Atomic Cowboy Adds Latin American-Influenced Brunch Service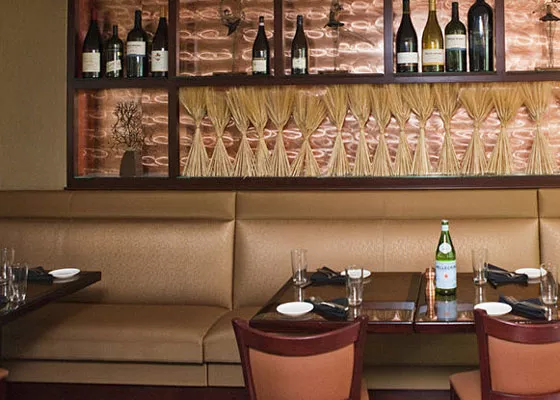 The dining room at Scape. | Laura Ann Miller
Scape (48 Maryland Plaza; 314-361-7227)
The elegant Central West End restaurant will have live jazz entertainment to accompany its brunch buffet. Pick from the seafood raw bar with colossal shrimp and crab legs, get a made-to-order omelet or crepe, multiple carving stations and more. Brunch is from 9:30 a.m. to 4 p.m. It's $45 for adults, $20 for kids and children under five eat for free. You can make reservations here or call 314-361-7227.
Brussels sprouts with pecans, butter and garlic. | Jennifer Silverberg
Home Wine Kitchen (7322 Manchester Road, Maplewood; 314-802-7676)
Table may be gone, but you can still get chef of the year Cassy Vires' wonderful cooking at her Maplewood restaurant. The prix fixe menu includes buttermilk biscuits topped with prosciutto, herbed ricotta and red-pepper jelly, pancakes with strawberry, rhubarb, orange ricotta and mint, blood orange mimosas and more. Check out the full menu here. Brunch is served from 10 a.m. to 3 p.m. Call 314-802-7676 for reservations.
Brunch requires champagne. | Corey Woodruff
Robust Wine Bar (635 Washington Avenue; 314-287-6300)
Robust downtown offers a delicious brunch on the reg, but it's got buy-one-get-one bloody marys and mimosas for Easter Sunday. Robust's bloody mary is made with Absolut Peppar, Yucateca Verde, stout, horseradish, wasabi and lemon; the mimosa is Francois Montand Blanc de Blancs, Pierre Ferrand dry curaçao and fresh orange juice. Pair either of those with favorites like waffles, omelettes, confit hash or ham and eggs on toast. Check out the full menu here. Brunch is from 11 a.m. to 3 p.m.; call 314-287-6300 for reservations.
Cielo (999 North Second Street; 314-881-5800)
Cielo, the restaurant at the Four Seasons, usually has a pretty good holiday spread, and Easter is no different. The buffet runs from 10 a.m. to 4 p.m. and includes more than 70 different items. There's the usual brunch food, of course, plus a live-action pasta station and a dessert buffet. The price also includes bottomless mimosas and bloody marys. It's $81 for adults and $30 for kids. You can make reservations here.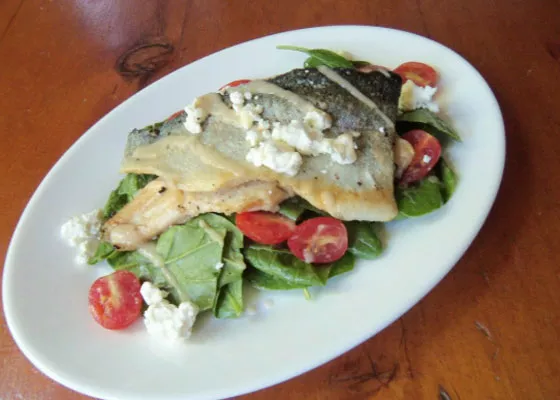 Pan-roasted Troutdale Farms rainbow trout. | Emily Wasserman
Big Sky Cafe (47 South Old Orchard Avenue, Webster Groves; 314-962-5757)
The locally sourced cafe debuted brunch service in August, full of small plates, lunch and breakfast options. Try salmon roll-ups with Claverach Farm sprouts in lemon vinaigrette and a Parmesan caper whip served with crostini and heirloom tomatoes, or there's scrambled eggs and rosemary red wine braised pot roast, made with Rain Crow Ranch braised beef chuck on Big Sky biscuits and breakfast potatoes. Cocktails include strawberry-orange mimosas made with strawberry puree and the Big Sky bloody mary, with Zimmerman's local tomato juice, Rothman's Illinois horseradish, red chile, traditional spices and house vodka. Brunch is from 10 a.m. to 2 p.m. You can make reservations here.
Gut Check is always hungry for tips and feedback. E-mail the author at [email protected] or follow her on Twitter.
---